Running gloves are essential for comfortable winter running. I've got a few pair that I prefer using, but the Sugoi Firewall LT has been a great option to have around.
Sugoi Firewall LT Gloves Features:
Slip-on wrist cuff fits perfectly without inhibiting movement
Wind resistant back combined with a stretch thermal palm for comfortable performance
Silicone graphic on index and middle finger for a comfortable grip
Soft, high-absorbing thumb wiping surface and touch-conductive thumb tip
Integrated key pocket on back panel
MSRP: $35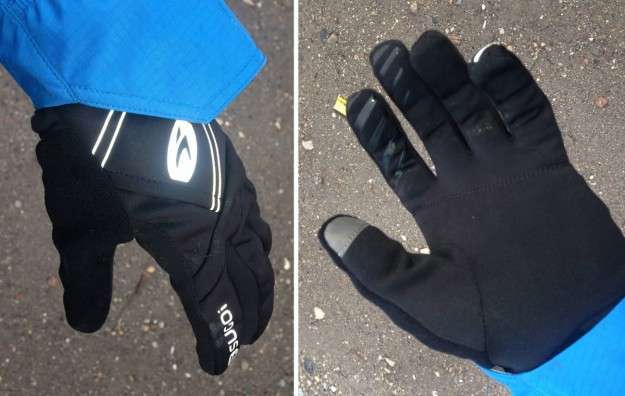 Ice and Firewall LT
Sugoi is on quite the roll lately with a steady course of awesome. Rounding out the winter tests from the Vancouver-based brand are the Firewall LT running gloves. You can run in ski gloves or in a pair of cycling gloves, but a dedicated pair of winter running gloves is a much better option — particularly when they can be had for $35.
While at the trailhead, some preparation requires that I be glove-free. On some cold, windy days, my hands can get quite cold as I'm working feverishly to tie my shoes. Once they are tied, that is usually the signal for getting the gloves on. After those moments of cold fingertips, it's nice slipping my hands into the Firewall LT. While they're not oven mitt warm, they certainly do provide instant warmth and excellent temperature regulation on the trail.
I used them exclusively for trail running and occasionally around town. Styling is muted enough so as not to stand out in the city. So, they did find their way into my pockets while out and about.
Overall fit is snug with little wiggle room in the size large I've been wearing. I'm a solid large and I just might have been able to go with an exra-large in these. The combination of materials is great with windproof back fabric and stretchy palms for comfort and tactility. There's not a whole lot you can't do while wearing these gloves — including using your smartphone (at least with your thumbs).
The stretchy wrist cuff slips on easily and stands as a comfortable barrier with a simple single pull-tab to pull them on. Some reflective elements aid in night visibility (though nothing like the new Zap Collection). The only thing of note is one small section where the seam is pulling apart on the right thumb. Oh, and some water resistance would be nice in case you get caught in a downpour.
The Good
Excellent, tactile glove feel
Smartphone-friendly thumb
Good mix of materials where needed
Comfortable on the trail or around town
Could be used for cold-weather cycling (though I didn't because I have much better gloves for that purpose)
The Bad
1/4″ section of seam is pulling on the right thumb
DWR would be nice for weather resistance
The Bottom Line
Winter gloves are mandatory and the Firewall LT's have been great to have with excellent glove feel and just enough coverage to keep warm while running in temps from 35-50 degrees.
Buy Now: Available at CompetitiveCyclist.com