It's time to reflect on the variety of gear that I've reviewed this year and pick the best of the lot. As you're looking at what Santa brought you; wondering if perhaps there could be better options out there, check out my shortlist below. If you got one of these… party on. If not, no worries, I can't cover EVERYTHING.
I will say that this year has been particularly difficult to pin down as I've become even more selective about the products I'm reviewing. But, these products certainly stand out from the crowd.
Polartec NeoShell, Gore-Tex Active Shell and Mountain Hardwear Dry.Q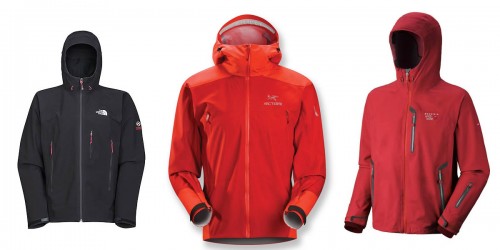 It's hard to pick a single winner among this bunch, but for consumers, the latest crop of waterproof/breathable fabrics are much improved from the multi-layer laminates of yesteryear. Yes, Gore-Tex did invent waterproof/breathable many years ago, but while it was waterproof, it didn't breathe all that well. eVent opened the door (or should I say vents) when it hit the market about 10 years ago and now we are finally seeing waterproof be breathable (for real).
I'm in the process of testing The North Face Jammu (Polartec Neoshell), the Arc'teryx Beta FL (Gore-Tex Active Shell) and the Mountain Hardwear Snowtastic Jacket (Dry.Q Elite) and I'm not ready to pick favorites among that bunch, but I will say that all three fabrics have finally hit the mark and for that we can all rejoice.
Fox Kashima Coat Shocks and Forks
I set out to determine if Kashima Coat was the real deal and I came away floored at just how much it improved the suspension feel. My tests included head-to-head test rides between standard RP23 and Kashima version and it took me all of 50 feet to realize that it is well worth the price of admission. My review of the RP23 Kashima is forthcoming, but the 32 Float 29er fork has me wrapped around its shiny golden legs. Read my review…
Specialized S-Works Road Shoes
I can't say enough good things about these shoes. The Boa Lacing System is the star of the show as you can easily dial in the fit on-the-fly. Just today I was able to adjust the fit of my shoes while wearing my Sugoi Resister shoe covers… try doing that with traditional buckles or straps! Yes, they are spendy, but the comfort and function is off-the-charts good. Read my review…
Giro Aeon Helmet
Scary light and oh-so-comfortable, the Aeon helmet is so well ventilated, it feels like you've got the A/C cranked up on high. The fit adjustments are easy to navigate (great for Winter riding to adjust to a skullcap) and the lightweight straps make you wonder why nobody has done that yet. Kudos to Giro on a great road helmet. Read my review…
ControlTech Carbon Comp Ergo Bars
Continuing with the road bike theme, the ControlTech Carbon Comp Ergo Bars have been a delight since I installed them this Summer. I was skeptical since my Specialized Roubiax Expert required re-routing the internal cable lines, but the investment in shop time has more than paid itself off in the extreme comfort and improvements in ride quality these bars provide. Yup, I really dig them. Read my review…
Truvativ NOIR T30 10S Carbon Flat Bars
Truvativ's new NOIR T30 10S carbon flat bars are perfect for 29er trailbikes. At 710mm wide, I was worried about maneuverability, but quickly became accustomed to the extra width. The ride quality is superb and the upsweep and backsweep of these bars really puts you in the driver's seat with extra control and steering precision. Read my review…
Platypus Origin 3 Hydration Pack
I've worn this hydration pack all season and haven't even thought about pulling any of my other packs out of storage. Not once have I felt this pack was inferior to even my favorite hydration packs. Platypus really nailed it with the Origin series. The sleek, waterproof design and comfortable back panel have kept this pack in my car all year. Read my review…
SRAM X0 Drivetrain
I'm a big fan of SRAM's crisp, accurate shifting and the new X0 2×10 drivetrain has now graced three different bikes this season and performed flawlessly on each rig. I love the fast shifting, lightweight design and overall smoothness, but unless you're on top of your game, the 2×10 drivetrain might leave you wanting on long, steep climbs. Still, nothing I've tried beats out X0's durability and Energizer-esque work ethic. Read my review…
Rocky Mountain Element 950 29er
This one surprised me. I've ridden a Rocky Mountain 29er before, but nothing as fun and playful as the new Element 29er. Without question, the new Element 950 should be on your shortlist when considering a new FS 29er. For $3200, you're getting a flat-out fun trailbike that can be raced or ridden as a daily driver. I'm anxious to get more saddle-time on this one. Read my review…
Specialized Camber Pro 29er
Specialized has quickly cut their teeth on big wheels and this year's Camber Pro 29er is an awesome example of just how far they have come. I had such a great time on the Camber Pro that I pulled the trigger to keep it around a little longer for comparison. For 2012, the biggest changes are the addition of the carbon frames to the Camber family and a new tapered head tube, but the performance will remain. Read my review…
Niner Jet 9 Al 29er
Niner can seemingly do no wrong, it seems. And, while I'm admittedly smitten by the new Jet 9 RDO, lets not overlook this beauty in the Niner lineup. The Jet 9 Al is a superb XC machine that still has excellent trail manners. Pedal this thing uphill until you puke and then proceed to rip the downhill in a way only a Niner can. Read my review…
Specialized Roubiax Expert SL3
I put a ton of miles on my Roubiax this year and I owe it all to the added comfort and smoothness the Roubiax provides. Without question, the more upright position has allowed me to spin more miles on the pavement than ever before. My lower back thanks me and my lungs are grateful for the added conditioning my morning ascents have given them. I'm looking forward to hundreds more miles on this great bike. Read my review…
Salomon Spirit Shoes
Casual shoes… yup… casual shoes. To the office and around town, I find myself reaching for the Salomon Spirit's. These ultralight shoes have pounded out the pavement in Las Vegas, wandered around tradeshow floors and around town in amazing comfort. I've yet to find a pair of casual shoes that are as equally comfortable and stylish. Read my review…
Smith Vantage Ski Helmet
The Vantage truly is a game changer. It's lightweight construction and easy-to-use vents are as good as it gets in the ski helmet world. This helmet is very comfortable and feels almost like you're wearing just a beanie it's so light. If you are looking for a new lid this season, the Vantage is the one I'd recommend. Read my review…
Patagonia Nano Storm Jacket
Patagonia is leading the charge on so many fronts (sustainability, lightweight design, recycling, etc.) that its no wonder the Nano Storm Jacket is so kick-butt. I love the ultralight feel of the Nano Storm, but also appreciate that it holds up to the worst Mother Nature can dish out. It's packable, warm and ultra-comfortable. Read my review…