Allow me to be clear: I am a minimalist-gear doubter. My conscientious tendencies and fear of being unprepared has me often side-eying ultralight gear. It is just too light. How could it possibly work well? These presuppositions I carried with me as I packed my bags for a week in the North Cascades in early June. I reached for the L5 Ultralight Storm shell only after I had already packed my bomber Gore-Tex shell, convinced that if weather rolled in I'd want something more burly than the L5 Ultralight Storm.
But when I found myself in snow, rain, fog, and wind, it was only the L5 Ultralight Storm that I wore. All doubts I had regarding ultralight jackets were obliterated by this jacket's incredible performance in a variety of weather conditions, and I found myself raving about the L5 Ultralight Storm Jacket throughout my entire alpine exploration.
Summit L5 Ultralight Storm Jacket Features
Windproof Pertex Shield fabric
Pre-tensioned elastic in hood, cuffs, and hem
Single pull-back hood adjustment
Large chest pocket that doubles as a stow pocket
Average weight of 155 g (5.47 oz)
Lightweight waterproof/windproof 7Dx7D Pertex Shield 3L fabric
MSRP: $300.00
Ultralight and ultra-awesome
When I first pulled the jacket out of the package, I might have scoffed a bit. Weighing in at an average of 5.47 ounces, I'm fairly certain my toothpaste weighs more than the L5 Ultralight Storm. The fabric is a featherlight 7Dx7D Pertex Shield. It's soft and light and too good to be true. The cynic in me told me not the believe in the L5 Ultralight Storm, that there was no way it could possibly be windproof and waterproof while being this light and stylish.
The cynic in me stands corrected.
The North Face's Summit Series collection has generated a respectable rapport in the outdoor community for providing technical mountain apparel. The L5 Ultralight Storm is one of this season's ultralight options. The North Face advertised it as "100% windproof fabric," complete with fully taped seams. I doubted if such a thin shell could live up to such a big, bold claim. But there I was, ascending a ridge to get to our camp for the night, getting whipped about by the kind of wind that seems to exist only on exposed sections of the mountains. And it was with a mix of wild satisfaction and a bit of surprise that I realized the L5 Ultralight Storm truly is windproof. I felt protected from the wind, warm in just a fleece and the L5 Ultralight Storm shell despite the bitingly cold gusts.
The material of the jacket is 3-layer Pertex Shield, a water and windproof material especially designed to be breathable. While on a short summit push that normally would have me sweating while moving and freezing when stopped, the L5 Ultralight Storm sealed out the wind and continued to breathe. It paired wonderfully with my Ventrix Hoodie, which would breathe and insulate in tandem with my movement while the L5 Ultralight Storm protected me from the wind. I never shed a layer after leaving camp, and did not add one until I was on belay at the summit block. The balance of breathability and windproof capability was impressive.
Pertex Shield is treated with DWR, so the L5 also offers protection from the rain and snow. Whether going on a run in light rain or traversing through wet weather, the L5 kept me dry. Because it is so breathable, sweat and condensation seem to immediately dissipate. I take off the L5 Ultralight Storm and my layers underneath are still dry, which is vital when venturing into less-than-ideal weather in the backcountry.
In line with the ultralight approach, the L5 offers limited features: one adjustment and one pocket. The zipper is backed by a storm flap, complete with a little bit of cozy fleece right by the chin. A single pull cord on the hood is the only adjustment, but that's really all the L5 needs. I never found myself wishing I could change the hem or the cuffs, which are both pre-tensioned elastic. That being said, the fit on the sleeves is not one size fits all: if you have especially slim wrists, the seal may not be tight enough to really shut out the elements.
Going back to the hood adjustment: I love the hood on the L5 Ultralight Storm. It is sleek, with enough engineering to be functional, never excessive. The laminated brim offers just enough structure, while the sprung-toggle adjustment at the back of the head allowed me to modify the fit to accommodate a helmet if needed. The sides of the hood are also pre-tensioned elastic. I love that the single hood adjustment is sufficient to make the hood feel fitted; I never felt like it was dangling in front of my eyes or hindering my peripheral vision.
The L5 Ultralight Storm stuffs into the single chest pocket, packing down to about the size of a baked potato. There's also a handy little loop so you can quickly stash the L5 Ultralight Storm on your harness when the weather clears during your ascent.
The chest pocket is generously sized (enough so that the entire jacket fits in it), but I found myself really missing the luxury of hand pockets. As we boiled water and hung about at our base camp, I would often tug the hem of the L5 Ultralight Storm up to access the hand pockets of my mid-layer. I wanted a place to warm my hands, and this jacket doesn't offer that. Not surprising, considering the minimalist approach cuts out any unnecessary luxuries in an effort to be fast and light. I missed having hand warmer pockets, but the L5 had other merits–so it was not a total dealbreaker. I just like having my backcountry luxuries (you know, like coffee in the morning, a kitchen tent in inclement weather, and pockets to keep my hands out of the cold when I'm not climbing).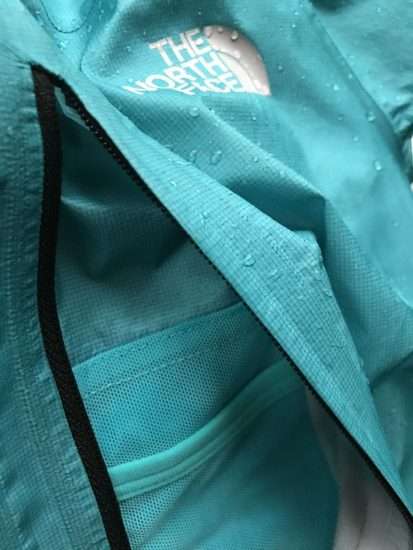 While I loved the L5 Ultralight Storm Jacket overall, I can't help but question the longevity of our mountain explorations together. I wonder how much of a beating it can really handle before succumbing to the rough rub of a granite climb or the pull of branches while bushwhacking. Already my L5 is showing light wear in areas like the shoulders and underarms. It's not delamination, but appears similar to a thinning or stretching of the fabric. Considering the fabric is a delicate 7D, this seems par for the course: fabric this light is just more susceptible to abrasion and wear.
The Good
Practical and simple hood adjustment
Windproof, waterproof, and good looking
Incredibly lightweight
Stuffs into its own pocket
The Bad
No hand pockets
Fabric seems as though it may not last long
The Bottom Line: The North Face L5 Ultralight Storm Jacket
I love this jacket. It is shockingly light, yet still provided ample protection from the elements as I ventured through the Cascades. It shed wind and snow easily, breathing effortlessly while I hiked and climbed and played. The L5 Ultralight Storm is an excellent jacket for the waves of bad weather the mountains will often throw our way. While I am unsure just how much use this jacket can handle before breaking down, I can say that it will continue to be a shell I take along on my summer alpine trips (and at under 6 ounces, there seems to be no reason to leave it at home).
Buy Now: Available at TheNorthFace.com