The North Face has been on a roll with great footwear recently. We've covered their wintertime Thermoball Versa boots, their Endurus GTX's (a personal favorite) and the Endurus TR trail runners. And that's just within the last year or so. Well, The North Face is continuing their roll forward with the Ultra FastPack III GTX's. I'm testing their mid-height version, because I'm all about ankle support even in ultralight boots.
The North Face Ultra FastPack III GTX Features:
Sole: PrUpper: TPU-coated woven mesh protects against trail debris
Welded eyestay and quarter underlay combine for lightweight midfoot support
Waterproof, breathable GORE-TEX® membrane
TPU toe cap delivers rugged protection
TPU heel overlay provides increased stability
OrthoLite® footbed for long-lasting comfort
Sole: Proprietary dual-density FastFoam™ midsole system for responsiveness and stability
Energy-returning EVA underfoot with a more resilient perimeter to prevent packing out
ESS midfoot shank for torsional rigidity and protection from stone bruising
Durable Vibram® Megagrip outsole for sticky traction
MSRP$ 160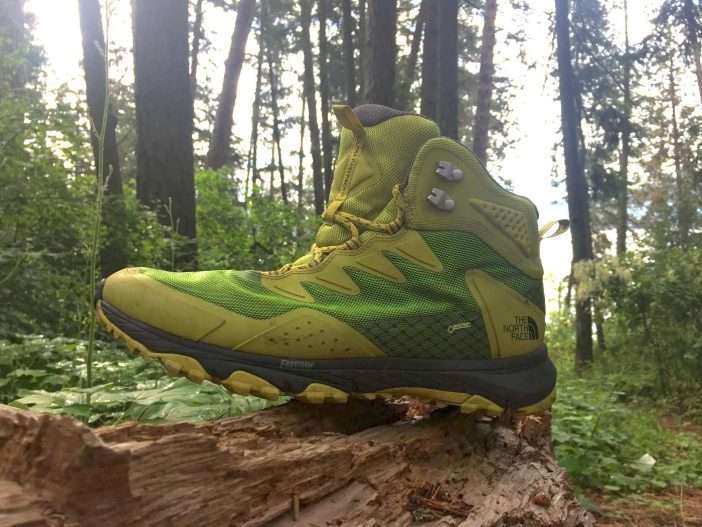 Boots to love
The FastPack III's are the latest in a line of lightweight footwear. They promise to provide adequate support and protection from the trail while helping you conserve energy and move forward well. They are also eye-poppingly cool. I tested the 'Citronelle' color way which is blazing yellow/green in color, capped by dark green accents with with a perennially cool Gore-Tex logo on the side. In terms of style points, these are hard to beat.
Another notable aspect of how aggressively high-tech they appear. It's an interesting fusion of old and new on this boot. For example, there's a toe cap, but its irregularly-shaped contours bring to mind a mountains cape. There's also a mid-foot rand which many boots eschew or, conversely, plaster in black rubber. The North Face's solution is a contrasting color of silicon-feeling material that wraps around the mid and back of the boot, covered by a heel cap in the back. It provides longevity to the boot, and it also looks cool. It's as though The North Face has thought through all of the necessary features of a good boot, with the aim of making them look sexy.
All of this would be meaningless, of course, without the ability to hike well. Good news on this front – the FastPack III's hike very well indeed. For starters, their combined weight is a touch over 15oz. While this isn't ultralight by the standards of true ultralight footwear, you would be hard-pressed to find a mid-height boot that comes in so respectably on the scale.
Another key part of the FastPack's ability to hike well is its sole design. The midsole is EVA foam that is denser around the edges to help prevent the sole from packing out. Additionally, there's a mid-foot ESS torsion plate which also helps dull the impact of stones in the trail. An OrthoLite footsore provides support and enhances comfort. I have to say, this is one of the best boots underfoot that I have ever used. It feels way too comfortable to be a hiker, and yet it hikes with the best of them. In doing so, it doesn't make really significant compromises to support – which is where most boots lose out if they're trying to be extra-comfy.
Don't get me wrong, I would not choose this boot for expeditions. Carrying a heavy pack (say >40lbs or so) will reveal that the boot does not have as much structure as a more traditional leather boot. The result will be decreased ankle stability and you'll notice that the sole compresses too much underfoot to provide good support. However, for days with a daypack or pack weights <30lbs, it's hard to beat the FastPack III's combination of lightweight comfort and support.
Another reason that this boot is successful is that The North Face has brought in key technologies where appropriate. Many boots from big names like The North Face will use mostly in-house technologies for the outsole and waterproof membrane. Not so with the FastPack III, which features a Vibram MegaGrip outsole, Gore-Tex waterproof/breathable membrane, and an Ortholite insole. These are critical parts of a boot which many brands skimp on to save costs (or whatever). But they shine in the FastPack III, providing unparalleled grip, protection and support respectively. All this in a $160 boot is actually pretty impressive. Good work, FastPack III.
The last thing I'll say is a touch of criticism. The very best boots I've ever reviewed have had one thing in common – an excellent lacing system. What makes an excellent lacing system? Well, the key part is that you can divide the laces into different sections in order to differentially tighten or loosen those sections. For example, let's suppose you are climbing a Cascade volcano. You know it'll be up all day, so you let your toe section stay loose while horsing down hard on the mid-ankle and upper laces. You want your toes to have room to wiggle, but you won't want to let your heel raise. When you're coming down, you'll probably shift the lacing around to secure your forefoot more so that it doesn't slam into the front of the boot with every plunge step.
The point is this: the FastPack III does not have any lacing zones. More than that, I often found it difficult to keep the tension in the laces where I wanted it. In general, the webbing loop lacing design does not impress me. It is ultralight and cheap, but it does not match the performance of the rest of the boot. My advice to potential buyers is this: even though you may have to adjust your laces more often than on better designs, you can still hike all day in these boots and be just fine. Plus, many hikers don't even bother to tighten their boots in a fancy way. That might be my former-guide-nerdiness catching up with me. However, it is relevant – let it be noted!
The Good
Perhaps the best comfort/weight/performance combination I've tested
Footbed really is uniquely comfortable
Light weight means these babies can hike all day
Excellent technologies from Gore-Tex, Ortholite and Vibram complement the boot
The Bad
Lacing design is inadequate
These boots are not meant to support heavy loads
The Bottom Line: The North Face Ultra FastPack III GTX
If you're looking for an ultralight boot, look no further – this one is exceptionally good. It's light, comfortable and durable and it looks insanely cool. I was pleased with the boot through springtime conditions in the PNW, and now summer hiking. It's held up well and I look forward to more seasons of adventure with the FastPack III.
Buy Now: Available from Backcountry.com