The Ventrix has gained remarkable popularity as a jacket designed to insulate, breathe, and stretch. Active insulation is a hot topic in the world of outdoor gear, and the North Face took the technology a step further with laser cut perforations in high-heat yet low-exposure areas. These holes are intended to help dump heat and vapor by stretching (read: ventilating) as you work, then sealing in warmth by laying flat when you are at rest. Synthetic warmth and intentional design intersect in this jacket making it ideal for cold weather climbing or your favorite wintertime and shoulder season aerobic activities.
The North Face Ventrix Hoodie Features:
Lightweight and breathable fabric, treated with a DWR finish
Higher-denier fabric on the forearms for additional durability
Scuba-style hood
Large chest pocket, 2 hand warmer pockets
Extra-long sleeves with elastic cuffs
420 g (14.81 oz)
MSRP: $220.00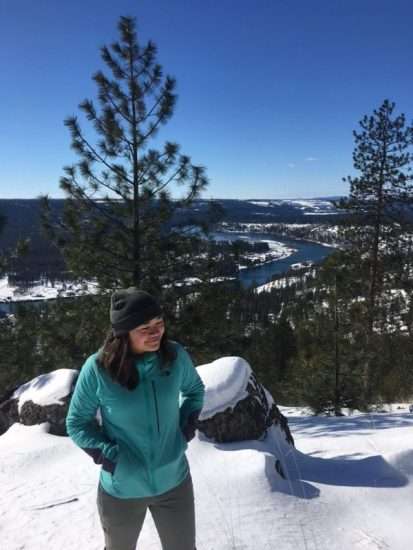 Bold and breathable design
As someone who loves their gear in striking colors, I was trilled to see the bright hues of the Ventrix when I first pulled it out of the box. But this jacket is more than a "statement piece" in palette: the Ventrix is a statement in function.
The Ventrix utilizes the North Face's very own Ventrix Insulation technology, which provides synthetic warmth coupled with breathable face fabrics. The sides of the jacket and upper back have these nifty, tiny holes that are intended to seal in heat when you are not moving. These holes are the real kicker for the Ventrix. The North Face claims that they will stretch as you move, enabling the jacket to quickly dump the heat you generate while working hard in the alpine. When you find yourself pausing — to grab water, rest a moment, or belay your partner–these holes will lay flat in response to the stillness, retaining the warmth you need. These ventilating holes on the sides and upper back are what makes the Ventrix unique amidst the growing inventory of active insulating products.
While I'm not sure how much of the Ventrix's breathability can be attributed to these holes specifically, I can assure you that it is a remarkably breathable garment. A cold day of snowshoeing had me assuming that I'd be delayering as we hiked and then re-layering when we stopped to rest. But with the Ventrix on, I was able to simply wear a t-shirt and be comfortable while moving and while stopped. Breathable in motion, warm while still — just like the North Face said it would be.
The Ventrix is an attractive, slim cut. Skin-tight? No. Athletic cut? Also no. The Ventrix is loose enough to easily slide over a tight fleece, but without being baggy or uncomfortable. The hem covered my hips, and the jacket stays nicely tucked into a harness. I found the cut flattering and, while most practical in mountain settings, I also wouldn't hesitate to wear it while grabbing pints with a friend. It simply looks good.
The sleeves are extra-long, which I liked for a couple different reasons. First, it allowed me to make big reaches while climbing without my jacket constraining my movement or the sleeves riding up uncomfortably. Second, the longer cut gave me a couple extra inches of warmth when I pulled the sleeves over my hands.
This also provides a fair amount of lee-way insofar as fit: if you have incredibly long arms, you'll still have coverage while wearing the Ventrix. The elastic cuffs are low profile and fold in comfortably, so the long cut and excess fabric isn't noticeable or bulky. It's there when you need it, and disappears when you don't.
While I was pleased with the sleeves and the overall cut, the hood design left me a bit wanting. It's a simple scuba hood with elastic on either side. I found the hood too roomy to really seal out the wind and cold, but a hair too tight to have full mobility while wearing over a helmet. I like being able to have a hood really snug against my head if I'm not wearing a helmet under it, and the Ventrix hood just wasn't cozy enough and didn't have any adjustments. I'd say the hood was most comfortable when worn under a helmet, which held the hood securely against my head and kept it from sliding down on my face. However, I managed to wear a helmet under the hood and I feel that it's worth mentioning that — for a helmet with no adjustments — the Ventrix proved rather versatile in that regard. Nevertheless, I would have appreciated either a tighter fit or some type of adjustment to really seal out the cold and acquire a more customized fit.
I mentioned the great colors of the Ventrix earlier, and here the form is a product of function. In addition to being a swanky color, the forearm panels boast a higher denier than the surrounding face fabric's 30D x 20D weave. Coming in at 50D x 40D, these panels incorporate increased durability in areas that might be particularly susceptible to, say, the wear resulting from scrambling up a granite face. They are intentionally placed to encompass all but the inner forearm, and the same material is found at the hem.
The lighter face fabric is less durable — that's just the fact of the matter. At the end of a vigorous testing I discovered pilling in the underarms and other high wear areas. Taking into consideration the purpose of the Ventrix — a breathable midlayer, not a shell — durability is simply less important. This jacket needs to keep you warm, breathe, and stretch while you move. The Ventrix excels in each of these areas, yet lacks the robust protection of a shell (which is outside of its pay-grade anyway, so I'm not complaining). I think the selective placement of more durable face fabrics was an interesting and worthwhile move on the North Face's part. It offers a compromise between a lightweight piece and burly durability.
Overall, the Ventrix logs an average weight of 420 g (14.81 oz) — lighter than Outdoor Research's Uberlayer, yet slightly heavier than Patagonia's Nano-Air. Because the Ventrix is stuffed with synthetic insulation, the weight and compressibility pales in comparison to down. It doesn't stuff into it's own pocket, but when rolled up into the hood it can pack down to about the size of an American football.
The North Face leaned further to the side of minimalism on this jacket. Some of the only additional features are a single sprung-toggle adjustment on the hem and three enormous pockets. You could fit one of those really huge iPhones and a snack in that chest pocket. While sometimes I found the size excessive, it is nice to know that the chest pocket can offer so much storage since the hand pockets are rendered inaccessible while wearing a harness. The pocket zippers are low profile and sleek when zipped.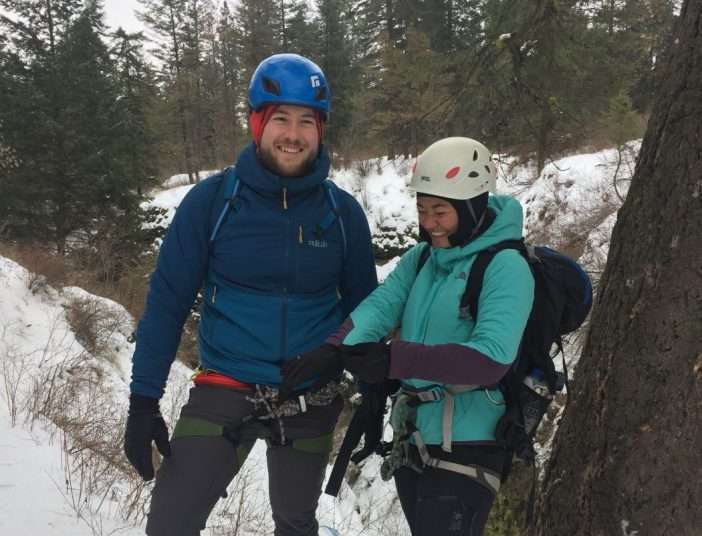 While most of my experience with the Ventrix was overwhelmingly positive, there were a couple quips that I unearthed during my testing. The main zipper is an exposed VISLON® zip backed by a bit of insulation, to really seal out the cold (thumbs up!). But the center zip frequently snagged just below the collar when I tried to zip it up completely (thumbs down…). The collar would also often turn in on itself when I had it fully zipped with the hood down. I found this uncomfortable, and the inversion of the collar actually caused the top of the zipper to visibly scratch my neck once when I failed to have the zipper fully seated in the garage. It was annoying, and worth mentioning, but also not a deal-breaker.
The Good
Effortlessly balances warmth and breathability
Long cut in the arms
Specifically placed panels added durability
The Bad
No hood adjustments made for a floppy experience
Face fabric pilled a bit in high wear areas
The Bottom Line: The North Face Ventrix Hoody
The combined forces of insulation, breathability, and stretch utilized in the Ventrix's design are what make it such a "smart" garment. It truly is a jacket that can stay on through a day of stop-and-go activity, especially for those shifting weather conditions so common in the mountains. The Ventrix seems to disappear while you wear it, which I consider a measure of gear doing exactly what it is supposed to do. The Ventrix offers minimal fuss with high-performing functionality. I found that I wanted less minimalism and more adjustments with the Ventrix, especially in regard to the hood. But at the end of the day, this is a good-looking synthetic layer that balances breathability and warmth beautifully.
Buy Now: Available at Backcountry.com