Hauling your bike gear for that next road trip shouldn't be a hassle. Thankfully, the folks at Thule have you covered with the all-new RoundTrip Bike Duffel. With it, you can confidently carry all your essentials for any cycling adventure.
Thule RoundTrip Bike Duffel Features:
Easy honeycomb organization compartments (they are removable too)
Padded helmet compartment that's big enough road or trail helmets
Isolated shoe pocket to keep things tidy
Dirty stash pocket for stinkies
Large, flap opening for easy access
Grab handles in middle and both ends
Removable cross-carry strap (left or right shoulder carry)
55L total capacity
Durable, woven polyester exterior fabric
Size: 26.4 x 14.2 x 11.8 in
MSRP: $119.95
You can take that road trip
We all need a break and the Thule RoundTrip Bike Duffel can be your excuse to get out of Dodge with everything you need for a gravel race or mountain bike adventure. My destination was a weeklong trip to Long Beach, WA for some cool, coastal road rides, and it didn't take long to fall in love with the RoundTrip.
From the outset, the interior organization just makes sense. The most efficient way to store kits, jackets or other clothing items is to roll them up. That's the way I roll, so the RoundTrip plays nicely with my existing travel M.O. I can tuck a single kit (bib shorts and jersey) into the smaller sections, then put jackets or multiple shirts into the larger sections. And, don't feel like the RoundTrip is only built for hauling bike gear. I had a few of my t-shirts as well as my running gear in there as well. I love the padded, soft sunglasses sleeve as well — a nice touch.
The padded helmet area is plenty large for any road helmet. In fact, it's almost big enough to put a full-face helmet in there, but DH isn't my thing, so I was unable to test it. Just know that you can certainly stash plenty of other items in and around your helmet in its compartment. And, on the other end, that isolated shoe compartment is perfect for road or MTB shoes. It's tarp-lined and has a drain port, so you can drop your shoes in there without worry.
The full-width front pocket is great for all your tools and smaller items. In theory, the bungee straps could be useful for mini pumps or other items like that, but not much else. That said, the pocket is easily-accessed and features three mesh pockets as well as the generous main area. On the outside is a separate, zippered pocket for essentials (wallet, phone, GPS).
I love that Thule chose to use non-locking zippers throughout the RoundTrip Bike Duffel. It makes opening each compartment that much easier because all you have to do is unzip it a little, then pull it wide open. And, on that note, I never had any issues with the pockets unzipping on their own.
Hauling the RoundTrip was pretty good overall, but could be improved. The two end handles are nice for grabbing and stashing it in the cargo box or hatch. But, the top handle makes for an awkward carry because of the width of the duffel. I'd like to see a handle on one side as well so the bag could be carried vertically.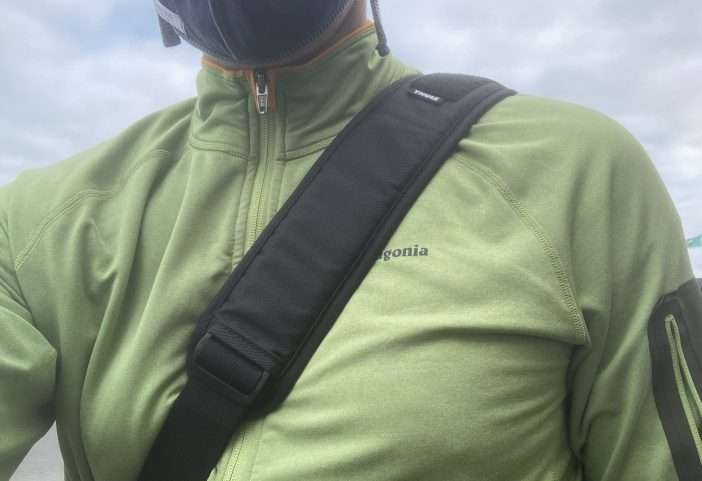 The removable, cross-body strap is a good option as well, but became a little uncomfortable when walking from the car to the hotel room. I think the cross-carry would work better on the bike because the load will be distributed across your back, whereas walking around, it put a lot of pressure on the front of my shoulder. Sometimes, it took a little bit of brain power to figure out how to put the strap over my head properly as well (but, you're smarter than me and will figure it out).
Oh yeah… the stinky stash pocket on the entire lid is so nice for those smelly kits if you're away from any laundry services. Keep in mind that the RoundTrip is too large to use as a carry-on, so if you're flying, it would likely need to be checked.
The Good
Small, divided compartments for everything
Generous helmet storage
Dedicated shoe storage with drain port
Durable exterior fabric
Shoulder strap for hands-free hauling
Can squish the dividers down to use it as a regular duffel
Bright gold interior makes it easy to find items
Lids and pockets open wide and easily, thanks to non-locking zippers
The Bad
Wished for one more handle on the side
Shoulder strap became uncomfortable while walking around
Too large to use as a carry-on
The Bottom Line: Thule RoundTrip Bike Duffel Bag
For a bike trip, having a dedicated bike bag is absolutely money well spent. I usually take a handful of bike trips every year and the RoundTrip will be my bag of choice for those adventures. The only hangup is it can't be used as a carry-on, but it's large enough for the longest of bike adventures with a spot for everything you'll need (except your bike).
Buy Now: Available at Amazon.com