With every pedal option on the market, the first thing I look for is float. Whether it's adjustable or set, I've learned that my knees need it — as do the knees of most cyclists looking to ride trouble-free for years to come. But, I also need something that's easy to clip into, light weight and simple to set up. I've used the XPRO pedal design for thousands of miles and the Time XPRO 12's perform just the same, but uses lighter materials, around a titanium axle.
Time XPRO 12 Pedals Features:
ICLIC system engages fast and easy
Aero shape body
Low stack height for added clearance
Titanium axle and carbon-filled materials
Standard free cleats included (2.5mm lateral, 10-deg angular, 16-deg release)
198 lb max rider weight
Stack: 13.5 mm
Weight: 95 grams (each, actual)
MSRP: $317
The XPRO 12 feels automatic
As with any pedal, there are a few housekeeping items that need to be done before that first spin. Tops on that list is cleat placement. Luckily, Time's ICLIC cleats are simple to set up and also inexpensive to replace. Currently, I alternate between the Wahoo Speedplay POWRLINK Zero pedals and these across all my test bikes. While I like both for their knee-friendly performance, the XPRO's get the nod for simplicity and clip-in.
My go-to trick with cleat placement is to always have a reference pair of shoes available. If you don't have that, be sure to keep one cleat in place while installing the other. That way you have at least once reference point. Once set in place, secure them properly and you're all good. Thankfully, it's just a three-bolt affair. And, walking around in these cleats is just about the same as you'd find with Shimano SPD SL's, but without the rubbery tips. Take it easy walking around and you'll be fine. I have had them installed on Bontrager XXX and the Shimano RC903 and RC902 road shoes with great success.
You can also further play around with right/left cleat placement for slightly-different Q-factors. Most will want to just stick with the standard 51.7 mm Q-factor, but based on my fit, I install them opposite for a 54.3 mm Q-factor. This better aligns with my hips and provides the biomechanics for me. Again, start with the standard placement and allow your bike fitter to refine, as needed. If you don't know your proper cleat placement, there is a side marker on the cleat that should match up with the ball of your foot in your shoes.
Aside from the cleats, the only other adjustment is the release tension. From the factory, they are set at position 1 (easiest), but you can turn the screw clockwise to position 2 or 3 for progressively stronger tension release. Honestly, this is the most finicky thing with these pedals as those three settings require careful attention to obtain. You just have to rotate the screw ever-so-slowly to feel the subtle stopping point. I've found it easiest to engage just an unworn shoe into the pedal while adjusting the tension — it's easy to feel the difference as you rotate the shoe outward to test.
Without question, the signature feature of the Time XPRO 12 is the ICLIC cleat engagement. There's no better way to explain it other than comparing it to a mouse trap. The pedal/cleat interface is optimized for the fastest step-in of any pedal I've used. With an initial touch, the spring-loaded design snaps into place with a tell-tale click. It's loud and can be heard quite clearly in the wild as an indicator that you stepped in.
Most of the time, I find that a unclipped pedal (usually my left pedal) will sit itself perfectly for entry after a stop. When the light turns green at an intersection, I can quickly start with my right foot and step right in with my left. It's quick and consistent. Of course, my muscle memory isn't 100% accurate and there will be those rare occasions when that doesn't happen, but it's rare.
Getting back out of the XPRO 12's is also easy. With a 16-degree release angle, you have a good amount of leeway before unclipping. A swift, deliberate twist disengages the cleats, just as I would expect.
Notably, the Time XPRO platform is wide for optimum power transfer and bike feel. I really appreciate the bike/shoe connection these provide and the smooth float with every pedal stroke. There isn't a definitive snap-to-center that you might find on other shoes, but I appreciate how free-floating it is (and my knees do to).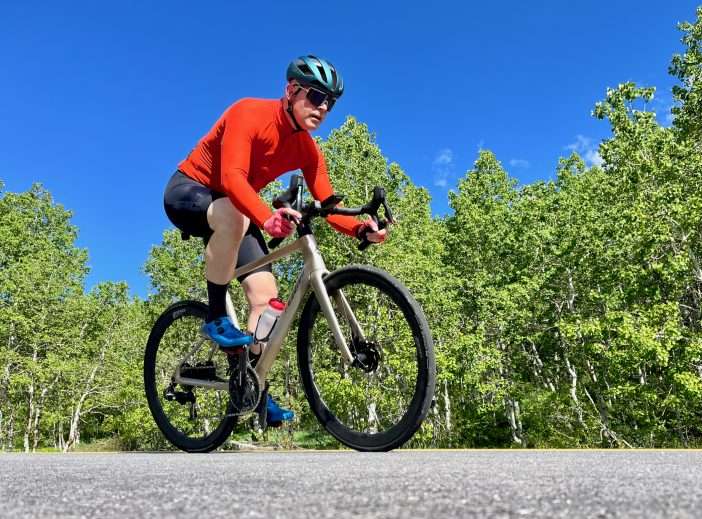 I have found two downsides to the float and release characteristics of the XPRO 12's. The first one is when you are close to that release point, it's a fine line. Once you cross it, your shoe is ejected immediately. This has happened unintentionally when making body position adjustments in the saddle. In time, I've found that line and stayed well away unless I intend to unclip. Secondly, I have had occasion where it was rather difficult to unclip. It's hard to explain, but when coming to a stop, after a challenging climb, I have unclipped my left foot, leaned forward on my bars and tried to unclip the right foot. If, in this instant, the majority of my body weight is pressing against the front of the pedal, it seems to get stuck in that deep notch — making clip-out difficult. I don't know if this is a biomechanical issue or if all that pressure causes the ICLIC system to lock up, but I have experienced it a few times, almost resulting in a tip-over.
Note: Time Pedals are now part of the SRAM family of products and they are used at the highest levels of the sport by World Tour teams around the globe. 
The Good:
Quick, tell-tale pedal engagement
Wide platform for excellent bike feel
Float is easy on the knees
Lightweight design
Unclipped pedal sits ready to engage
The Bad:
Release tension screw is fiddly
Unintentional releases can happen
The Bottom Line: Time XPRO 12 Pedals
At a mere 95 grams, the Time XPRO 12 pedals are definitely light. And, the ICLIC cleats and iconic mouse trap engagement offer confidence you won't find elsewhere. Adding knee-friendly float to the whole package and the XPRO's are an easy choice to use across the variety of test bikes that come through for review. I have used the XPRO 10 model on the Stages SB20 Smart Bike for years and have used the XPRO 12 on both the Trek Domane+ SLR and Fezzari Veyo SL for well over 1000 miles. My knees are happy and I appreciate the overall performance the XPRO platform delivers.
Buy Now: Visit SRAM.com