Topo Athletic has long history of zero drop shoes, but surprisingly, they had yet to release a pair of cushioned trail runners until the all-new Pursuit. This new trail runner takes the Runventure 4 to the next level with a 28mm stack height, Vibram outsole and comfort in spades. Welcome to the party because this one's at hit.
Topo Pursuit Trail Running Shoe Features:
Zero-drop platform with 28mm stack height
Cushy, responsive ZipFoam™ midsole
Vibram Megagrip outsole
Ortholite insoles
Classic Topo anatomical toe box
Weight: 11.6 oz (each, men's 11)
MSRP: $140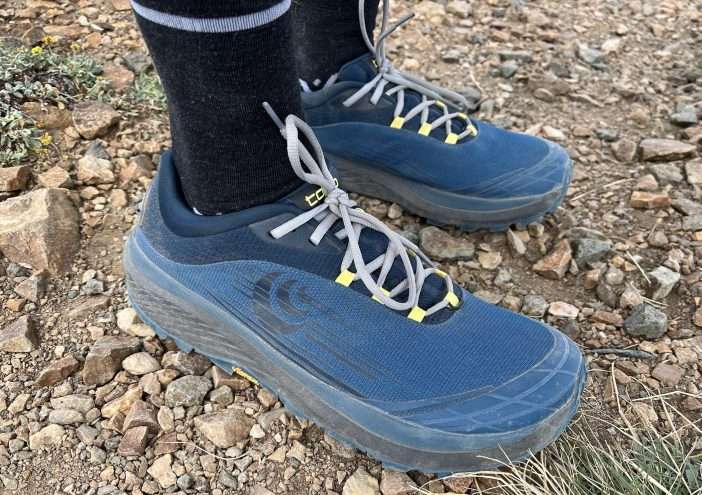 The Topo mic drop
We're all aging — whether we admit it or not. As I've gotten older, my shoe preferences have also changed. Those low-profile race treads, with their jarring, fast ride, often don't agree with my old bones. When I have my druthers, I reach for a shoe with the type of specs found with the new Pursuit.
Digging in further, the anatomical design of the toe box on the Pursuit (and all Topo's) is so refreshing. Wiggly toes are happy toes and allow a for more natural toe-off with added stability. Adding that on top of a 28mm stack height in a zero drop design is simply music to my ears. Yes, I do love the close-to-trail feel of the new Runventure 4, but that added 8mm in stack makes a monumental difference in terms of comfort.
I have absolute confidence that I can go box-to-trail in any Topo shoe, but after a quick break-in period I hit the local trails. As I broke them in, I appreciated the comfort and smooth stride on pavement. Those same feelings became even more amplified on dirt as I ventured into the gravel roads and technical singletrack where I venture.
Where the Runventure 4 falls short is in forefoot protection, but I'm happy to report that the Pursuit delivers superb foot protection while maintaining a great trail feel. Goldilocks would be impressed because these are "just right." No matter the terrain, I have confident traction. When climbing uphill, all those loose, pointy rocks are muted and met with excellent grip — Vibram Megagrip remains the gold standard and these are a great example of why that's the case. 
For tricky descents, the Pursuits remain nimble and agile with the ability to change direction or foot placement for the best traction. The eyelet and loop lacing system with supportive uppers keep my feet solidly in place without even an inkling of slipping. The integrated, gusseted tongue really cradles my feet perfectly. On a recent visit to Snowbird, my wife and I hiked from the top of the tram to Mt Baldy. The ridgeline scramble was great for these shoes, so they get my approval for hiking as well.
Breathability is excellent so far and the choice of fabrics is great for the environment and longevity. Everything is holding up well — in spite of repeated run-ins with rocks and other debris. The worn cuffs I experienced with the Runventure 4's has not happened at all with the new Pursuits.
In the end, the magic of the fit, function and performance of the new Topo Pursuit comes from the ZipFoam midsole. This material provides just the right cushioning and responsiveness. They don't ever feel sluggish, yet they are well-cushioned. One observation that I have to note is I have rolled my ankle a few times wearing these shoes so far — not enough to sprain anything, but rolled nonetheless. I haven't had that kind of ankle-turning frequency in years. Is there some lack of stability here? I'm not quite sure, but will keep an eye on it as I could have just made some bad foot placements recently.
Fit: I consistently wear a size 11 in Topo Athletic shoes and these fit perfectly. 
The Good
Perfect amount of cushioning
Responsive and fast enough for training and racing
Great trail feel… I'd say the perfect amount
Vibram Megagrip outsoles are the gold standard
Durable uppers that breathe well
Simple lacing system provides solid fit
Gusseted tongue cradles your feet
The Bad
I'm watching those stability issues… not sure if it's the shoes or a string of bad foot placements
The Bottom Line: Topo Athletic Pursuit Trail Runners
Above all, I love the smooth stride and cushioning these provide. The added stack height turns these zero-drop trail runners into a heavenly experience for my joints. With a smooth stride, killer traction and foot-cradling uppers, the new Topo Pursuit is a clear winner.
Buy Now: Visit Topo's Amazon Store