The slow transition to Trek-branded accessories continues in Waterloo with the all-new Trek Velocis MIPS Helmet. So far, the Trek brand is hitting apparel and helmets from the top-down and the all new Velocis helmet aims to deliver Trek's best racing helmet ever produced. It's definitely light and airy, but how does it feel in the real world? And what features help this spendy helmet stand out?
Trek Velocis MIPS Helmet Features:
Trek's lightest road helmet is also even more comfortable
OCLV Carbon inlay for added structure and weight reduction
Optimized ventilation and channeling to keep you cooler
Lightweight MIPS Air system adds comfort and protection
The single-lace BOA® 360-degree fit system
Rubberized sunglasses docking port
Beveled front edge improves field-of-vision
Awarded a 5-STAR Virginia Tech safety rating
Weight: 280 grams (medium, actual)
MSRP: $299.99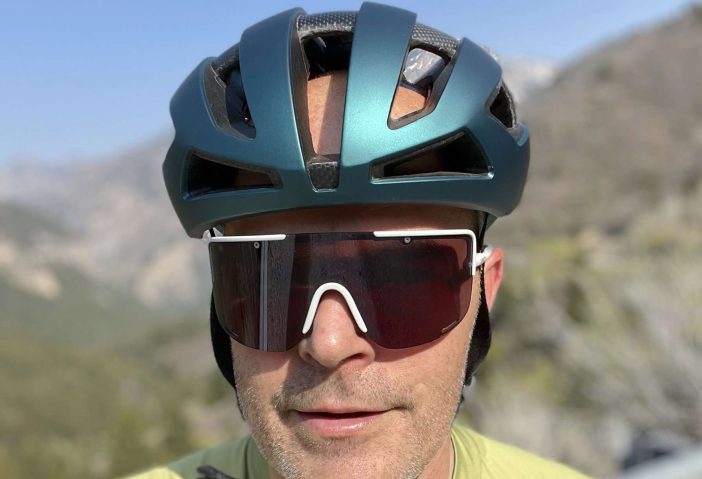 An All-new Velocis MIPS
Helmets have to adapt to a variety of head shapes and hair in a magical way. For me, "hair" is never an issue and luckily, I've got a nicely-shaped head that just plain fits most helmets on the market. Upon arrival, I dropped the Velocis MIPS onto my noggin, twisted the dial and felt immediately connected. It was light, airy and unquestionably-comfortable. Outside of the living room, things didn't change much, but there have been some interesting discoveries along the way.
To get the lightest helmet possible that still achieves a 5-star safety rating, going with MIPS Air is logical. This low-profile system uses a series of strategically-placed rubber mounts that allow the liner to rotate within the helmet liner. Performance is on par with standard yellow MIPS cages, but at a much lighter weight. The trick is the slick side of the padding that rotates separately from the helmet while the rubber "watch" mounts return the liner back to center.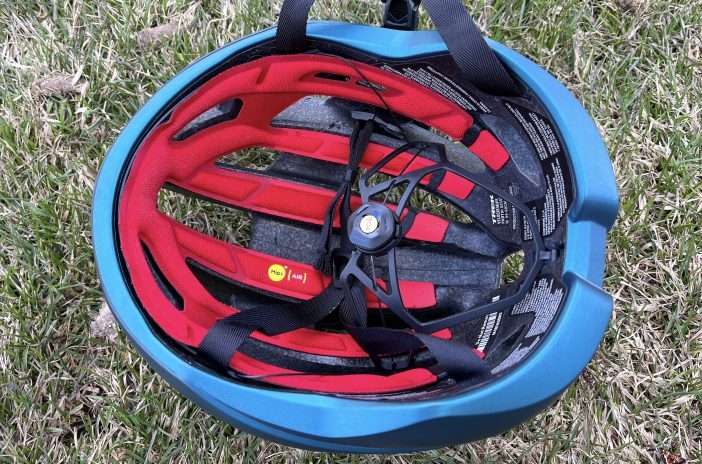 Playing around with it on my head, the liner doesn't immediately rotate quite as much as a standard MIPS unit, but the crash tests say it most certainly does. Some may still question the value of MIPS, but I've got first-hand experience with it and have felt the impact and subsequent liner slip during a crash and am hesitant to ride anything else. At lower speeds (like my crash), you can feel the slip, but at higher speeds, it happens in a split-second. MIPS has been proven to deliver added protection and I believe it's worth the price of entry (which is getting more and more affordable every year). That said, the Trek Velocis MIPS helmet isn't aiming to be the most affordable helmet on the market. No, it's Trek's no-holds-barred road race helmet for the hottest days on two wheels.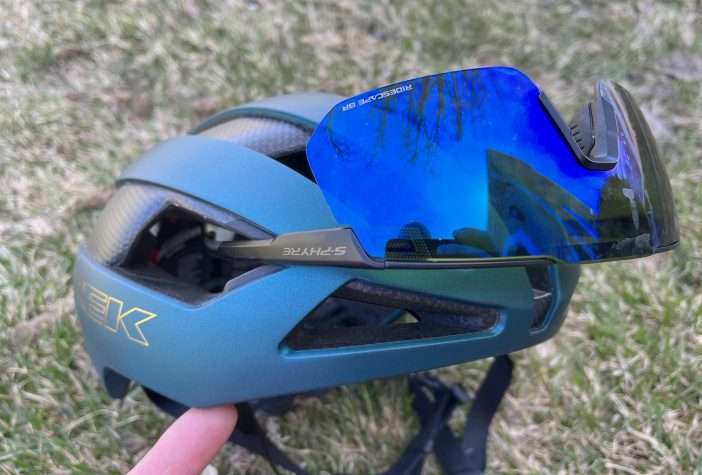 Before digging into the finer points of how the Velocis MIPS performs on the road, gravel and dirt, let me tell you about one of my absolutely favorite features. It may seem like a small detail, but the minimalist retention system has a trick that gives me all the feels. Not only is the fit made possible by a Boa dial, but the rear cage folds downward into the helmet for travel. That alone is worth shouting from the rooftops because it is a big deal. When traveling, I always have to carefully pack my helmets to ensure the retention system doesn't get scrunched, but with the Velocis MIPS, all you do is fold it inward and stash away. It's a simple pleasure, but a good one.
Now, onto performance. My first rides were in the cold desert gravel outside of St George, UT. Morning temperatures were in the low 40's, which highlighted the massive vents and airflow of the helmet. Due to that airflow, I initially wore a cycling cap underneath. The 360-degree fit system easily expands to accommodate a cap, as needed. As the morning warmed up, I ditched the cap and, though still chilly, appreciated the massive vents.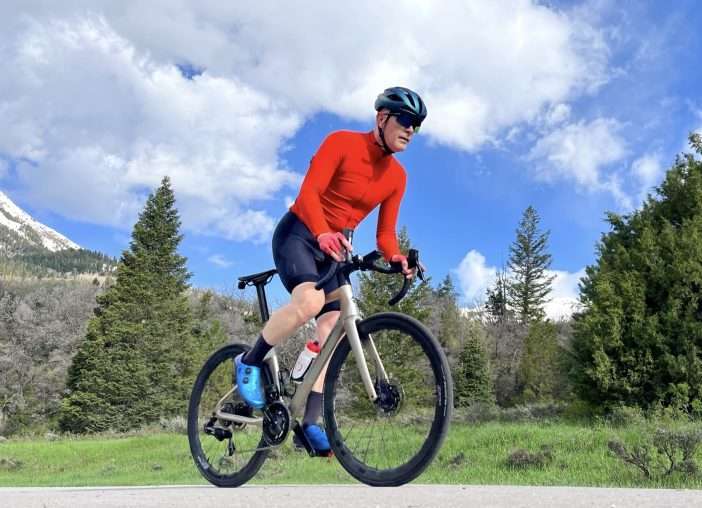 As the spring has turned to summer, I have continued to appreciate the airflow — particularly on warm days. Among the best summer helmets, this one stays cool (Trek says it's 38% cooler than the previous model) and remains quiet at speed (Trek also states it is significantly more aerodynamic). Everything fits like a glove and the whole thing just disappears on the bike. Speaking of disappearing, the beveled front brim is unique and does offer added field-of-vision when in the most aerodynamic positions.
Sometimes the retention systems interfere with sunglasses, but I haven't had any issues with a variety of sunglasses, including the Shimano S-Phyre Magnetic GR, Tifosi Rail and Vinco Sola sunglasses. Post-ride, the rubber sunglasses grippers do a great job of holding your sunnies in place. Just flip them upside-down and slide them in for secure storage. Glasses with straight temple arms do work best, with the Tifosi Rail working perfectly. The little rubber edges work wonders.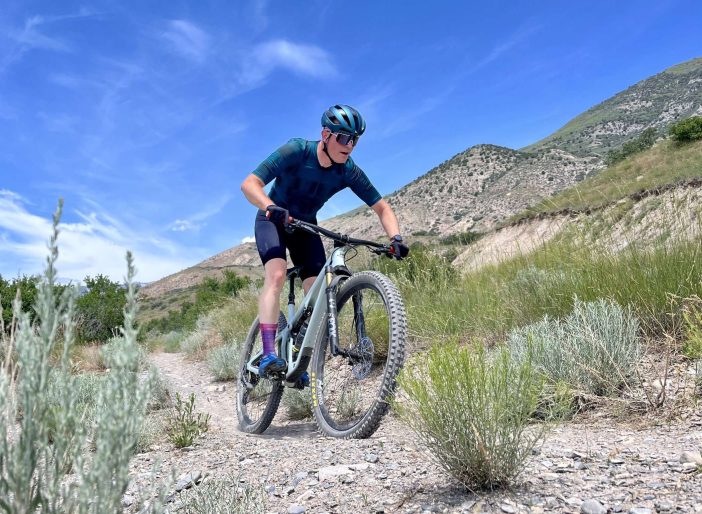 One of the most important aspects of any helmet is moisture management. Nothing is worse than a river of sweat dripping right inside your sunglasses. Unfortunately, the Velocis MIPS isn't the best in that department. There are worse helmets, but it doesn't take long for a steady stream of sweat to drip into my glasses. Bummer. 
The Good
Massive airflow for improved cooling
Among the lightest helmets I've tested
Beveled front really helps with forward vision in the drops
Easy fit adjustments
Inward folding retention system makes for worry-free travel
Stellar safety
The Bad
Sweat management disappoints
Sunglass docking doesn't work well with curved temples
Wallet-busting price tag
The Bottom Line: Trek Velocis MIPS Helmet
As Trek's new top-shelf helmet, the Velocis MIPS does not disappoint. With amazing breathability, a lightweight design and a few nifty innovations (beveled front, folding retention system), it's easy to grab the Velocis on any ride. Sweat management could be improved and the price is hard to swallow, but ultimately, it performs as expected wherever you choose to ride and is a perfect summer helmet.
Buy Now: Visit TrekBikes.com