Gloves can be a divisive topic among mountain bikers. Are they a hindrance to ride feel and natural breathability, or do they offer critical grip and protection? As a hot-handed person who values all of those traits, I don't want to pick and choose. The Troy Lee Designs Air glove aims to embody breathability and ride feel, while still offering excellent grip and enhanced protection. Does it succeed?
Troy Lee Designs Air Glove Features:
Compression-molded cuffs with hook-and-loop closures
Micromesh fabric provides all over ventilation
Single-layer palms with mapped laser hole perforation
Sonic-welded thermoplastic rubber elements on fingers add protection
Silicone printed fingertips and palm increase lever grip
MSRP: $32
A beautiful season it was
For a long time, I've been riding in a battered old pair of Troy Lee Designs XC gloves. After having personally sewed patches onto multiple fingertips to keep my digits inside, I decided it was time for a change. I wanted supple palms for easy movement, good grip, serious breathability, and an adjustable wrist closure to comfortably accommodate my rather meaty lower hand. When I saw that the TLD Air offered these things and more at a price that piqued interest, I sprung for them.
I've been riding in them for some months now, and I can honestly say that they exceed expectations in all areas I sought out. The palms are supple from the get-go and they have never impeded my hand movement. That's a big deal to me. When I'm flying through downhill, I sometimes clutch the bars like a bee holding on to the windshield of a moving car. The TLD Air never deigned to restrain me from my typical downhill death grip or from any hand movement whatsoever. That palm material also translates nicely into sensitive ride feel, giving me a feeling of connection to the ground.
Speaking of grip though, these gloves offer more than enough. The silicon patterns on the palms and fingers make it easy to hold on with little effort (even if I'm personally prone to overgrip when things get spicy). The one thing that doesn't go right in the fingertip region is touchscreen sensitivity. It'll start to work eventually, but sometimes it takes 30 minutes of riding in cool weather to heat the tips up enough for a phone to recognize you. That can certainly be a bit annoying, but it's no deal breaker for me.
What would be a dealbreaker for me would be a lack of breathability. The TLD Air suffers no such issue (you might have assumed based on the name). The upper material of the glove is what TLD refers to as "micromesh fabric", and it's a godsend to those of us with hot hands. The material is incredibly stretchy, so it conforms around the features of my hand wonderfully, and it breathes as if it didn't exist at all. I can honestly say I've never worn a glove with a more breathable material. Hot days are no match for it. Of course, with that being the case, it's not exactly the go-to for Winter riding in the PNW. Still, that wasn't the Air's original purpose, so I can't fault it here.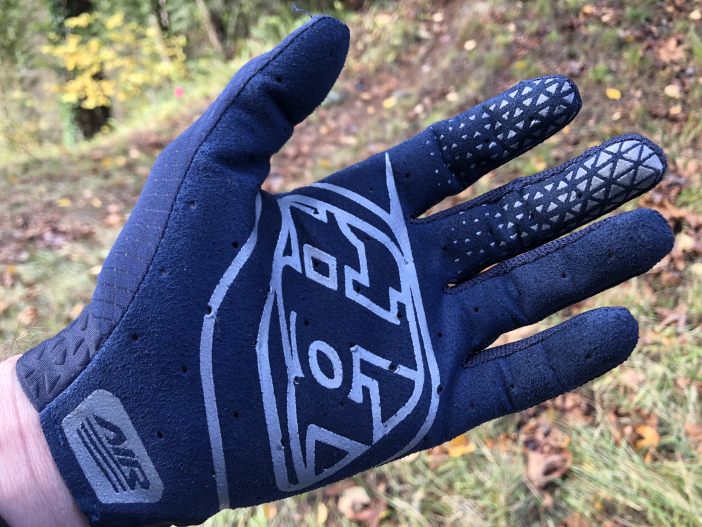 Similarly, the TLD Air wasn't designed to add much protection. They're superior to bare hands when you palm the earth or punch a passing tree, but not worlds better. Features-wise, these gloves offer two things for protection – faux leather palms and rubber patches up and down the index and middle finger. The faux leather palms inspire confidence, and they've saved my hands some skin over the course of my testing. The rubber patches on the fingers are more of a mystery to me though. Would they protect from anything? I suspect not. In any case, they began peeling off after my first ride wearing the gloves.
That takes us into the big drawback of the TLD Air – durability. As mentioned, the rubber "protective" patches came peeling off the fingers on day one. Since I questioned their utility in the first place, that didn't bother me too much. The rest of the glove didn't fair much better after a few months of testing though. The materials used are light and breathable, which makes them more susceptible to the wear and tear of heavy use, especially up here in the PNW, where blackberry vines threaten the lifespan of all outdoors gear. On a single ride, two months into testing the gloves, I tore two holes in them by passing vine snags. While the mesh is tremendously breathable, it loves a good thorn. It's really too bad because I want these gloves to last forever. One year is more likely.
At the end of the day, they do their job well and stay very comfortable while doing it. Yes, they have a slight durability problem. It's true that they aren't always friends with touchscreens. Recognized, there are a couple seams near the wrist that are more prominent than they need to be. I'll admit that the soft patch for nose-wiping is strangely small, and the velcro closure is a bit large (no hindrance to me). And still – at the end of all that, I'm very, very happy with them.
Fit: My hand is about 8.25" in length from base to middle finger tip and 3.75" in width. That aligned most closely with a Large on the TLD size chart, and I'm pleased with the fit. They don't have any excess material, and they're not too tight.
The Good
Unbelievably breathable uppers
Supple palm material allows unimpeded hand movement
Grippy in all the right places
Generally comfortable across the board
Reasonable sticker price
The Bad
Slow to warm up to touchscreens
Not exactly durable
The Bottom Line: Troy Lee Designs Air Glove
As a warmer weather glove, the Air more than proves its worth. It's not a perfect glove, but with a bit of added durability, it might come close. It shines for its breathability, ride feel, and general comfort. It also offers a bit of protection, but that's not its real focus.
Buy Now: Available from Backcountry.com