When you name your pack after a legendary ultrarunner, it had better be a strong one.  And when that same legendary ultrarunner is the guy designing it, your chances of success are pretty good.
Ultimate Direction PB Adventure Vest 2.0 Features:
Overall cargo capacity: 11L (671 cubic inches)
Fluid capacity: 2 x 20 oz bottles; accommodates 70 oz reservoir sold separately
Weight: 16 oz (454g) without bottles; 21.5 oz (610g) with bottles
Height: 16 in. (41cm)
Width: 9 in. (23 cm)
Depth: 4.5 in. (11 cm)
Two GPS/phone pockets
Four gel or bar pouches
Two electrolyte or pill pockets
Bellows side pockets can carry 26 oz. bottles
Two adjustable sternum straps
Emergency whistle
Micro adjustment rear straps
Quick reservoir access zipper
Internal bungee and gear separation panel
Two zippered lateral stretch mesh pockets
Trekking pole and ice axe loops
Three size options
Price $160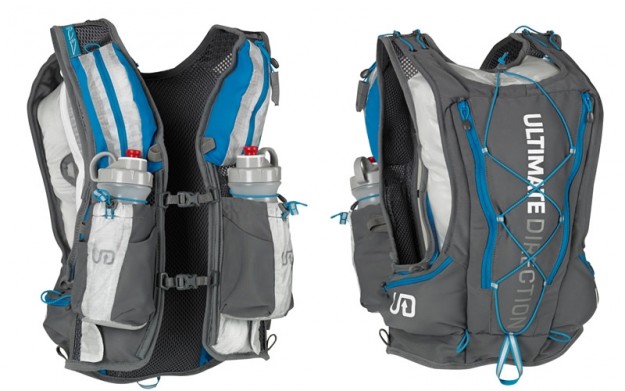 PB Vest is made for long days on the trail
Let's start with the name.  The namesake of Ultimate Direction's PB Vest is Peter Bakwin, a legendary ultra-endurance athlete famous for establishing fastest known times on mountain peaks and rugged multi-day trail outings throughout the west.  (Coincidentally, he's also the archivist and de facto ruling authority of the Fastest Known Times movement in the outdoor community.)  Bakwin originally designed this vest to accommodate full-day adventures where you need a ton of gear and nutrition, and have limited access to assistance or supplies along the way.
We tested our pack on precisely these sorts of self-supported outings: rock scrambling and peak-linking in Yosemite National Park, 20-mile hikes in Glacier National Park, and 8-hour trail runs through the rugged Ventana Wilderness of Central California.  The vest has proven more than up to the task from comfort and cargo standpoints, with only a couple of design quirks where we would like to see improvement.
In general, the 2.0 version of this pack features a better overall fit as well as new fabrics that are more versatile and durable than on the original model.   Material construction includes a fabric called Silnylon 66, which is nylon impregnated with silicon and polyurethane to create permanent water resistance and increased tear resistance.  The interior surface consists of a breathable Hex Mesh material that is lightweight, highly breathable, and moves moisture effectively.   Finally, all of the pockets are made of heavy duty power mesh fabric that easily expands as you need it to, and stays compressed when not in use.
The pack comes in three sizes for proper fit through the trunk, and the 2.0 version has side adjustment straps underneath the diagonal side pockets to further dial in the fit and prevent bouncing.   In our testing, the PB vest rides very comfortably even when fully loaded, with minimal bounce and no irritation against the skin.
Carry it all
Probably the most distinctive feature of the PB vest is the very impressive amount of storage throughout the pack, with multiple pockets on the front and sides and larger compartments on the back side.  The 2.0 version has added a side zipper which makes access to the reservoir compartment easier.  The largest front pockets are primarily intended for storage of two 20-oz bottle that are included, but they can also be used for gear storage if you opt to use a reservoir system instead.  Dual side pockets are a bonus for occasional use items like maps or cameras, although they are a bit difficult to access on the go if you aren't super flexible through your upper extremities.  There are even two small stash pockets on either side of the water bottle holders that are perfect for empty gel wrappers.
Although the pack is compatible with a 70-oz fluid reservoir, in practice it proved somewhat cumbersome to go this route instead of sticking with the front water bottle system.  The reservoir is tricky to put in place through the side zipper, and the gear separation panel in the rear storage compartment doesn't keep a reservoir securely in place, although there is a Velcro loop clip at the top.  On the front side of the pack, there isn't a convenient place to stash a bite valve, so tucking it under a sternum strap proved to be our best practical option.   The bad news is that if you decide to stick with the two-bottle system for carrying fluids rather than a reservoir, your overall fluid capacity drops to 40 oz instead of 70 oz, but the good news is that there is plenty of space in the pack to carry a small filter for refilling the bottles in natural sources.
The Good
Great storage capacity and variety of compartment sizes
Stable, comfortable ride when fully loaded
Lightweight, durable material construction
The Bad 
Side pockets difficult to access
Fluid reservoir option awkward to access and use
The Bottom Line: PB Adventure Vest 2.0
The 2.0 version of the PB Adventure vest is a clear upgrade in terms of comfort, storage, and durability, and the pack is really ideal for long days when you're entirely self-reliant.
Buy Now: Available at Backcountry.com