Delivering the best quality bib shorts for the lowest possible price is a tricky proposition. Some have navigated that line adeptly while others have left something to be desired by cutting too many corners in the process. For Velocio, achieving a $129 price point with the Foundation Bib Short is quite a feat, but just how well can a budget-friendly set of bibs perform from a high-end brand like Velocio?
Velocio Foundation Bib Shorts Features:
Utilizes the foundation chamois developed with Elastic Interface
5-panel anatomic design
Wide, soft straps for added comfort
Optimized for shorter rides (~2 hrs)
10″ inseam
MSRP: $129
A good choice for shorter rides
The $130-$150 bib short market can be a mixed bag. You get improved construction and fit, but inevitably, something has to give. But, for most riders, that's the sweet spot that provides the look and feel of more expensive bib shorts at a lower price. The construction of the Foundation Bib Shorts is excellent, with ample support and compression — thanks to the quality materials and 5-panel design. Up top, the wide straps keep everything comfortably in place and ensure that the lowers stay precisely where they should.
As with any bib shorts that fit properly, putting them on should require some stretching and tugging, followed by some extreme leg movements to ensure everything is situated. Once set, the leg cuffs sit about 3-inches above the knee for good coverage. They aren't as long as some higher-end shorts, but are just right for a modern look.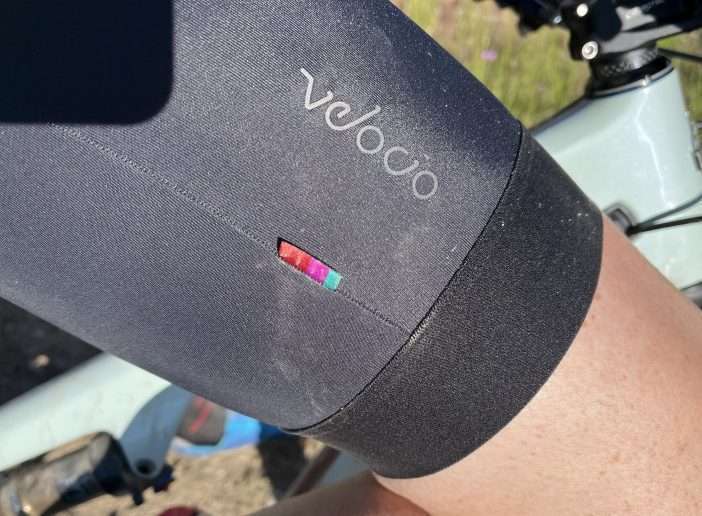 At the cuffs, Velocio has gone with a wide, stretchy band with infused silicone grip. As opposed to laser-cut cuffs, these do feel initially restrictive with a noticeable bump on the backside where the seam comes together. While the cuff doesn't entirely disappear in the saddle, it does thankfully get more comfortable and happily stretches with every pedal stroke.
With the wide, soft straps, everything feels cohesive. Velocio always chooses to use a criss-cross back design and it works well. The front of the bibs do come up just below the navel for excellent coverage, but could use a little more height on the sides to tuck my dad bod in just a little. For added side coverage on those love handles, the new Velocio Luxe V2 Bib Short is a better option.
For mountain biking or gravel, I wear the same kits, so the Foundation Bib shorts have been used for all disciplines. I've experienced chafe-free performance across road, mountain and gravel rides with a variety of saddles. I haven't felt the need for any chamois cream in the 2-3 hour rides I've done, but I would definitely lube things up if these were to be used for longer rides — especially in the heat of the day.
As expected, the foundation chamois is good for this price point. Velocio isn't shy about calling it the "lunch ride" chamois and that's about right. A 2-hour ride is just right for the padding and breathability on offer. If that's your sweet spot, you'll be thrilled with the look and feel of these shorts for the price. On the 1+ hour climb up American Fork Canyon, it was not only necessary to stand to mix things up, but also to give my backside a breather. You'll find it necessary to do the same should you have any 3000 ft. ascents on your regular routes.
It's worth mentioning that the outer edge of the chamois has a small rib on it — just to help ensure you stay centered on the saddle. It's subtle, but does the job compared to chamois without it.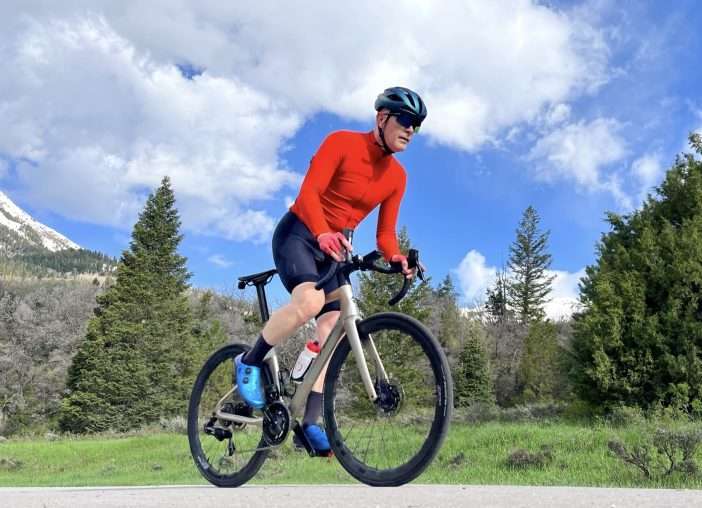 I always wear a pair of bib shorts multiple times between washing and these are willing partners with that procedure. Hopefully I'm saving the planet and reducing washing machine wear-and-tear. I typically wear a base layer (like the Velocio Ultralight SL), but I tested them on an aggressive mountain bike ride without a base layer and I can confirm that the straps are chafe-free on those nipples. With or without a base layer, I have no issues with how the uppers feel.
Comparing these to a few others in the same price range, I still think the Pearl Izumi Attack Air Bib Shorts take the top spot. These are about on par with the Trek Velocis Bib Shorts in many ways and are definitely better than the Castelli Competizione Bib Shorts overall.
Fit: I'm 5'11" and 175 lbs, wearing the size medium.
The Good
Sharp looks of Velocio at a lower price
Construction and fit/finish is top-notch
Good length and they stay put
Excellent compression
Versatile for road, gravel or MTB
The Bad
Foundation chamois is good, but not great
Leg cuff is noticeable off the bike and only barely noticeable while pedaling
The Bottom Line: Velocio Foundation Bib Shorts
Velocio's Foundation Bib Shorts hit the mark as far as value goes. They look sharp and perform quite well among the competitive field of $150 bib shorts. Don't expect an all-day chamois here, but for 1-3 hour rides, your backside will have plenty of comfort.
Buy Now: Available from Velocio.cc