The good folks at Speedplay did a great job for many years delivering arguably the most knee-friendly road pedals on the market. But, expanding their reach with a sometimes confusing pedal offering did cause riders and retailers alike to scratch their heads. In 2019, Wahoo Fitness acquired Speedplay to take their Zero Pedals to the next level — and also develop a pedal-based power meter. The midrange Wahoo Speedplay Zero Pedals are the sweet spot in the line and Wahoo's changes can be felt.
Wahoo Speedplay Zero Pedals Features:
Adjustable float (up to 15-degrees)
Stainless steel dual-sided design
Walkable, areodynamic cleats
3-axis cleat adjustment
Low stack height (11.5mm)
Standard-tension cleats included (easy tension available separately)
53mm Q-factor (56mm , 59mm and 65mm may be ordered)
Weight: 220g (pair)
MSRP: $229.99
Zero-to-hero pedals
With Wahoo's 2019 acquisition, the goal was to simplify the supply chain, manufacturing and product offerings while also developing a pedal-based power meter (called POWRLINK ZERO). With the POWRLINK ZERO pedals, Speedplay aficionados can finally have happy knees and power measurement. Someday, I'll give those a whirl, but I've been testing the regular Wahoo Speedplay Zero Pedals without an integrated power meter.
For many years, I used Speedplay Zero pedals exclusively on the road. I tried Shimano Ultegra PD-R8000 pedals for a bit, but the style of float didn't suit my knees. Subsequently, I did switch over completely to Time XPro 10 Carbon pedals and have been very happy with them. They offer excellent float, great engagement and simple cleats. quite liked them overall — enough to switch to them for several years now.  but have recently switched to Time XPro 10 Carbon Pedals. Coming full-circle to the updated Wahoo Speedplay Zero pedals has been an excellent experience that reminds me just how knee-friendly the lollipop design is.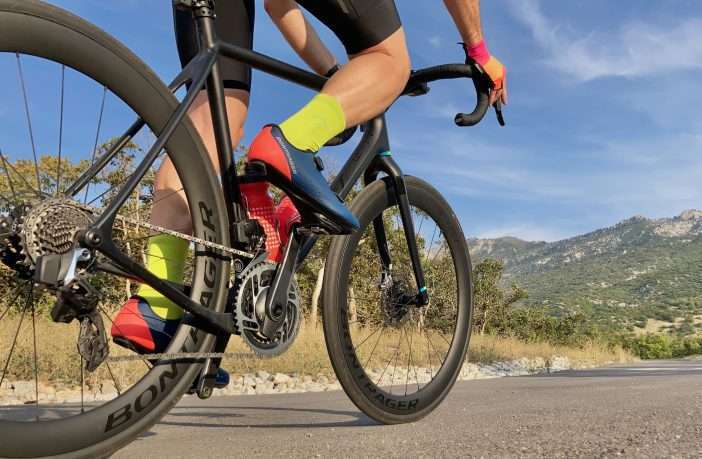 Since I'm harping on float, let's dive in a little further. No other pedal system that I'm aware of has the type of float that Speedplay offers. Being a circular design, the pedal body lends itself to perfect rotational movements. And, the float is infinitely-adjustable between 0-15 degrees. The unique difference here is that all adjustments are made in the cleat itself without having to purchase a different set of cleats. For that reason, the cleats are fairly cumbersome to install and set up. With it, you've got multiple sets of screws, plates, retention rings and dimpled covers.
Luckily, the walkable cleats are MUCH better than the old bare metal designs. However, getting and keeping that aero/walkable rubber cover in place is rather difficult. It's not uncommon to see one of those at stoplights around town where a rider has unclipped and lost their cover.
Initial setup tips
So, a little more on installation. The beauty of the Speedplay cleat is its adjustability. I have used Precision Bike Fit for many years and Jeff always appreciates working with a set of Speedplay pedals. With it, he can fine-tune the cleat placement in ways that other pedals can't. I actually had a major brain fart when installing the cleats for this test and found sprinting to be a little odd. I dropped in and Jeff immediately corrected things, which was my bad. So, as you're installing these cleats, it's wise to triple-check and maybe even drop into your bike fitter or shop for validation. Because there are both fore/aft and side/side adjustments, it's easy to get lost in the sauce — even for someone as experienced as myself.
Once set up, make absolutely sure you get the walkable cleat cover firmly in place. It takes extra effort and I find that working from the bottom in a clockwise fashion results in the easiest placement. But, before doing that, get your float dialed in using a small Phillips screwdriver. While you're at it, be sure you have your fore/aft position set correctly as well. Ride some neighborhood laps–including a few sprints–make any necessary tweaks and then put the covers on.
Wahoo Speedplay Zero ride impressions
As a Speedplay fan, there wasn't really much to get used to. The dual-sided entry is fantastic great to have when clipping back in after a stop. But, the full metal outer ring does seem to make for harder engagement compared to previous designs. That was confirmed as I did some head-to-head testing with an old pair and these. Clipping into the new design did require more effort. And, the lateral float is a little tighter as well. To aid entry, dropping some dry lube in there makes things easier. I just use a couple of drips of White Lightning chain lube for that.
Disengagement is consistent, but it does require a little extra effort compared to the Look XPro or older Speedplay Zero models. That's something you'll want to get familiar with on friendly roads before venturing about. Again, I believe most of this has to do with the full metal ring which may improve with time.
Once the cleats were situated properly, sprinting and standing climbs felt natural and powerful. On the first ride or two, I had the cleats too far forward and sprinting felt awkward. In the right position, I could comfortable lay down the power and feel connected to the bike in every way.
The Good
Superb float adjustments
Dual-sided design makes for easy re-entry
Full metal ring adds durability and looks great
Wide cleat adjustability for proper fit
Way better walking in these cleats versus other brands
Grease port makes for easy servicing
The Bad
Cleat setup can be tedious
Avoid dirt and grime and lube often
Requires some extra force for engagement/exit
The Bottom Line: Wahoo Speedplay Zero
As an updated twist on the proven lollipop design, Wahoo has taken the new Speedplay Zero's to another level. Going with the metal ring adds durability and improved aesthetics, but it does seem to make entry/exit just a touch harder. I love the dual-sided design and the adjustable float really puts these over the top.
Buy Now: Available from REI
In Summary
Wahoo's updates to the Speedplay Zero are all on point. The classic lollipop design makes for dual-sided entry, but be prepared for a little extra effort to get in/out of them. Walking in these cleats is a breeze compared to the competition and overall your knees will love you forever with all that smooth float.