More data can ofttimes feel like overload. Still, the more data you capture, there's bound to be something that you care about. If it's heart rate, cadence, running smoothness or calories burned, there's bound to be a metric that matters to your fitness goals. To track that data, runners can now use the new Wahoo TICKR X V2, connected with their favorite device, or standalone.
Wahoo TiCKR X V2 Features:
More secure, comfortable strap design
LED status lights on top for easy viewing
Up to 3 simultaneous Bluetooth connections
Running Dynamics when paired with Wahoo Fitness app or GPS watches
50 hours of internal workout memory
500 hours of battery life
Indoor cycling and treadmill modes
Bluetooth or ANT+ option
Compatible with Zwift, Strava, Apple Watch, Apple TV (don't get all the data tho)
$79.99
Quality HRM (and some extra data too)
Heart rate straps aren't new. Honestly, not a whole lot has changed over time as the general function is the same as it ever was. However, Wahoo has done a great job with the TICKR X by providing a very comfortable strap that sits nicely for both running and cycling and largely disappears. The simple snaps on either side make for easy on/off and the LED lights are golden for knowing it's working.
The lights function as follows:
Slow Blue Flashing: On and searching
Fast 4x Blue Flashing: Found a device/app
Fast Blue Flashing: Connected to a device/app
Red: Heart beat
I've had the TICKR X in testing for quite awhile now and feel like I've used it for just about every activity imaginable: workouts, Zwift sessions, trail running, road cycling, mountain biking and gravel cycling. I've used it alone, with the Strava app, Wahoo Fitness app and with every Wahoo device I have (Rival, Roam, Bolt). Primarily, I've used it paired with the ELEMNT Roam or Bolt, but to capture Running Dynamics, I also paired it with the Rival GPS watch.
Let's talk about connecting the TICKR X to all these things. I found that the Bluetooth connection directly to Zwift (via MacBook Pro or iPad) can take some time. It would connect, but HR readings don't start to show up until a few minutes later. This was also the same experience when using the TICKR X directly with the Strava iPhone app. Once obtained, heart rate readings were accurate and reliable. With all Wahoo devices and the Wahoo iPhone app, heart rate data flows immediately and reliably (not sure what causes the delay with Apple devices).
In addition, I have used the TICKR X to troubleshoot some poor heart rate data coming from the Rival GPS Watch over the past several months. I captured double HR data for comparison. As expected, the TICKR X is more reliable than the wrist-based Rival. So, if you want the most accurate heart rate readings, the TICKR X is definitely the way to go.
With the TICKR X paired to the Rival or to the Wahoo Fitness app (or other supported GPS watches), the unit returns Running dynamics data to help coach you into being a more efficient runner. Wahoo's blog goes into detail about what all the Running Dynamics data means. I'd suggest giving it a good read, as well as this FAQ on running smoothness that Wahoo has released.
How actionable is the Running Dynamics data?
With all this running data, it begs the question, "how actionable is it?" I like the data, but I'm trying to figure out how best to put it into action. In time, you will notice patterns of bad behavior or areas for improvement. That said, trail running (which is all I do) does throw a curveball into the data. Something that I can definitely work on is increasing my running cadence. I tend to hover between 150-165 steps per minute, while the ideal is closer to 180 spm. Noted. I'll work on upping my cadence just slightly to see how things improve.
As far as other metrics go, vertical oscillation and ground contact time will also indicate your efficiency. As you can imagine, a high or low vertical oscillation will both be inefficient. With trail running, my VO has to be a little higher, or else I would trip on every rock or root along the way. Running on the road results in a lower VO. Over time, you'll see your preferred VO and be able to target that form for efficiency.
To make things easier, Wahoo rolls everything into something called "Running Smoothness." The goal is to nab a 100 score there. On my best runs, I'm hitting 91. More tweaks are needed to achieve the ideal, but I'm not too far off — especially considering those figures are for trail running, where you naturally move fore/aft and left/right with the terrain (much more than road running).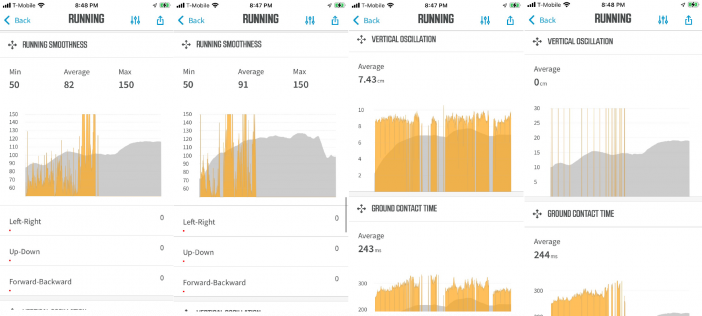 The data is cool and all and I'm interested in continued optimization, but why does it lose data so much? The charts above are representative samples of the data captured. I've yet to have a successful run where all the data was captured consistently. I completely understand a minute or two here-or-there, but pretty much every run has big data gaps on just about everything other than cadence. That said, it's not necessary to have every millisecond of every workout captured, but I think it could be better. Some workouts have about 80% data captured while others have 50% or less. Typical Running Dynamics (smoothness, vertical oscillation and ground contact). Cadence and heart rate are always captured consistently — kind of a head-scratcher.
The Good
Comfortable fit
LED lights make pairing and function easy
Easy to snap on/off
Offline workout options
Syncs with all the things
Heart rate is consistent and accurate
Standalone workout tracking
Cool data (when it's captured)
The Bad
Running Dynamics data isn't captured consistently
Takes awhile to capture data with the Wahoo app or Zwift
Gonna take some tinkering to make the data actionable
The Bottom Line: Wahoo TICKR X
The TICKR X V2 offers consistent heart measurement. It locks onto Wahoo devices in a jiffy and those LED's make pairing easier. I've used it with just about every kind of device imaginable and it's a great heart rate strap to have. The promise of Running Dynamics data is also great (when captured). I look forward to further measuring and refining my technique.
Buy Now: Available from Backcountry.com