WTB is no stranger to the bike saddle market. In fact, if you're a mountain biker, chances are you've ridden one of their saddles. While WTB hasn't tried to make road bike saddles, the explosion of the gravel scene has given rise to an opportunity for a "gravel" saddle and hence the WTB Gravelier saddle was born. I've had the Gravelier Titanium aboard the Salsa Journeyer for a few months and I've taken quite a liking to this little perch, so let's dive in.
WTB Gravelier Titanium Saddle Features:
Durable microfiber cover
Fusion Form base for efficient power transfer and chatter reduction
Perineal relief cutout for all-day comfort
Integrated tool mount uses PRO standards
Titanium rails with extended clamping area (73mm)
Medium width for 100-130mm sit bone widths
Dimensions: 140mm wide and 246mm long
Weight: 210 grams (titanium medium, actual)
MSRP: $142.95
There's only one Gravelier
As WTB's first official foray into the gravel saddle market, they have sure done their homework. The saddle itself is very traditionally-shaped, which makes it accommodating for most riders and body shapes. Available in a medium width for 100-130mm sit bones, the Gravelier covers most of our bases. Wrapping up the obvious features, the center channel and cutout allow proper relief and blood flow to critical body parts — because nobody wants to go numb of suffer permanent nerve damage down there.
I have been testing the titanium-railed version for maximum versatility and optimal weight. Carbon-railed saddles are nice and light, but also can be harsh-riding and complicated to mount to every seatpost clamp. Some clamps work out of the box and others require special adapters for ovalized carbon rails. With that, I was perfectly fine going with titanium rails. Something of note with the Gravelier Titanium is the wide range of fore-aft adjustment. With that, riders can find their proper placement without running out of rails.
Upon arrival, my first impression of the Gravelier was that it seemed narrow and short for a gravel saddle. My current saddle of choice is the Ergon SR Allroad Core and it is 20mm longer and about that much wider than the Gravelier. I had my hesitations, but loaded it up and it didn't take long to settle into it.
All test miles (so far) have been on the adventurous Salsa Journeyer, so the Gravelier was taken on the road, gravel and singletrack to see just how it would span those disciplines. No matter the terrain, it was easy to find a sweet spot and pedal with the utmost efficiency. Notably, the Fusion Form base does an admirable job of reducing chatter and helping span the rails to the maximum fore/aft mounting points, thus maximizing the strategic comfort of the platform.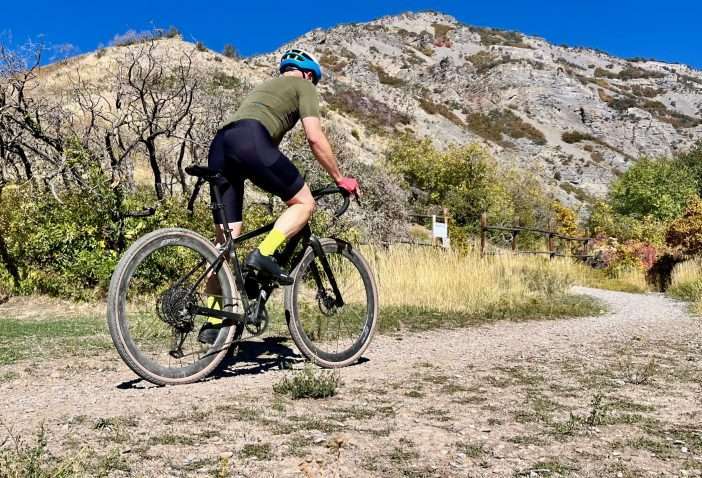 Moving from an aggressive to less-aggressive position doesn't faze the Gravelier. I found a sweet spot on all types of terrain and body positions. The center groove and cutout relieves pressure while the rest of the saddle provides the necessary support. It's easy to slide fore/aft when needed or drop off the back on mountain bike terrain. And, what's beautiful is every time I sit back on the saddle, I'm plopped right in an efficient and comfortable position to get back to pedaling. And, even that narrow nose still provides enough support to wiggle forward on the steepest climbs.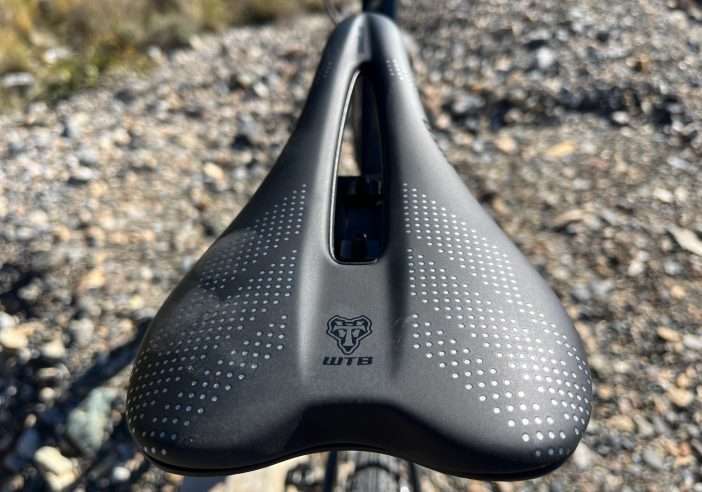 No matter the terrain or duration of the ride, my backside was consistently met with comfort and excellent blood flow. No numbness whatsoever on any ride. I'm looking forward to getting the WTB Gravelier aboard a few more bikes in the coming year and I'll post updates.
The Good:
Proven shape delivers excellent comfort
Cutout and center channel ensures numb-free riding
Easy to move fore/aft as needed or drop off the back
Just enough surface tension to keep your backside planted
Competitive weight
Standard rails make for easy setup
The Bad:
Seems short and narrow until you ride it
The Bottom Line: WTB Gravelier Titanium Saddle
There's a "gravel" everything these days, but a gravel saddle does need to span everything from road to singletrack and the WTB Gravelier does just that with panache. It's easy to find a sweet spot and pedal away to your heart's content. Long climbs or rolling flats are all equally-comfortable. And, it's all in a competitively-priced saddle in a lightweight package.
Buy Now: WTB Amazon Store