Over the years, Yeti has increased the travel of their shortest-travel Super Bike. What started as the SB100, turned into the SB115 and now the latest incarnation, the SB120. Through its evolution, they haven't just changed the shock stroke to get more travel and called it good. No. They have completely re-engineered the entire frame, suspension and geometry to optimize it for the travel and intended use. Now aimed squarely as a trail bike, Yeti still intends for it to blur lines between all-mountain and XC. The cool kids call it "downcountry" and I'm good with calling the SB120 one of the premier downcountry bikes on the market.
2023 Yeti SB120 T3 X0 Transmission Kit Features:
Light and stiff TURQ series carbon layup
120mm rear travel using Yet's Switch Infinity design
Optimized geometry that's responsive and agile
Built around a 130mm fork (Fox Factory 34 GRIP2 130mm)
6 frame sizes, with size-specific geometries
Internal, rattle-free cable management
DT Swiss XM1700 30mm wheelset
SRAM X0 Eagle AXS Transmission groupset
SRAM G2 RSC brakes with 180mm rotors
Fox Transfer mechanical dropper post
Maxxis Minion DHF 2.5 front and Aggressor 2.3 EXO rear
Yeti Carbon 35x780mm riser bar
Threaded BB and UDH compatible
Weight: 29.3 lbs (large, actual)
MSRP: $9300
Getting trail-ready
Thanks to the myriad of direct-to-consumer brands, even bikes shipped to shops come pre-assembled and nearly ready-to-ride. Yeti does still remove both the front and rear wheels for shipping, but assembly remains straightforward and minimal. As of now, you can't buy a Yeti direct from their web site and have it shipped to your door. However, CompetitiveCyclist or your local shop will perform the final assembly and have it ready for you to ride.
Dropping the wheels in place and setting up the cockpit was a breeze — with familiar stack and reach compared to other modern downcountry bikes, I felt immediately at home. I swapped out the grips for a set of Ergon GE1 EVO's but the rest remained completely stock. With a wide, carbon bar and a spectacular build kit, the SB120 T3 X0 leaves nothing to be desired.
Setting up the SRAM X0 Eagle AXS Transmission is a breeze — even compared to the GX Eagle AXS kit. Alignment and shifting just plain works. The AXS Pod Controller is different from the GX AXS Eagle Controller and, I'm not sure I like it as much as the GX model (more on that later).
Shock setup is a breeze using Yeti's online setup tool. Just punch in your bike info and weight and everything is outlined for you — plain and simple. The results below are what I got when entering this bike and my 173 lb weight.
The beauty of this is it gets everything into the best starting point for every rider. From here, you can comfortably change a click one way or another or vary tire/shock pressures. I settled in at the middle of the suggested damping and then went with 80 psi in the front and 95 psi in the rear, with tire pressures on the lower end of what was suggested. Throughout my test period, I tweaked a few things here-and-there, but honestly, following the suggested setup is going to be the way to go for 95% of people out there. Every few months, it's a good idea to check shock pressures and I always inflate my tires before every ride.
That "Goldilocks" bike feel
Some bikes feel like an old friend on that first pedal stroke and others require more "get to know you" time. The Yeti SB120, Santa Cruz Tallboy 4 and Trek Top Fuel 9.9 are all bikes that feel immediately comfortable — with only a change of grips. Whereas the Canyon Lux Trail and the Alchemy Argos Ti are examples of bikes that needed more TLC (changing tires, wheels, bars, stems, saddles, grips, etc.) before I felt entirely comfortable on them. Kudos to Yeti's product team for delivering a balanced, comfortable bike with the new SB120.
Riding terrain has exclusively been on the local trail network, which consists of flowy singletrack with punchy climbs, rock gardens, sweeping turns and a few lengthy climbs. I would call it typical Utah terrain that's a blast to ride fast and hard. On this terrain, the SB120 really is a hoot to ride. It's supremely-capable of tackling the roughest terrain I ride and it does an admirable job of tackling lung-busting climbs.
Let me insert a little about what makes the SB in the SB120 possible — the Switch Infinity system. While other virtual pivot designs use upper and lower linkages to manage the rear wheel travel, the Switch Infinity mates an upper link with a translating lower pivot. That lower pivot uses a dual-piston sleeve to allow both rotational and upward movement. While this does admittedly add weight and complexity, the SB120's ability to handle square-edged bumps and large drops is astounding — especially when you consider the pedaling platform it provides when climbing or hammering is in order. It remains active always and is constantly absorbing even the smallest trail chatter. The Switch Infinity is a unique suspension design in the market and is only used by Yeti as part of their portfolio of suspension patents.
ISO: Singletrack
Immediately comfortable and suspended by one of the most exclusive suspension designs on the market, I was ready to hit the trails. About a 2 mile-long gravel road leads to a labyrinth of singletrack I call my backyard. Finally darting into the initial set of singletrack, I had confidence that the SB120 would deliver. Flowing through the initial winding descents, I could, with precision, lean into and out of each turn like the SB120 was an extension of my brain. "Oh yeah, this is going to be a fun bike," immediately popped into my head.
I'll double-click on this a little further. Laying a bike into corners and maximizing every nuance of the trail is what makes riding so much fun. And, it's what can distinguish a great bike from a mediocre one. Across all manner of trails and terrain, I can stand and angulate, then stand and power though anything. I can also stay seated and push the SB120 through anything. No matter the terrain and no matter how I'm pushing it, the active suspension responds to input and propels me forward. Both high and low-speed compression are outstanding. In addition, square-edge bumps and rock gardens are mere play toys as you plow through them.
When it comes to long ascents, I've played around with keeping the rear shock in both the firm and medium settings. As is typical, I still prefer climbing in the medium setting — which offers "set it and forget it" performance. In firm, it makes the bike feel less balanced and while it could, theoretically, improve climbing performance, I'm inclined to just let the natural anti-squat of the suspension do its job. One of my favorite test climbs is an unrelenting 800 ft. affair (view Strava segment). With endless switchbacks and undulating pitches, it's a phenomenal climbing test for both me and the bike.
As I expected, the SB120 does climb with incredible capability. As long as you're maintaining a good velocity, it will climb up anything, remain straight and not lose front or rear wheel traction. No question, traction is one of this bike's strongest abilities. Standing or seated, the suspension both absorbs the terrain and sticks to it like glue. Now, if you sit and spin in the lowest gearing, you may experience a little bit of front-end wander. I found a good pace that balances everything out and avoided the lowest gearing unless the pitch necessitated it.
I the end, the SB120 does climb up anything, but don't expect XC speeds. My best times on the aforementioned climb are 3 minutes off my PR set on the Trek Supercaliber 9.8, which is what I would expect. And, those times are right in line with the comparable Santa Cruz Tallboy 4.
When the terrain points downhill, you always have the option of remaining in the medium setting (which is what I did most of the time), or going wide open. Opening up the shock completely highlights just how smooth the Switch Infinity suspension is. While I have been impressed with the small and large bump sensitivity overall, nothing highlights that more than when the shock damping gets itself out of the way. No joke… the SB120 gets downright rowdy when let loose. Hopping through rock gardens and around twisty, technical descents, the suspension absorbs everything in sight and allows you to focus on having fun. You don't get bounced around or knocked off balance and can push yourself further. When the terrain affords it, open things up and bask in the infinite goodness that this bike offers.
Stitching both descents and ascents together on my up-and-down test loop reveals that the SB120 can hold its own against the current champion, the Trek Top Fuel 9.9. On this 6.6 mile loop with winding, fast descents and 500 ft of climbing, the SB120 is a mere 30 seconds off my best times. What this tells me is on a variety of terrain, the slower climbing of this bike becomes less of a factor when taken through a typical up-and-down track. In the end, just remember that the SB120 is the kind of bike that responds to rider input. If you push it hard, it responds in kind — no matter the terrain.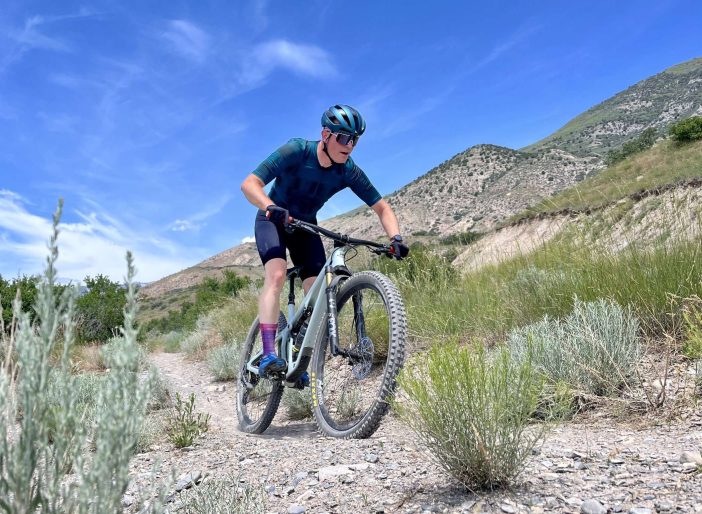 Kit performance and wish list
The Yeti SB120 T3 X0 AXS Transmission build really doesn't leave much on the table. Yes, you could spend an extra $1000 for carbon wheels, but the DT Swiss XM1700's do roll nicely and offer 30mm inner width for a full tire and no flats (even at low pressures). SRAM's latest X0 AXS Transmission is an astounding new groupset. It's ultra-durable and shifting is almost transparent — even under load. But, I do feel like shifting is slower than even the low-end GX AXS kit and definitely slower than what you'll find on the road side with the latest Force AXS groupset. It's subtle, but noticeable. Aside from that, the AXS Shifter Pod is just okay. I also prefer the GX AXS shifter for that as well — if anything for the ability to shift into a higher gear with the back of my thumbnail. Look for a full drivetrain separately in the near future. 
Budgets aren't endless, but I would have loved to see the RockShox Reverb AXS Dropper used on this build. There's something amiss when mixing mechanical levers (like the Fox Transfer) and electronic shifters. It's just an odd feeling. Plus, the Fox Transfer, while adeptly responsive to adjustments, is dogged by an annoying rattle on descents. If the saddle is anything lower than max height, it rattles.
Outside of this, there's nothing really noteworthy on the parts spec. If given a choice, I'd swap the tires out for something lighter and faster and I would LOVE to see downtube storage on this bike, but those aren't deal-breakers. In the end, the spec is awesome and the SB120 is a blast to ride.
Fit: I'm 5'11" with normal proportions and tested the size large SB120. It fits like an old t-shirt. For reference, I ride a large Santa Cruz Tallboy and a M/L Trek Top Fuel. 
The Good
Switch Infinity suspension is capable beyond belief
Both small and large bumps are absorbed with precision
Traction is the SB120's middle name
Lays into corners and comes out with speed
Good balance point for airtime
Instantly comfortable and balanced
Latest SRAM X0 Transmission is a work of art
Playful and fun to ride
Long dropper post gets way out of the way
DT Swiss XM1700 wheels are wide and smooth
Consistent braking — even through rough terrain
The Bad
X0 Transmission shifts slower than SRAM's other AXS drivetrains
Fox Transfer mechanical dropper feels out of place and rattles on descents
Would love some downtube storage
Suspension linkages and design is complex and adds weight (gunky, muddy rides can clog things up)
The Bottom Line: Yeti Cycles SB120 T3 X0 Transmission
So. Much. Fun. That's about how I would explain the Yeti SB120. The Switch Infinity suspension design offers amazing performance. The old adage of punching beyond your category is absolutely on display with the SB120 as it offers downhill performance and compliance beyond the imagination. I'd daresay call it class leading. Traction is also superb — standing or seated. The X0 Transmission does offer excellent performance and reliability, but does feel a touch slower than previous designs. Overall, this $9300 build is solid and needs nothing more if your goal is to rip around with friends on the ultimate dream ride.
Buy Now: Visit CompetitiveCyclist.com
In Summary
Historically, Yeti Cycles has nailed the trail-to-enduro bikes. Short-travel isn't squarely in Yeti's wheelhouse, so increasing the travel of their shortest offering to 120mm feels about right. No question, the new Yeti SB120 is an outstanding do-it-all bike. I'd call it the epitome of what downcountry should be. It capably climbs up anything and descends with downhill-like precision in a fun and snappy platform. This near range-topping build kit is also outstanding and leaves little to be desired.