The most exclusive road bikes always come equipped with the lightest and fastest wheelsets. But, why not equip a more affordable bike with the best wheels on the market? Determined to find out just what they could do, I loaded up the Zipp 353 NSW wheelset on three dramatically different bikes and proceeded to push them hard on fast flats, high mountains, gravel roads and singletack trails. If money is no object and speed is your greatest desire, these wheels will transform your bike into a super bike.
Zipp 353 NSW Wheelset Features:
Built for long days in the saddle across a wide range of terrain
Versatile, undulating 45mm rim depth
Sawtooth™ rim with Hyperfoil™ nodes and HexFin™ ABLC dimple pattern
Cognition V2 hubset with an all-new Axial Clutch
Hookless rim design adds strength, drops weight and optimizes airflow
Zipp's lightest tubeless wheelset
Optimized rim bed for easy tire installation
ImPress graphics ensure long-lasting style
Utilizes center lock rotor interface
Width: 25.4mm internal, 30.8mm external
Weight: 1310 grams (pair, actual with valves and tape)
MSRP: $4220
Initial setup and install
As a refresher, Zipp's wheelsets have gone tubeless-only and hookless. Just what does that mean? Well, traditional rims have an inner lip to help keep tires seated securely in place. As it turns out, that lip isn't necessarily needed — under the right conditions and with the right tires. Think about the wheels on your car. Do they have a hooked bead? Nope. Do they run high pressures? Nope. Do you run tubes inside your Michelin's? Nope. At low pressures, the combination of a tubeless tire and a hookless rim wall offers tire security, traction in spades and added comfort.
My first test of what SRAM calls "Total System Efficiency" was with the Zipp 303 S Carbon Wheelset. These budget wheels are the gateway to a smooth and fast tubeless-only experience for road and gravel riding. With both wheels available for comparison, the 353 NSW wheelset stands out in both looks and performance, but come in a a wallet-busing price.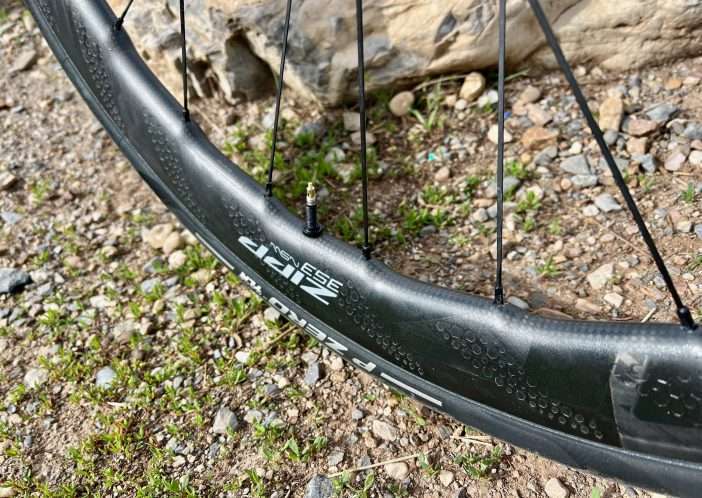 To get things rolling with the 353 NSW, I installed a set of Bontrager R3 32mm tires. Then, for gravel, I set up the WTB Vulpine 40mm racing gravel treads. As the final test, aboard the Fezzari Veyo SL, I installed the Pirelli P Zero Race TLR in a 30mm width. As mentioned, the duration of the wheelset test has been nearly a full year and spanned the Trek Domane SLR 9 Gen 4, Open WI.DE. and finally the Fezzari Veyo SL.
All three tires tested were installed and uninstalled without tools and each one remained secure and smooth at lower pressures than most people are used to (well, at least before road tubeless gained traction). For the Bontrager and Pirelli tires, I typically ran about 55 psi in the front and 60 psi in the rear. On gravel, I ran the Vulpine's at 35-38 psi. All-in-all, SRAM's TSE mantra plays out well on every bike and condition tested. To validate your appropriate tire pressures, you'll want to reference SRAM's tire pressure guide.
To gravel, with love
While my initial miles were on the road, a good chunk in the middle gravel riding in Southern Utah and then back home along the Wasatch Front. Yes, I absolutely did ride these $4000 wheels on rough gravel and singletrack trails. And, both types of terrain served as a great testing ground for the 353's. With the zippy WTB Vulpine 40c tires, I could push hard both on and off road and this fast setup was always up for the challenge.
Importantly, the 353's remain stiff and responsive on wide-open gravel and singletrack alike. With pinpoint precision, I danced through all the usual terrain. That precision doesn't mean a lack of comfort. Of course, with 40mm gravel tires, you'll always have a smoother ride than a set of road tires, but there's something special about these wheels and a big part of what makes them special is how smooth and comfortable they are. Much of that can be attributed to the 25mm wide, hookless bead, but the carbon layup is also optimized for comfort. For any upcoming gravel races, these would be a no-brainer.
I rode them just as hard as I have ridden any gravel wheelset and the 353's were always ready for more. Ultra-quick engagement is an added bonus to comfort and speed. And, I utilized that fast engagement on more technical singletrack and rocky terrain. It's comforting to find the wheels to be instantly-responsive when navigating obstacles at any speed. Of course, with that wide of tires, the aero advantages are mostly negated, yet I still found them to be stable in crosswinds and roll on like champs. With gravel testing complete, it was time to get them back on the road.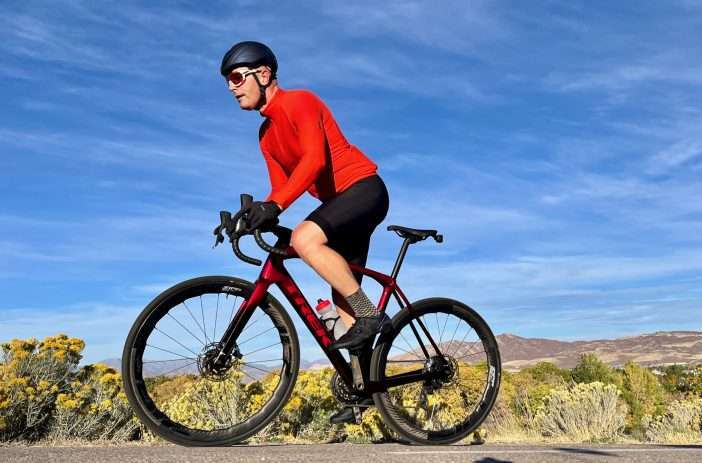 Ripping up the local roads
Last fall, I installed the 353 NSW's on the new Trek Domane SLR. That particular build featured the Bontrager Aeolus RSL 37 wheels — Bontrager's best all-rounder hoops. I'll admit those are great wheelsets and I found nothing to scoff at. However, I felt the Zipp 353 NSW's provided just a little edge in aerodynamics and comfort. Aboard a modern endurance bike, it's amazing to see just how racy it can be. I had no issues climbing up the longest or steepest climbs and descents were fast and confident — even with mountain crosswinds.
This spring, I cleaned up the 353's from their gravel escapades and installed them on a proper aero road bike — the new Fezzari Veyo SL. In the end, I couldn't ask for a better pairing. Not only did I test out the Veyo SL with the 353's, but I spent a fair amount of miles on the Zipp 303 S and the Elite Wheels Drive G45's for comparison (looking at speed, aerodynamics, comfort and stability). Specifically, I wanted to find out just how much performance I could eke out with a head-to-head competition between the 303 S and the 353 NSW. The course was a 10-mile loop with a modest 500 ft of climbing, starting with the 303 S, then the 353 on the same loop. Pushing hard each lap with two different wheels, the results speak for themselves.
In the real world with an everyday cyclist, the 353 NSW's are fast — very fast. Under the expert legs of the best athletes in the world, these are akin to a secret weapon. Honestly, where the Sawtooth profile comes into itself is with strong crosswinds. At 45mm max depth, these are not what I'd call "deep section" wheels, but many 45-50mm deep wheels can still get thrown around with strong canyon winds. I had zero concerns riding in the strongest crosswinds and both the Fezzari Veyo SL and Trek Domane SLR remained cool and confident under these gusts.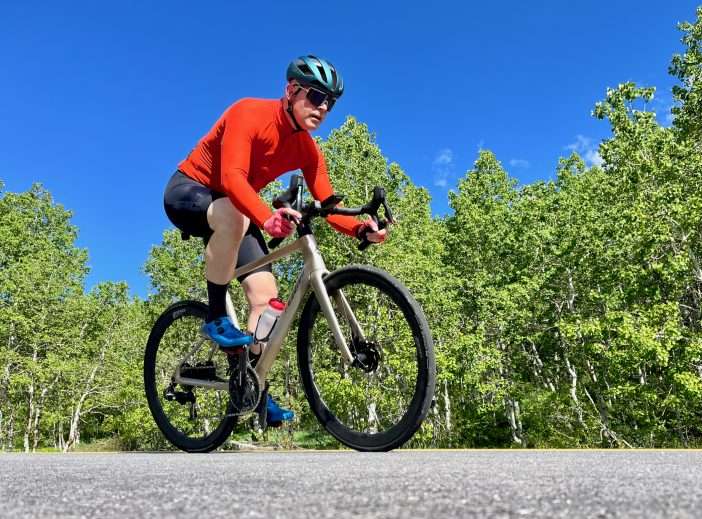 Without hesitation, the fast-rolling Cognition hubs and Pirelli P Zero Race TLR tires proved to deliver the best overall performance. I'm blown away at the handling, precision and speed this combo delivers and can't imagine anything better. Due to the wide, hookless rim design, the 30c P Zero's inflate wide and round out to 32.7mm. With such a fantastic tire profile, I can push the 353 NSW's to the extreme on the most curvaceous roads. No matter how hard I corner, these wheels seem to pop out of each turn and into the next like a slingshot. It's an amazing sensation and it inspires supreme confidence at all speeds and on all roads.
Tire pressures: I'm 5'11" and 173 lbs and inflated the P Zero 30's to 55 psi. front and 60 psi. rear. The WTB Vulpine 40c's were typically set up at 36 psi. front and 38 psi. rear. 
The Good:
A great balance of all-around goodness
Lightweight and responsive on any climb
Class-leading stability in crosswinds
Wide internals make for rounder, fuller and faster tires
Proven versatile across road and gravel
Significant improvement in speed against other wheelsets
Feels like they spring you in/out of twisty turns
Tubeless setup is a breeze
Class-leading comfort
Less watts to deliver more speed equals more energy for long rides
The Bad:
Expensive
One small fleck of clear coat started peeling off around the rim bead and I re-attached it with Super Glue
Unfortunately, it's a shame most won't take these into gravel territory (because they are superb gravel racing wheels)
The Bottom Line: Zipp 353 NSW Wheelset
Rarely can a $4000 wheelset be truly justified. I mean, there are so many amazing wheelsets that cost even half that much. However, Zipp has done their homework with the 353 NSW's and all that R&D has paid off because these wheels stand out amongst the best wheelsets on the market. I'd call their crosswind stability class-leading and would also daresay they are the most comfortable wheelsets in their class as well. On top of that, they are proven fast and deliver the perfect amount of lateral stiffness to make curvy mountain roads feel like a dream.
Buy Now: Available at CompetitiveCyclist.com
In Summary
After almost a full year of testing, I have taken the Zipp 353 NSW wheelset deep into the Wasatch Mountains and all the way into the Southern Utah desert and everywhere in-between. On gravel, the 353 NSW's shine as fast off-road racers. On pavement, I've found them to be extremely-fast, stable, comfortable and responsive. As the ratings indicate, these set a new a new standard for overall performance, but they come with an other-worldly price tag. But, if you value performance above all, these are your wheels -- hands down.