Since 1964, Norco has been producing high-quality bicycles in Vancouver, Canada. Since the rise of the North Shore riding scene, Norco has been at the forefront of the pack with leading-edge, durable bike designs–most notably their VPS (Variable Point Suspension) bikes. With such a loyal following, Norco even has VPS Fest at the Whistler Bike Park every year–sounds like Norco's equivalent of Sturgis, SD! With bomber bikes built for Vancouver's North Shore, their bikes won't let you down.
Many top riders are now a part of the Norco Factory Team. Most notably, Ryan Leech–arguably the world's most talented trials rider. But with a handful of other notable riders like Shaums March, Mike Kinrade, "Hoots" Jay Krantz and others, Norco will continue push the competition at the podium. Team Director and marketing guru, Pete Stace-Smith is committed to pushing the Norco brand in competition and at your local bike shop too. Some of you in the States may have never heard of Norco–well, Pete is trying to change that with increased distibution in the US through an established, but ever-expanding dealer network. Check out the USA Dealers to find a shop near you.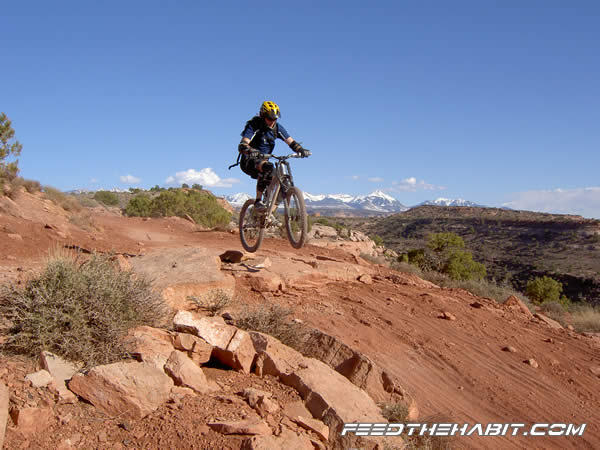 About the Norco VPS Shore
Norco's VPS line has been the stable of the North Shore for years. Using the Horst link under license from Specialized, the VPS line already has a leg up on the competition with one of the most proven suspension designs on the market. There's no need to worry about brake-jack when descending or your Uncle Bob while climbing–the VPS line is efficient and smooth.
VPS bikes are available in 4 different frame designs and multiple travel options for specific applications and pricepoints. The Team DH sports an all-new frame for 2004 with 9″ of Progressive 5th Element-dampened travel. The Team NS, Shore and A-Line offer the new monocoque front triangle for increased standover and overall stiffness with adjustable travel from 6″ – 8″. The Fuse and the Atomik offer the refined monocoque design that's been the VPS staple for years. And, new this year, the Norco Six is built from the all-mountain Fluid frame, but beefed-up for North Shore performance.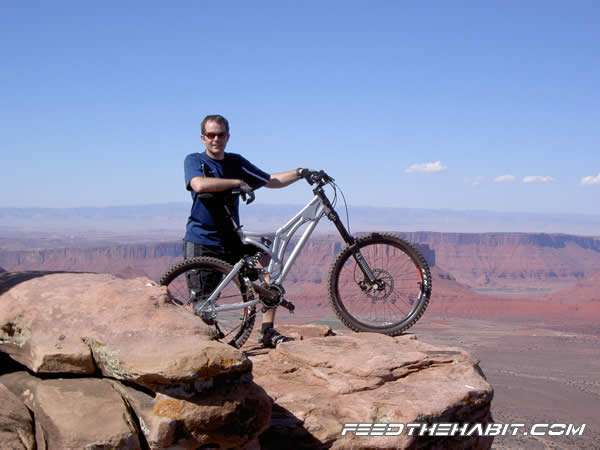 On The Trail
Porcupine Rim Trail in Moab, Utah was the fist stop for the Shore. Actually, it was the first ride of the season after a long winter haitus. This trail was a great test for this bike in both climbing performance and downhill ability. Porcupine Rim is mostly a wide, rock-strewn doubletrack trail with short, technical rocky ascents and descents. What surprised me most of all was the bike's ability to climb (despite having 7″ front and rear). The frame and rear shock deliver a smooth, bob-free ride in all conditions, while the Marzocchi Super T can bob noticeably. This could be minimized by increasing the preload compression. I guess that's what you get with a 7″ travel fork that's super plush on the down.
The Shore handles all drops (large and small) with aplomb. It is very easy to flick around, though, like any bike of this size, you'll have to muscle it slightly at slower speeds. Once up to speed, it corners well and overall handling is right on. The bottom line is that this bike feels comfortable right out of the box.
On other more XC-oriented trails without the short, technical climbs of Porcupine, the suspension bob of the Super T comes out more noticeably with the rear suspension in 7″ mode and the Super T raked out to the max height. On long consistent singletrack ascents, the front end begins to meander back and forth and rob you of climbing power. This can be reduced by making sure you keep your weight forward, but there begins to be a tradeoff in rear tire grip if you move too far forward. However, I did find myself unable to climb some trails that I easily cleaned in the past, though this could be due to lack of leg strength this early in the season.
After riding 5-6 different trails in 7″ mode, I decided to drop the rig down to a trail-friendly 6″ and lower the fork crown about 1″ as well–the difference was like night and day in the climbing department. Honestly, during the entire ride in this configuration, I kept thinking that Norco was having a 2 for 1 sale here–the Shore is truly versatile. I wish I had ridden it in 6″ mode on most of the XC-style trails I had ridden since Porcpupine Rim.
Overall geometry with the fork lowered was still very slack, yet the angles were steep enough to power up those long climbs without the front end weaving all over the place. The Super T seemed to bob slightly less and this bike began to show its versatility. In downhill mode, 6″ in the rear is still plenty of squish to soak up anything you'll ever throw at the Shore on a trailride. This bike rails when pointed down–it should, since it's really a DH rig at heart.
The componentry, which is a mixture of Shimano Saint, XT and SRAM, has performed flawlessly. Most notably, the Saint rear derailleur and crankset. The rear derailleur is so bomber with the thru-axle design that you don't have to worry about banging it around on rocks, etc. And, the rapid-rise shifting is awesome! It's taken me awhile to get used to, but it just seems more functional to downshift without grinding the cassette to pieces. The interesting mixture of Grip Shift and XT triggers is odd at first, I must admit. But, after a few rides, the ability to dial in the front deraileur with the SRAM Rocket Grip Shift was uncanny. With trigger shifters, you'd have to just live with the fact that the cage will rub on the chain in extreme gear combinations. But, with the Rocket, you could dial it in ever so slightly. It honestly makes a lot of sense having the Rocket shifter.
The only real gripe I've had has been with the telescopic seatpost, which is necessary for an interrupted seattube design like the Shore. There's just a lot of possible movement and need for tightening at first. After you get them dialed, it's not an issue. But, it took me a few rides before I had everything tight enough to keep the saddle in place while leveraging it between my legs. Also, I'm not a huge fan of platforms. I know they are nice for quick dismounts, but I just can't ever seem to get my foot dialed in just right. I'd swap these out for some Crank Brothers Mallet C pedals in a heartbeat.
The Alex Supra A-D rims are beefy and durable. Mated to the Kenda Blue Groove 2.5 front and Nevegal 2.5 rear, the wheels inspire confidence. I've always been a huge Maxxis fan, but these Kenda's are phenomenal overall, with tenacious grip in all conditions.
Bottom Line: 2004 Norco Shore
The 2004 Norco VPS Shore is a great all-around rig for those who are willing to pedal around a little extra weight. But, don't be fooled by all the squish–when switched to 6″ mode and a steeper head angle, the Shore can climb with the best of them. You still won't get there first, but you won't kill yourself on the climb either.
Because what goes up must come down, once you get it up, you'll be stoked coming down. This bike doesn't use any suspension gimmicks or shocks to make it ride well–it just does. With a Fox shock and the Horst link in the rear, the frame really can handle a variety of trails and conditions well. I wish Marzocchi would make the Super T with the ETA cartridge to drop it down to 5″ or 6″ on climbs–that would be sweet. As it stands with the Marzocchi Super T, you get a very capable bike on the climbs (and strong legs/lungs to boot) and a confident descender.
Like I said earlier, the Shore is like having two bikes in one–adjust it to 7″ and slacken out the Super T for burly hucking or dial it in at 6″ in the back and drop the fork down slightly for an all-around trailbike. This bike is smooth and comfortable right out of the box!
Look for the Norco VPS line at a shop near you. You'll be stoked to get on a quality bike that's decked out to the hilt.
Visit www.Norco.com to find a local dealer.