At the Outdoor Demo, I tried to get on as many "all-mountain" bikes as possible. This is truly the sweet spot of the industry and where most people should look when buying a new rig. Within the all-mountain category, you have bikes with as little as 4-inches and as much as 6.5-inches of travel and everything in between. Obviously, bikes with 4-inches will be much more XC-like in their trail manners than their 6.5-inch laden brethren.
On top of just travel, you've got a myriad of variations in suspension design, geometry and parts spec that all factor into how well a bike rides.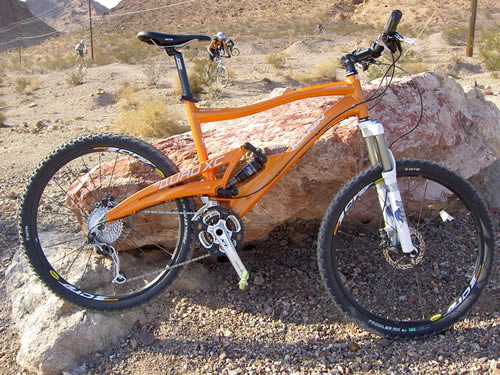 Enter the 2008 Marin Mount Vision Quad XC with it's unique and revised Quad-Link 2.0 suspension design and tangerine-colored hydro-formed tubes. With 4.7-inches of travel and a mid-range 69.5-degree head angle, the Mount Vision Quad XC is not your top-shelf XC racer, but it isn't your squishy trailbike either. It fits smack dab in the middle of those two worlds.
Specs on the Marin Mount Vision Quad XC are as follows:
Shock & Travel: 4.7-inches via the stellar Fox Float RP23
Fork: Fox 32 F120RL
Drivetrain & Components: Mixture of Shimano XT drivetrain, Avid Juicy 7 Brakes, Crank Bros Candy Pedals and Mavic Cross Ride Disc wheels
Frame: 6066 Aluminum, Fully Hydroformed Mainframe and Swingarm, Quad-Link XC 2.0 Suspension System, Disc Specific, with New Modular Dropouts
Head Tube Angle: 69.5-degrees
Sizes available: XS, S, M, L, XL
MSRP: $3000
First ride: Marin Mount Vision XC
I got about an hour on the Mount Vision XC while at the 2007 Interbike Outdoor Demo. After a lengthy and information-packed suspension tutorial from their marketing stud, Nick, I was ready to hit the trail. The information he provided and attention to detail was superb. Yeah, I was overwhelmed with all the technical details behind the new Quad-Link 2.0, but it was great to hear how much work went into the new design.
Once on the trail, the bike felt super comfortable overall right off the bat. The rear swingarm is super stiff and with the dual-links so close together, there is no detectable flex in the entire rear end of the bike. Overall climbing ability was great as the bike scooted up the desert singletrack as well as any bike tested at the Demo.
One of the nice traits of the Quad-Link design is that the initial travel is super supple as the suspension path inches slightly rearward. What this does is take the edge off sharp rocks and bumps in the trail by absorbing them even more. But, the path quickly changes and ramps up during the remainder of the stroke to give it a "bottomless" feel.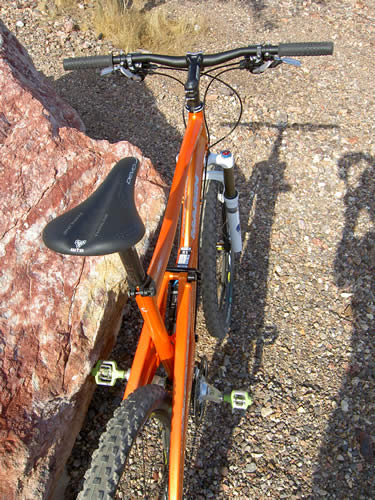 Now, I can't say that this bike felt as bottomless as say, the Santa Cruz VPFree, but for a 4.7-inch travel bike, it felt smoother than I expected. Overall the bike felt completely balanced with 4.7-inches in front and back, controlled by the latest crop of Fox suspension technology.
Descending was calm, controlled and smooth overall. This bike can handle the technical downhills pretty well, just not at mach schnell speeds. We were lapping a little roller jump and I felt comfortable at speeds and in the air on the Mount Vision Pro. Heck, I event tackled a few bridges and a teeter-totter in the middle section of Bootleg Canyon.
The Bottom Line on the Marin Mount Vision Quad XC
I really liked this bike overall. There are better bikes for those seeking a bit more travel, but the Mount Vision does all-around trail riding as well as the best bikes out there. If you're looking for a great overall 5×5 bike, be sure to check out the Marin Mount Vision Quad XC. Its solid overall performance and price make it stand out.
MORE INFO: Visit www.MarinBikes.com