I had a blast on the Niner RIP 9 at Interbike. I fell in love with it as the finest 29er I rode at the demo. And, on top of that, the crew at Niner Bikes was as cool as they come. I chatted with Chris Sugai (co-founder) at length before heading out on a pristine RIP 9 (read my Niner RIP 9 Review). Great guy and great bikes!
So, after a year of R&D, Niner has introduced a new 3.1″ travel XC bike, the all-new Niner Jet 9. This bike looks very similar to its long-travel brother, but it turns out Niner didn't cut many corners in its development, so, aside from the CVA suspension design it borrows little from the RIP 9.
If you're looking for an XC ripper, the new Jet 9 looks to be your steed. The 2008 Niner Jet 9 is designed to be mated with either an 80mm fork for quick, XC handling or 100mm fork for a more comfortable overall feel. As an added bonus, anyone committing to pre-order the 2008 Jet 9 (expected ship date is mid-Feb. 08) by Dec. 15 will get a free Niner-branded Patagonia Half-Mass Messenger Bag just for being on top of your game.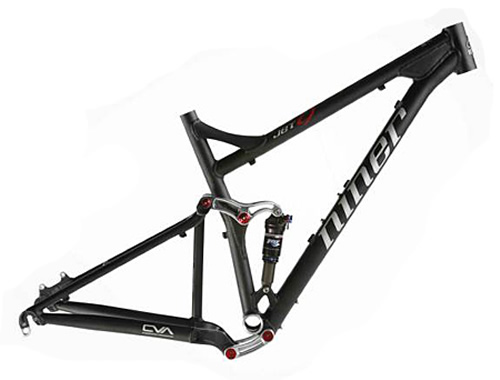 Quick Niner Jet 9 Specs
The Jet 9 is an XC machine with the following features:
3.1 inches of active travel
Fox Float RP23 shock
Renowned CVA Suspension platform
Designed for 80mm or 100 mm forks
Here's a quick synopsis of the all-new Niner Jet 9 from Ninerbikes.com:
"The JET 9 is our swift, light, race ready full suspension bike. Designed around the same award winning CVA™ suspension system found on the R.I.P. 9, the Jet 9 features 80mm of plush, fully active travel at nearly a pound lighter frame weight from it's bigger brother" ~ Niner Bikes
To pre-order a 2008 Jet 9 for Feb. 2008 delivery, simply visit your local Niner Bikes dealer, plunk down $200 and you're set. In Utah, the local Niner dealer is Revolution Mountain Sports.
BUY NOW: Visit Ninerbikes.com to purchase a Niner Jet 9 ($1749 MSRP)