I've been reviewing Norco bikes for several years now. The crew at Norco is super-friendly and their bikes are always good for a ride–especially downhill rides. The first Norco I reviewed was the 2004 Norco Shore… a capable freeride rig that could still climb if prodded properly. It's very evident that Norco designers value the downhill above all else because every bike I've ridden since has been a scream on the down.
For that reason, I'm always stoked to get on a Norco. They may not be as well-known here in the States as they should be, but that shouldn't stop you or I from wanting to get on one. This year's test bike is the all-new Fluid LT 3–the entry-level bike in the new Fluid LT lineup. Building upon the success of the new Fluid design from last year, the LT offers more travel and burliness to handle anything you can dish out. Lets see how it fared after I doled out some punishment on the local Utah singletrack.
About the Norco Fluid LT 3
The Fluid LT platform is new for the 2008 season. As with all Norco full-suspension bikes, the LT utilizes the Specialized-owned Horst Link suspension design. Well-known and deservedly well-liked, the Horst Link is held by some as the Holy Grail of suspension designs. It's not new, but it yields efficient and smooth travel while pedaling, descending or braking. Some may say it's getting old and that other designs are superior, but it is still the standard that everyone looks to.
The LT 3 is Norco's all-mountain steed for the price-conscious. In today's market of hyper-inflation, the Fluid LT 3 is still well-priced at $2350 USD.
Sporting adjustable travel of 137 to 158 mm, the Fluid LT 3 is right in the sweet spot of all-mountain. Here are a few more specs on the LT 3:
Rear Shock: Fox DHX Air 3.0
Fork: Marzocchi 55R (160mm travel)
Drivetrain: SRAM X.5, Shimano Deore and FSA Alpha Drive cranks
Brakes Avid Juicy 3
Tires: Kenda Nevegal 2.1 (Nevegal 2.35 as tested)
Rims: WTB Speed Disc (SUN S.O.S. as tested)
Head Angle: 68-degrees
Sizes: XS, S, M, L, XL
Weight: 35 lbs
Price: $2350 USD – more info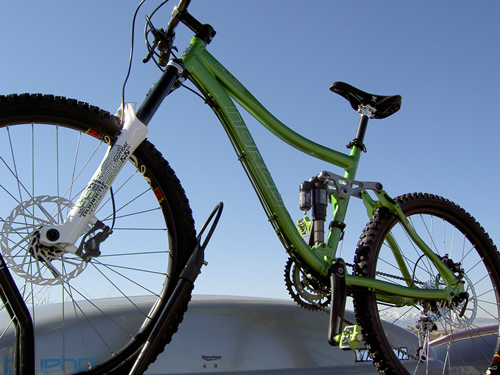 Norco Fluid LT 3 Bike Review
The metallic green Fluid LT 3 arrived on my porch in the middle of one of the best winters in recent memory. So, it sat for a couple of months as I pillaged as much Utah powder as I could. With a slow spring warmup, I've been exploring more of the lower-elevation trails that don't get ridden as often during the height of the season. After some quality miles on the LT 3 I've been able to find out just what it's made of.
Looking over the LT 3, the parts spec is acceptable for this pricepoint, but potentially a bit on the low-end side. Let me explain this further and try to make some sense of the parts selection. For many manufacturers, the first place they cut corners is on the wheelset. They will slap an XT rear derailleur with Alivio components everywhere else (lipstick on a pig), then put noodly wheels on it. Not Norco… they are satisfied (and so was I) with the SRAM X.5 drivetrain, but they also slapped a stout pair of wheels onboard, which is something that means a lot more than an XT rear derailleur in my book.
Climbing on the Fluid LT 3 was great. Well, it's not going to be the first to the top, but you've got enough efficiency to handle technical climbs as well as any other bike it this category. At 35 lbs (according to my scale), it is a few pounds heavier than many of its competitors, but there aren't many competitors coming in at this price range. The Marzocchi 55R doesn't offer adjustable travel, so the front end wandered at times. During tight, turny climbs, I really had to finesse the bike to keep the front end on the trail.
I rode the bike in both travel modes. I found that climbing was better in the lower travel setting (137mm) and descending was better in the higher travel setting (158mm)–pretty much as expected. But, climbing wasn't that much different in the longer travel setting, so that's where I settled at. The only negative about adjusting the travel is that the shock bolts seem to be made of very soft metal. I've nearly stripped out one side after having moved the shock position two times–another reason to just keep it at the highest setting.
Fast, technical descents are just what the LT loves. This bike can fly through obstacles and hop over anything in sight–all while maintaining its composure under intense, laid-out corners. I had a blast railing the LT all over the mountain.
Nothing is worse than a noodly wheelset that flexes while cornering at speed, or deflects at the sight of a rock garden. The SUN S.O.S. wheelset performed exceptionally–even under hard cornering and in unforgiving terrain–very nice!
Other than the issues mentioned above, I have had an odd clicking sound coming from the rebound cartridge on the Marzocchi 55R fork in slower rebound settings. After a call with Marzocchi tech support, it appears the cartridge may need replacing, but it didn't seem to affect performance. The only other gripe I've got is that the front derailleur is rather difficult to dial in. It seems like this bike really shouldn't be equipped with a large chainring. Not only do you not need it, it's nearly impossible to get this thing to shift to all three chainrings very well.
Good Fluid
Descends like a Norco… smooth and fast
Great price point
Capable climber
Solid wheel and tire combo
Adjustable rear travel settings
Bad Fluid
Marzocchi 55R rebound cartridge issues
No travel adjustments on the fork
Front derailleur is difficult to dial in
The Bottom Line on the Norco Fluid LT 3
This bike has been a ton of fun. I've loved the legendary Norco descending prowess and have found it to be a capable climber. It would climb better with an adjustable travel fork, but again, at $2350, this bike is a great value. A few technical issues here and there, but a solid package that still puts this bike on my shortlist of all-mountain long-travel bikes for 2008.
Buy Now: Visit Norco.com to Find a Local Dealer