It was the first morning of the 2008 Interbike Demo and with temps in the low to mid 80's with a slight breeze I was ready to roll. But what to ride, what to ride? Like a kid in a candy story with mom's wallet I went straight for the money bike – the 2008 Specialized Enduro Pro Carbon SL. And money it was.
A quick note on the service. I've gotta say that the Specialized booth was one of the best demo booths that I experienced with friendly staff, very fast fulfillment of a demo bike and what looked like a dialed system for getting people sized, shocks filled properly, pedals on and out the door with speed. Some booths were complete junk shows but this experience before getting on the bike left an impression.
Riding the Enduro Pro Carbon SL as my first bike of the show wasn't really fair to all other bikes I would ride as the bar was set high. Dubbing the bike, "Dr. Smooth" I must have commented multiple times to Jason how much it felt like a Caddy but responded like a Porsche.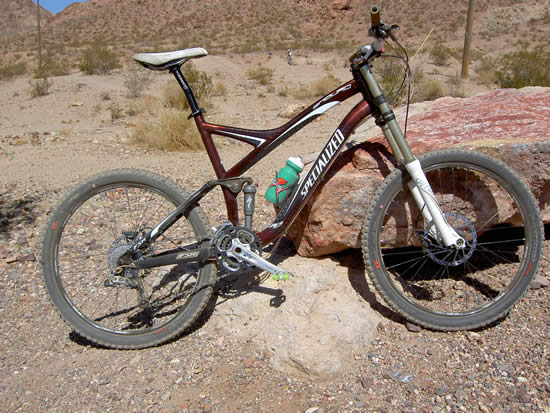 Quick Review of the 2008 Specialized Enduro Pro Carbon SL
Going into the show the Enduro had seen some momentum with a reputation for being a solid bike. One technical aspect that achieves a ride worth talking about has to do with the TSI (Total Suspension Integration) approach to building this bike.
Essentially they develop the chassis, suspension design and components in unison rather than toss together pre fabricated parts in hopes that the combination will yield a good ride. The goal of this approach? To give you better control over any trail and that's exactly what I found. Both climbing, which I enjoy quite a bit, and descending the ride was smooth and stable with maximum absorption of the varied terrain that Bootleg Canyon dished up.
The front and rear shocks are Specialized with the rear shock adjusting on the fly (if you're a talented rider). The FutureShock forks have a spring and damping rate that are tuned specifically to the geometry of the bike they are built for. This makes all 6″ of travel work in your favor without ever really nearing the "bottom" but not giving up any precision in steering either. I was stoked at how nimble yet how stable this bike was going around tight corners and shooting through S-curves with speed. And the carbon frame helps to lighten and dampen things up.
The rear FSR geometry features 4 pivot points that keep the suspension independent and active throughout all riding styles – weather you're coasting, climbing or descending hard, it's built to keep the tire on the ground and your pedal force and momentum moving forward rather than downward.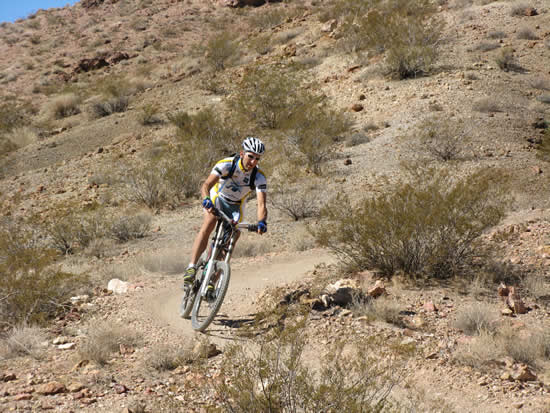 The Bottom Line
Believe the hype. All the engineering and technical lingo adds up to a very smooth and forgiving ride that can take on any terrain or speed. Although it boast 6″ of travel and may make the cross country crowd steer clear, all around I think this bike is designed with enough forgiveness and features to be your one and only. This coming from a guy who is a roadie that loves to climb, that's saying something.
Find a retailer near you on Specialized.com to get your hands on any of the Enduro models. The Enduro Pro Carbon SL that I rode and as pictured comes in at $5400 fully loaded.
If you're interested in more technical images and verbage in a informative slide-show go to the Specialized Suspension Museum.