The Outdoor Demo is definitely the best part of the annual Interbike tradeshow. The ability to hop on any bike and take it for a spin is awesome. And, Bootleg Canyon provides an awesome setting with a wide variety of desert singletrack on which to ride. Though the trails aren't exactly like the typical Utah trails I ride every day, it's good enough to get a feel for any bike.
As my final ride of the two-day demo, the Ellsworth Epiphany had a little bit of a disadvantage because I completely bonked just before riding it. However, with the performance of the other bikes ridden at the demo stored in short-term memory, it ended up being a perfect opportunity to compare the Epiphany to them all. In the end, it stood out from the crowd.
About the Ellsworth Epiphany
Introduced in 2005, the Epiphany is a 5.25-inch travel all-mountain slayer. Utilizing Ellsworth's famed ICT suspension design, the Epiphany is built to climb just as well as the Truth, but descend nearly as well as the Moment. It's the perfect 5 and 5 trailbike that can be the one bike to rule them all.
The Ellsworth Epiphany has received oodles of praises since its introduction as one of the finest all-around trailbikes. MTBR reviewers have rated it as "Best of MTBR" for several years. With an overwhelming 4.94 out of 5 rating via 51 user-submitted reviews, the Epiphany is definitely not a flash in the pan. Here are a few more specs on the Ellsworth Epiphany:
Travel: 5.25 inches
Sizes: Small, Medium, Large (tested) and X Large
Colors: Black, Nebula Blue, Project Pink and Smoke (all anodized)
Weight: 5.97 lbs (medium)
MSRP: $2395 (frame-only)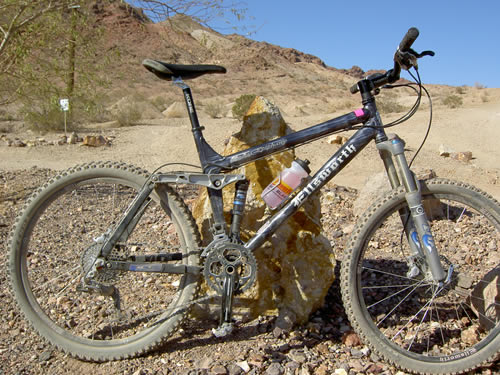 Ellsworth Epiphany Review
As I mentioned above, this was my last bike of the day on day two of the Interbike 2008 Outdoor Demo.  So, needless to say, I was beat. The 100-degree temps without much shade had taken its toll. However, prior to slipping out on the Epiphany, I took my time in the cool shade of the Ellsworth tent to get the full scoop on all things Ellsworth. Let me say this… Tony Ellsworth and crew are some of the most down-to-earth folks in the industry. Opinionated, yes, but down-to-earth.
I've been eying the Epiphany for some time and thought it couldn't be that much better than all the other 5 and 5 trailbikes on the market. After a long lap on the Epiphany, I was proven completely wrong. The Epiphany is definitely one of the best, if not the best, trailbikes on the market today. If you're looking for a one-bike-quiver and don't want to feel like you've got to upgrade every year, then step on Ellsworth's "No Hooey" program.
The Epiphany climbs as well as every Ellsworth I've ridden. After having the Ellsworth Evolve for a month this summer, I was quickly sold on the efficiencies of the ICT suspension design. The Epiphany shows how efficient the ICT design can be in longer-travel applications. At 5.25 inches, it's not a squish-machine, but it has found the sweet spot between climbing efficiency and descending prowess. Both technical, rocky climbs and fire road climbs were arrow-straight with no noticeable front-end wander. This tells me the angles are spot-on for climbing.
How about descending? Turning downhill, I was amazed how well it performed. This stiff and efficient climber transformed into a smooth and forgiving downhill performer (surprising for a 70-degree head angle). Rocks, drops, berms and jumps were all second-nature to the Epiphany. The suspension (Fox Float R rear shock and Fox TALAS 32 RLC fork) soaked up everything in its path and gave it a "point it and go" attitude. Even though I was a bit stretched-out with the Large frame (I'd go with a medium), I still felt like I could take on any trail without flinching.
The test bike was also equipped with Ellsworth's new XC wheelset. I didn't think too much about the wheels before taking them out, but after riding them, I was blown away by how well they tracked for a "cross country" wheelset.
Talking with Tony Ellsworth, he was quick to point out that his frame designs are simple with no unnecessary tube curves, etc. This not only provides a strong frame, but it also simplifies the build process–something that contributes to Ellsworth's carbon neutral status. An added benefit of buying an Ellsworth!
Good Epiphany
Awesome climber
"Point It" descender
Truly a "one bike to rule them all" kind of bike
Super light
Laterally stiff and stable in all terrain
Ellsworth XC wheelset was awesome on this bike
All this with a simple Fox Float R rear shock
Bad Epiphany
Pricey… $2395 for frame only is expensive, but you're buying 100% American-made from an energy neutral company
Need more color options… not a fan of the Nebula and Smoke anodized color schemes
You may not find a demo ride at your local dealer
The Bottom Line on the Ellsworth Epiphany
What can I say? This bike simply blew me away. The last bike of the day delivered the most fun and best-performing trailbike I've ridden. Now before I get too stoked, it was only an hour's worth of riding, so take that into consideration. However, I can now understand why this bike has won so many awards. It is definitely in a class of its own as the trailbike to beat in the 5 and 5 category.
Buy Now: Visit Wrenchscience.com to Buy an Ellsworth