More well-known in the freeride world, Kona quietly hums along with a strong following in XC, road and now 29er markets. There's no doubt that Kona knows how to make bikes that are built to last a long time while absorbing repeated abuse on the trail.
Kona has also figured out just the right mix of efficiency without sacrificing downhill capability.  As a result, the same people that have brought you the gap-jumping Kona Clump isn't afraid to show their mettle in the fickle 29er crowd. That said, how would this 3.5-inch full suspension bike handle the rock gardens and drops of Bootleg Canyon? How well would it climb? Pretty darn well, actually. Lets take a look.
About the 2009 Kona Hei Hei 2-9 Deluxe 29er
Built as an XC-friendly 29er, the Hei Hei 2-9 Deluxe sports a high-zoot Scandium front triangle and the Kona signature rear triangle. With the added stability of the rocker-arm design, this bike is built to handle trails that would devour other 3.5-inch travel bikes. The Deluxe build sports all the goodies you'd expect from a bike in this price point with a smattering of XT and XTR bits with a Fox RP23 rear shock and a Fox F29 RL fork. Here are a few more details:
Frame: Kona race light scandium front and aluminum rear triangle
Sizes: 16, 18 (tested), 19, 20, 22
Drivetrain: Shimano SLX, XT and XTR mix
Brakes Shimano XT (nice!)
Shock: Fox RP23
Fork: Fox F29 32 RL 80mm
Wheels/Hubs: FSA XC-290
Cockpit: Kona XC/BC stem and riser (not your typical house-brand parts)
MSRP: $3599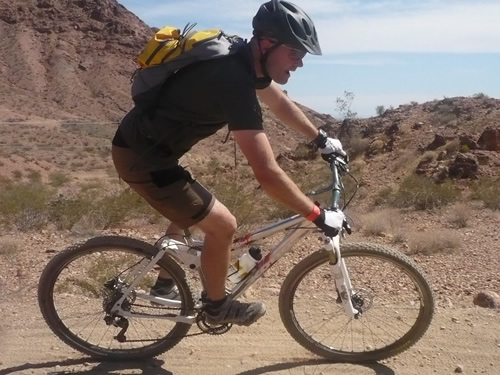 2009 Kona Hei Hei 2-9 Deluxe 29er Bike Review
Maybe this should be called the Woo Hoo 2-9 because this bike is a complete hoot on the trails. When I first hopped onboard, I was impressed at how fast it accelerated. Maybe that's because it's been years since I've ridden anything with less than 4-inches of travel in the rear. Every ounce of energy was immediately transferred to the rear wheel and up the trails.
The climb up Bootleg Canyon was a breeze. This bike climbs uphill extremely well–what else would you expect from a honed XC machine? It's obvious that climbing isn't going to be an issue on this bike, but how about the down?
With 29-inch wheels, you can get away with less travel while still enjoying a plush ride. The 3.5 inches in the rear and just over 3-inches in the front had me a bit uneasy before pointing it downhill. But, all it took was a few strong pedal strokes and a couple of hard corners before I realized that this bike (though it sits squarely in the XC world) would still handle like a Kona so I could enjoy the best part of the ride.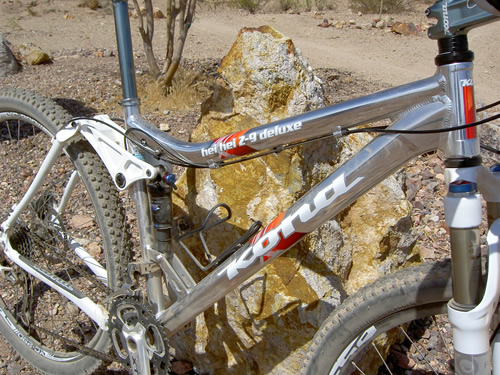 Twisty, turny singletrack, rock gardens and drops didn't phase this bike at all. I couldn't believe how "plush" this bike felt and how stable it was. No doubt this bike isn't going to feel as squishy as a Coilair, but the beauty of the 29-inch wheel is just that… you don't need all that squish to make a bike feel "plush". The suspension soaks up everything equally well from high-speed stutters to drops. This bike is a very capable all-mountain machine that would be killer on all-day epic rides.
Only once did I feel the suspension lock-up when I applied the brakes while pedaling over a bump–something that does appear, albeit rarely, in single-pivot suspension designs. I'm picky, so most people won't ever notice, but this by no means detracted from the overall fun factor of this bike.
The cockpit felt super-comfortable right out of the box–something you can't always say with stock bikes sporting house-brand components. The shiny Kona stem/bar combo looks sweet and has just the right stem length and rise, and the bars have the perfect upsweep and rise to put you in the right position to enjoy this bike on the trail.
Good Hei Hei 2-9 Deluxe
The most plush 3.5-inch travel bike I've ridden
Can tackle terrain that would devour most bikes in this category
Very comfortable right out of the box
Climbs straight on steep fire roads or narrow singletrack
Feels very light, but still remains stable when pushed hard
Flickable and fun in all terrain–not something commonly said about 29ers
Love the 6-sided downtube… nice touch
Worthy component spec
Bad Hei Hei 2-9 Deluxe
Single-pivot design can have brake jack or pedal feedback, though it's rare
Come on… put a quick-release seatpost collar on there guys!
The Bottom Line on the 2009 Kona Hei Hei 2-9 Deluxe 29er
I had a complete blast on this bike. Going into it, I was expecting it to feel completely cross-country, but I was surprised when it handled as well as it did on the rocky, technical terrain in Bootleg Canyon. I found myself grinning ear-to-ear as I pointed it straight through sections that would make most bikes in this category keel over and die. The rear end is stout and tracks perfectly straight and the ultralight Scandium frame keeps things easy while pounding out that epic climb. For the money, this one is hard to beat, but if you're on a budget, the standard Hei Hei 2-9 drops a grand in price and likely performs just as well.
More Info: Visit KonaWorld.com to Find a Local Dealer