2001 was a good year for Santa Cruz Bicycles and will be remembered as a turning point for them with the introduction of the Virtual Pivot Point (VPP) revolution. Prior to that, every full-suspension bike in the line was a single-pivot design. While they still build single-pivot bikes, since that time the focus has been on the VPP design.
But, like any suspension design, technology will continue to evolve and refinements will happen. For this year, Santa Cruz completely overhauled the Blur LT. As a result of this complete overhaul, many are calling it the Blur LT2 since it actually shares very little with the original LT other than the VPP. I've had my eye on the new Blur LT since it was introduced in the Spring, but didn't get my hands on one until August of this year. Since then, I've been flogging the all-new Blur LT up and down the Wasatch Mountains. How does it ride? You'll want to read on, my friend.
About the 2009 Santa Cruz Blur LT
The original Blur LT was introduced at Interbike 2006. I took it out for a few laps and liked it overall, but the new LT2 is a completely different beast. With the growing number of 140mm trailbikes on the market (arguably the sweet-spot), the original LT design was quick to show its age. For some reason, the linkages developed more creaks than my grandma's house and the frame wasn't as stout as it should be for this type of travel.
So, Santa Cruz engineers went back to the drawing board to re-design not only the Blur LT, but the VPP suspension characteristics and linkages as well. The end result is the all-new Blur LT with increased travel, completely re-designed frameset with greatly-increased lateral stiffness, new pivot linkages (carbon upper/aluminum lower), built-in grease ports and revised suspension rates to give the bike an even better pedaling platform and a more bottomless feel throughout. This new VPP design is also now used on the new Santa Cruz Nomad for 2009 and will likely be added throughout the VPP lineup soon.
Here are a few more specs of the Blur LT:
100% new frameset for increased standover and lateral stiffness
Revised VPP design with 140mm travel (up from 135mm)
Carbon fiber upper linkage
Aluminum lower linkage with built-in grease ports (gun included)
Built for a 140-160mm fork (140mm Fox Vanilla RLC 15QR as tested)
Built-in cable routing for adjustable seatpost
Bottle opener on rear dropout
Replaceable rear derailleur hanger
Tire clearance up to 2.5, but 2.35 recommended
Sizes: Small, Medium, Large (tested) and XL
Frameset MSRP: $1850 (powdercoat) or $2050 (anodized)
Complete Bikes MSRP: Starts at $3014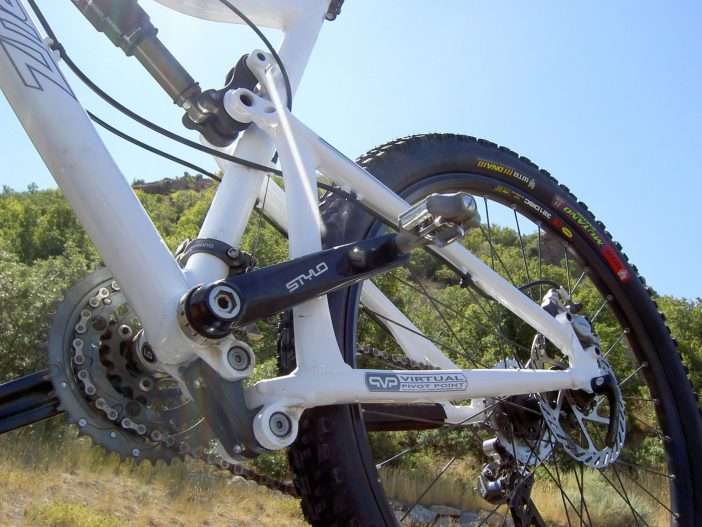 Santa Cruz Blur LT Review
The anticipation has paid off as the Blur LT has delivered in spades. Lets dig into some particulars on how well this bike performed in all conditions.
The setup was the R-AM factory build-kit with the exception of a Chris King headset, ODI Oury grips, Syncros AM stem, WTB Mutano Raptor 2.4 tires and a 2009 Fox Vanilla 32 RLC with 15QR thru-axle. Being on the front of the 15QR curve wasn't easy though. I had the fork in my hands mid-June, but it took a good 6 weeks before both the bike and 6-bolt Shimano XT hub arrived to be re-laced to the Mavic 321 hoop. A quick trip to Go-Ride.com and the crew had my front wheel laced up and ready to ride.
The all-white frame with the black Fox fork looks sweet. Plenty of compliments all around as people have gawked at it. It's only the 2nd Blur LT2 I've seen in the wild, so they are still fairly scarce. Overall, the R-AM build kit is workman-like. The only drawback is a little bit of a weight penalty (still only 31 lbs.) but it's far from tanky and comes with a reasonable price. Like most good bikes, the extra 1-2 lbs. is only noticeable on a scale. Once you hit the dirt with your game-face on, you'll never know the wiser.
I did have a small issue with the Race Face Evolve AM stem. It arrived with one of the four faceplate bolts bent and unusable. I have yet to locate a replacement and Race Face has been reluctant to send one. It appears they have one on the way, so we'll see.  It seems a small part like that should be readily available, but I've checked my LBS and Home Depot to no avail. Instead, I just slapped on a Syncros AM stem. This stem was also 90mm, like the Race Face, but with a 12-degree rise, so it provided a little more upright cockpit.
Onto the ride… Climbing, the Blur LT absolutely sticks to the trail like glue. The negative travel provided by the VPP design, extends into ruts while otherwise maintaining a nice platform for efficient climbing power. Long, sustained singletrack ascents of 1000 vertical ft. or more (American Fork Canyon, Utah) were easily tackled in the middle ring with only a few drops into the granny when things got steep or loose. I did notice that the front-end wandered just a tad more than I'd like, but it wasn't unbearable and only really showed its face in the granny at slower climbing speeds.
I varied from the stock tires by swapping the Kenda Nevegals out for some WTB Mutano Raptor 2.4's front and rear. Though they are 2.4's, the width is very narrow, however, traction remained consistent in all conditions and are well-suited to this bike.
The Blur LT is very efficient–propelling me to the top of a local time trial climb in my typical 14-minute times. It's definitely a solid climber.
Descending on the Blur was great fun. The rear suspension soaks up everything and makes any trail a playground. With the Vanilla 32 RLC and 15mm thru axle, the front-end tracked straight and solid in all terrain. This fork is a perfect match for the LT2. Hopefully it will be offered as a standard build option soon.
I loved playing with the rollers and berms on the trail and floating down tight, twisty singletrack with complete confidence. High-speed assaults are also stable and fun. The only "less than perfect" terrain for the LT are small, stutter bumps. It soaks up large hits well, but I found it a tad bouncy on stutters. With the adjustments on the optional Fox DHX Air shock, performance could be fine-tuned, but I was OK with how it handled.
The Large-sized frame fits me perfectly (5′ 11″ – 170 lbs) with a nice-feeling cockpit that put me in a great position for both climbing and descending. I really had a ton of fun on every downhill I descended–from fast, rolling singletrack to tight, technical descents.
Good Blur LT
One of the top trailbikes on the market
Can be had for a decent price (starting at $3100)
New VPP is a huge improvement in reliability and smoothness
Great climber… rear wheel extends into terrain anomalies
Fun and flickable on the descents
Chris King headset is worth the upgrade
Fox Vanilla 32 RLC with 15QR is perfect on this bike
With 140mm fork, there's no need for travel adjustments to climb well
185mm front rotor adds needed stopping power
Bad Blur LT
Small, stutter bumps aren't as smooth as could be
Wanders a titch on slow-speed climbs
A little chain slap on vertical cross piece near dropout
Arrived with a bent stem bolt that I've been unable to replace
Mavic 321 rear wheel seemed a little flexy
The Bottom Line: Santa Cruz Blur LT
Hooting and hollering comes standard with the LT. Your riding buddies may get annoyed, but you'll surely have a smile on your face at the bottom of every descent. It's also an excellent climber that pedals you efficiently to the top of any climb. The new Blur LT2 is a great example of what a trailbike should be. As tested, it wasn't svelte, but on the trail, you'll never notice it. If you can get your hands on one, you won't regret it.
Buy Now: Visit SantaCruzBikes.com or a Local Dealer