Bar widths are getting wider and wider these days. Guest writer, Josh Rhea has been riding with the all-new Truvativ Holzfeller 730mm bar and stem combo on his Ibis Mojo HD and likes the results.
Truvativ Holzfeller Riser Bar Features:
Material: Butted AL-7050 TV
Weight: 290 grams
Width: 730mm
Rise: 20 (tested), 30, 40 or 50mm
Sweep: 9 degree back, 5 degree up
Colors: Black Anodized (tested), Snow White
MSRP: $64
Truvativ Holzfeller Stem Features:
Material: Forged AL-66, Clamp: AL-66
Weight: 190g (40mm)
Lengths: 40mm / 55mm / 60mm (tested)
Finish: Black Anodized (tested), BoXXer Red
MSRP: $62 (60mm)
Truvativ Holzfeller Stem and Riser Bars Review
Swing a leg over your rig, grab a handful of grip, and get ready to rip. Because the first thing you feel when locking onto Truvativ's gravity pro-level Holzfeller cockpit is overwhelming confidence. The reason for that confidence is fat: the handlebar's oversized diameter extends out much further than other bars from the stem clamping area before tapering to the grips, giving you a sense of absolute burl under your control. But that burl doesn't equate to excessive weight—I had the 60 mm stem and 730-mm wide bars mounted on my all-mountain bike, an Ibis Mojo HD — and didn't feel handicapped by weight in the least.
The 730 mm Holzfeller bar width is fairly standard for modern all-mountain bikes; it provides excellent leverage when cornering, but is narrow enough to maneuver between tighter trees and rocks without being overly concerned with snagging a bar or breaking your pinky finger. The stem/bar combo is incredibly stiff, too.
I used this combo for one of the fastest, most technical Super D races in the country: the Moab Ho-Down. That course requires well over 20 minutes of high-speed jack-hammering through rock gardens, ledges and drops. Nothing phased this setup. The 60 mm stem was a fraction too short for me on racecourse climbs, but provided absolute precision on the descents.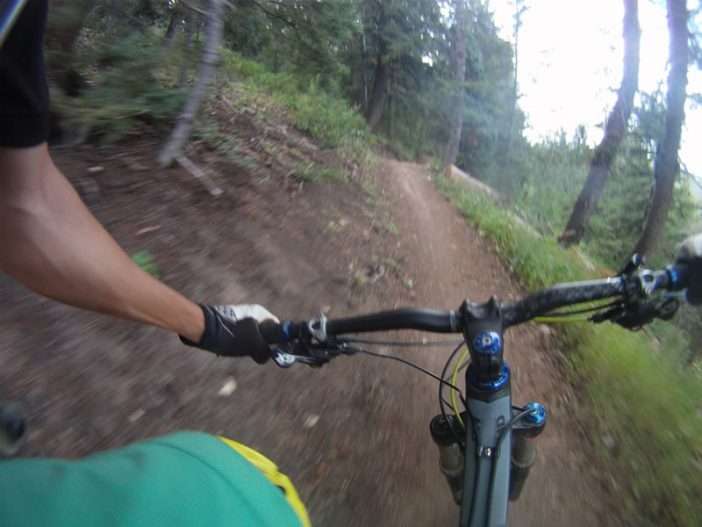 One note on setup: Truvativ has an ingenious, simple white mark on both the bars and stem that allows you to center the bars perfectly on the stem. I've used plenty of bar/stem combos that have guides with varying degrees of adjustment, but never one that had such a precise little mark to get them centered up with such ease. Brilliantly simple.
Good Holzfeller
Confidence to go big without a big weight penalty
Comfortable, transparent feel at the bars—just install and ride
Steering precision
Intuitive, easy setup
Quality feels much better than some older Truvativ products
Bad Holzfeller
Could be overkill for an all-mountain bike
Bottom Line: 2012 Truvativ Holzfeller Stem and Handlebars
The new Truvativ Holzfeller stem and bar combo has felt comfortable from day-one — just slap these on and ride. The easy set-up and improved steering precision makes these a worthy addition at a reasonable price and respectable weight.
Buy Now: Truvativ Bars at JensonUSA