With 27.5 bikes all the rage for 2014, the Scott Spark 700 SL is definitely one of the best renditions of the platform. I've ridden the 29er version previously, but for 2014, Scott says ciao to 26ers on their entire lineup of performance bikes. One lap was all it took.
2014 Scott Spark 700 SL Features:
HMX NET carbon fiber for the lightweight, stiff performance

120mm travel front-and-rear
Fox 32 Float and Fox Nude shocks with TwinLoc
SRAM XX1 drivetrain
Syncros carbon cockpit
Syncros XR1.0 carbon wheels
Weight: 21.12 lbs (stated)
MSRP: $9199.99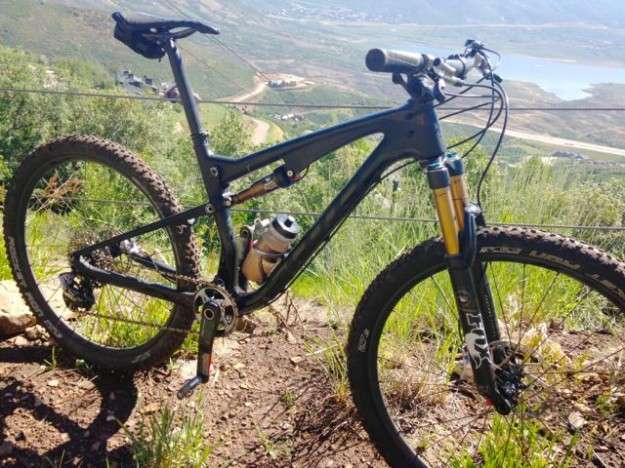 A Few Miles of Joy on the Spark 700 SL
Since my ride time was limited to an 8 mile lap, I'm not going to go into much more detail than first impressions. For starters, the 700 SL is the top-of-the-line Spark 27.5 model. It comes equipped with the finest components available on the planet. I can't think of anything more anyone could ever want in a 120mm XC race machine that's capable enough to be a daily driver.
Giving the 700 SL a thorough inspection, I was in awe of the sheer beauty of this stealth black machine. Donned in Syncros carbon from the cockpit to the wheels and topped off with the superb SRAM XX1 drivetrain, there's little wonder if the 21.12 lb stated weight is a reality or not. This bike is light. Much of that weight reduction is due to the HMX NET carbon fiber frame.
The most impressive feature of 27.5 bikes and this one especially is the quickness throughout tricky, off-camber switchback ascents. I know, kind of a mouthful, but we've all been there and stalled there. These off-camber switchbacks require skill and a dialed-in bike to navigate with consistency. The trail I rode featured at least 10 switchbacks of the off-camber variety and the Spark simply whipped around them like it was on rails. The track I laid down on one ascent is much faster — a full 2 minutes faster than the one I laid down a week later aboard the Pivot Mach 429 Carbon.
All this climbing was done on second-lap legs since I had ridden the 2014 Scott Solace road bike on a 10 mile, 1000 ft. climb affair just previous to my time on the 700 SL. Just imagine what I could have done with fresh legs?
The only aspect of the 700 SL that I didn't settle into was the handling. It had a bit vague of a feel to it at moderate speeds. Most of the time it was consistent and smooth, but for some reason on narrow singletrack, at medium speeds, the front wheel kind of wandered left-and-right on the trail — just enough to notice. When actively cornering, everything felt natural and always hooked up nicely. Maybe a stem length change could do the trick?
The SRAM XX1 drivetrain performed flawlessly. As my drivetrain of choice, I love the simplicity and silent shifting performance it provides. It was a little odd, however, to have the XX1 drivetrain pared with XTR brakes. They are nice brakes, but alloy levers just don't cut it on a bike like this.
The Good
120mm front/rear is an awesome sweet spot for 27.5's

This full-carbon beauty is lights-out fast
Can fit a full-size water bottle in there
21 lbs with tubed tires!
TwinLoc remote is useful on long climbs
Fox shocks front and rear offer smooth, reliable performance
Lateral stiffness is phenomenal
Hooks up well and feels comfortable in all terrain
Loves to climb — especially those off-camber uphill switchbacks
The Bad
Vague steering on straight singletrack at moderate speed

Suspension design exhibits brake jack
The Bottom Line
If I were to ditch my 29er ways, this would certainly be the type of bike to do it. It hooks up well, has a ton of traction and rolls over stuff. In this ultralight package, there's little to quibble about.
More Info: Visit Scott-Sports.com