I just received an email with some information on Adventure Cycling's Great Divide Mountain Bike Route. Considering the snowpack in the Rockies this year, I don't know how they are going to do it, but it looks like tons of fun (and pain) nonetheless. The route is crazy and the mileage is insane!
You can follow the progress on the Tour Divide Blog. These guys are in for a trip of a lifetime.
Here's the skinny:
Think you could do it? Race in less than 25 days from Canada to Mexico along the spine of the Rockies on a mountain bike? Solo? Carrying all your own supplies and gear? Facing snow-packed passes, unnervingly large carnivores, and no hint of a cell phone signal?Two crews of riders are about to find out.
On June 13 the inaugural Tour Divide will set out from Banff, Alberta, for a 2,711-mile race along Adventure Cycling's Great Divide Mountain Bike Route. The 16 riders signed up for the ride, or at least those who finish, will pedal the entire distance to the Mexican border along primarily dirt roads without any outside assistance. In classic touring tradition, they carry everything they need — food, water, shelter — on their bikes and backs, with refueling stops in small-town stores along the way. Riders are truly on their own, with no support crews, SAG vehicles, or massage-teams allowed, making the Tour Divide the longest, most-challenging cycling race in the world.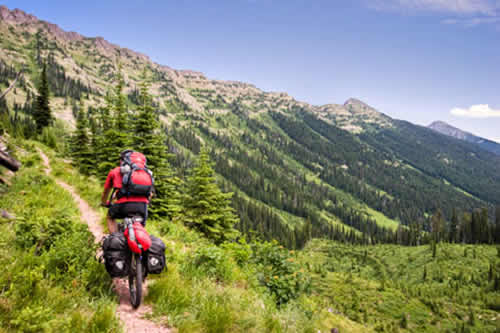 Exactly one week later, on June 20, at the Montana/Canada border, another group of riders will set off on the route's original race, the fifth annual Great Divide Race. Ridden in the same self-supported style but only covering the 2,490-mile American portion of the route, the race's winners typically finish in a jaw-dropping 17 days or less.
Both races promise to deliver high-quality human drama and unparalleled long-distance adventure. Fans can follow the Tour Divide on the Tour Divide blog: www.tourdivide.org/blog and check out who is in the lead on the race's Spot-sponsored, Google-powered leaderboard: www.tourdivide.org/leaderboard. Information on the Great Divide Race can be found at www.greatdividerace.com. The website www.mtbcast.com will carry daily updates on both races for their durations.
Adventure Cycling supports all riders of the Great Divide Mountain Bike Route, but does not organize or officially sponsor either race. In fact, no one sponsors the races — both are grassroots by design, with exactly zero dollars in prize money for the winners.
More Info: Visit AdventureCycling.org