Your wheelset will either make or break your bike's ride quality. Hopping on a new bike and heading out for an inaugural ride, nothing is more of a buzz-kill than finding your wheels to be flimsy, slow to engage and offer tracking akin to a wet noodle.   Believe me… if you're going to ride hard and want to improve your bike's performance, there are few components that will give you as much bang-for-the-buck than a solid wheelset. Spendy, yes… but well worth it.
Crank Brothers crashed the wheelset scene with the Cobalt XC wheelset in 2008 and then continued its evolution to include the Iodine (AM), Opium (DH), Sage (FR) and now the Cobalt 29er. Mated to my Ibis Mojo, the Iodine's have been superb.
About the Crank Brothers Iodine Wheels
Introduced as the all-mountain offering in the Crank Brothers wheelset lineup. They've since rounded out their lineup with a full spectrum of wheels, but the Iodine's continue to hit the sweet spot between light weight and versatility for most riding conditions. At 1903 grams a pair, there are lighter wheels, but not with the girth of the Iodine's.
The front hub is built to accept 20mm, 15mm (extra adapter required) or 9mm axles, so just about any fork will work. The unique spokes are built for extra strength while maintaining adjustment capabilities.
Unique Twinpair spokes (24) connect via vertical rib
21mm inside rim width
25mm rear axle
Split QR levers
Disc brakes only
2.3-2.5 in. tires recommended
Split quick-release levers
Convertible between 9mm and 20mm with 15mm thru-axle option
6 pawl drive design with 7.5-degree maximum engagement
Tubeless-compatible
Warranty: 2 Years
Weight: 1903 grams
MSRP: $950
Crank Brothers Iodine Wheelset Review
The proper wheelset is critical to overall bike performance. It may cost a lot, but think about it… the wheels are darn important. Next to the frame and fork, the wheels are the next most important parts of your ride quality. Flimsy, cheap wheels will ruin your ride quality faster than a Deore rear derailleur ever will, so spend wisely.
Now the Iodine's have been matched to my new Ibis Mojo for the past 6 months. When I first got the bike assembled in all its glory, I couldn't keep my eyes off it. The burnt orange Iodine's were just the perfect match with the natural carbon fiber black of the Mojo. The whole package just looks amazing. I wasn't the only one… most everyone who saw the bike commented on how cool the wheels were.
While looks are great and all, they don't get you much when the trails get gnarly. In every riding condition, I've been super-impressed with the ride quality of the Iodine's.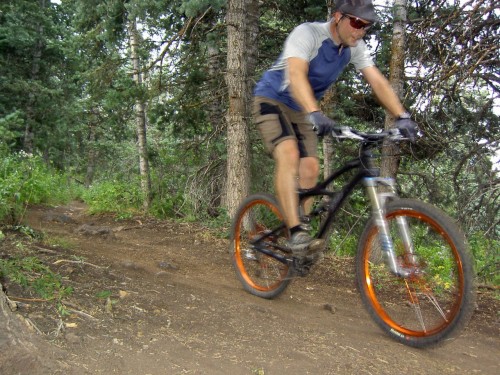 Rolling quality is outstanding as these wheels seem to roll on and on by themselves. The rear hub provides fast and smooth engagement under all load conditions–steep climbs, fast rollers and downhill transitions. Quick adjustments in rocky sections to avoid pedal-strikes are met with a solid drivetrain no matter the location. The only negative of the freehub is the volume as you're coasting downhill. The tell-tale whirrrrrr is really quite loud. My riding buddies have commented multiple times on the loudness, but if that's the only flaw, it's pretty minor.
Other than that, my initial set of 15mm end caps were machined a little off, so I had to spend a few minutes hand-sanding the inside diameter to remove a few microns. A second set of caps were much better, so it appears to no longer be an issue.
I just love laying into corners with the Iodine's as they track straight and true no matter how hard-pressed. Tracking through rock gardens and rough terrain, the Iodine's simply hold their line. Drops and jumps are also met with solid hoops underfoot.
Everywhere from the epic downhill of the Wasatch Crest Trail to the winding singletrack of the Ridge Trail 157 and fast loops in Corner Canyon have been perfect for these wheels.
I've yet to ride these tubeless (I know, I know…), but will change to tubeless in the Spring and post a follow-up.
Good Iodine
Lateral stiffness
Tracking through the rough stuff
Smooth rolling
Unique design
Quick freehub engagement
Easy to service and/or replace bearings
Amazing good looks (the wheels or me?)
Tubeless-compatibility
Bad Iodine
Loud freehub
Proprietary spokes may be difficult to find in a pinch
Color options may clash with your ride
It'll cost ya'
Bottom Line: Crank Brothers Iodine Wheelset
If you're in the market for a new set of high-end all-mountain wheels, give the the $950 Crank Brothers Iodine wheelset a fair shake–they roll well and adeptly track through rough stuff.
Buy Now: Search for Crank Brothers Wheels at CompetitiveCyclist.com