Mountain bike shorts come in all varieties from the old-standard lycra tighties to DH-style baggy shorts that are built longer and beefier to take the daily abuse of the North Shore or local DH courses. Whatever your flavor, you're certain to find some that you like.
For 2009, your options will now include the new lineup of mountain bike shorts from DaKine. Built long and durable with the ability to withstand the  that are comfortable both on and off the bike.
Long a part of mountain biking, DaKine is finally showing what's up by delivering a high-quality freeride shorts lineup for Spring 2009. I received a sample of the new DaKine Syncline shorts just before Interbike and have used them a handful of times… here are my thoughts.
About the DaKine Syncline Bike Shorts
Born from the minds of the DaKine mountain bike product and athlete teams, the new DaKine mountain bike shorts lineup will consist of three freeride/DH shorts:
DaKine 8 Track
DaKine Syncline
DaKine Chorus
The 8 Track and Syncline shorts both feature moisture wicking polyester mesh liner, back stretch panel, inner leg vents and a gusseted crotch for increased range of motion (8 TRACK MSRP $90.00, SYNCLINE MSRP $85.00). The Chorus is a six pocket cargo short (MSRP $75.00). Each short also features double stitched seams and triple stitched critical seams for added durability.
"DAKINE has created products in the mountain bike category for over a decade now and with each new season I continue to be impressed with the progression we see from our design team," said Chico Bukovansky, National Sales Director for DAKINE. "Our spring '09 bike line is the best all around bike collection we have created to-date in terms of functionality, quality and design. The input we received from our team riders, along with expanding our product range beyond core freeride, has taken everything to a new level."
DaKine Syncline Freeride Bike Shorts Review
Looking over the new Syncline, they are definitely freeride-ish in their design. The long length and beefy design show that they are built to take repeated abuse while still remaining comfortable. These shorts do not include a padded liner, so you'll have to provide your own. I used my Zoic Greatest Assit liner on the trail.
While these shorts don't include a padded liner, they are lined with a moisture-wicking polyester mesh liner, which makes for a high level of comfort and increased moisture control. I actually wore these shorts on the flight to and from Vegas and enjoy wearing them on extended periods off the bike–not something that can be said for many bike shorts.
I thought the extra length might be cumbersome on climbs or on XC-type trails, but I found them to be not that bad. Actually, they were nice on the cool Fall rides with a little more coverage and warmth than my other bike shorts. In the heat of the summer, the front leg vents will be handy, but I still think these shorts will be too hot for trail riding in mid-July.
The fit of the large shorts was spot-on and I enjoyed these shorts overall for their durability, protection and extra coverage in cool weather. It's evident that the construction of the Syncline shorts is built for repeated abuse.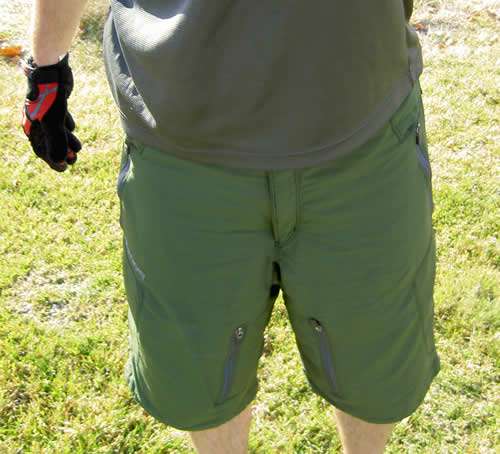 Good Syncline
Simple and functional design
Front leg vents
Usable, zippered pockets
Mesh lining wicks moisture and adds to comfort
Off-the-bike stylish
Bad Syncline
No padded liner included
Will be a hot in the summer
The Bottom Line on the DaKine Syncline Bike Shorts
If your flavor is more freeride and you want a pair of shorts that will withstand repeated abuse, then the new DaKine Syncline shorts are the ticket. Their mesh lining makes for a comfortable short on and off the bike. The fit is baggy but not so baggy you're going to feel like you've got two parachutes on your legs. For freeride guys or trail riders who prefer durable and functional shorts, the Syncline is a great option.
Buy Now: Search for DaKine Shorts at Backcountry.com