Over the years, I've been very appreciative of the little things that make each piece of gear so functional. Those little things are what make up a great overall product… sweating the details is what differentiates the mediocre from the great.
I can tell you one thing… Deuter does sweat over the little things and their overall product line has consistently delivered a quality experience–be it a hydration pack, backpack or kid carrier. Over the past few weeks, the Deuter Compact EXP 8 hydration pack has been my localized water source and gear stash. It's been pretty good thus far, but lets see just how good.
About the Deuter Compact EXP 8 Hydration Pack
Like all Deuter products, the most important part is the back panel or suspension design. While I'm a huge fan of the suspended AirComfort design of the Race Air Light hydration pack, the Deuter AirStripes system is a close second when it comes to breathability and comfort.
The Compact EXP 8 isn't really what I'd call a "compact" hydration pack. To achieve it's full storage size, there is a unique accordion zipper which expands capacity to 650 cu. in. Throughout the pack, there are various pockets to organize all your gear for an all-day ride or 2-hour cruise.
Features of the Compact EXP 8
AirStripes back panel
Mesh shoulder straps
XC helmet carrier
Mesh hip belt with zippered pockets
Pockets galore
Bike pump sleeve
Compression straps
100 oz Source hydration bladder
MSRP: $99
Deuter Compact EXP 8 Hydration Pack Review
I've once again embarked on a flogging of a Deuter hydration pack and once more enjoyed the solid function of a quality Deuter product. Strapping on the Compact EXP 8 was once again a great example of how a hydration pack should fit and breathe. With bike-friendly hydtration packs, my most important feature is breathability.
Pounding out a long, Africa-hot singletrack climb, the extra breathability afforded by the Deuter AirStripes back panel is apparent. Compared to the DaKine Amp 12 reviewed earlier, it's like night and day as my back remains cooler and drier over the course of the ride.
I love the myriad of pockets to stash a pump, tubes, shock pumps, keys. I've complained about the lack of organization pockets in previous Deuter hydtration packs, but the EXP 8 sports plenty of them–problem solved. Even the mesh waistbelt sports small pockets for keys, lip balm or other small items.
The musically-addicted may complain that there aren't any specific MP3 player pockets, but there are plenty of pockets that can be used for that purpose if you so choose.
I also appreciate the compression straps that keep the mid-sized pack more under control when lightly-packed. I felt like the pack rode very well under all conditions. It did bounce around a little on rough terrain, but nothing moreso than other packs.
The ergonomic mesh shoulder straps are excellent at distributing the load while maintaining excellent breathability. I can tell you that they just didn't slap a haphazard mesh shoulder strap on there, these things are comfortable, flexible and provide chafe-free performance. The sternum strap is easy to adjust via the sliding channel system and the hydration hose can be switched easily from one side to the other on-the-fly.
The 100 oz. Source hydration bladder provides ample liquid storage for an all-day ride. I really like the material used as it is super easy to clean. However, the bladder hose lacks a quick disconnect valve and the bite valve could provide a little higher flow rate for my liking.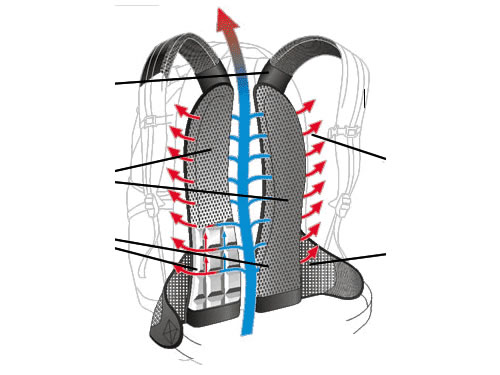 Good Exp 8
High-quality design with durable construction
Ample pockets to stash all your gear
AirStripes back panel provides comfort and breathability
Mesh shoulder straps add to breathability and comfort
Ambidextrous hydration hose options
Expandable for longer rides
Bad EXP 8
Could be lightened up without sacrificing durability
Bladder lacks quick disconnect hose
Bite valve flow rate could be higher
The Bottom Line: Deuter Compact EXP 8 Hydration Pack
When selecting a hydration pack, consider the back panel's comfort and breathability, which should put the Deuter Compact EXP 8 or other Deuter hydration packs in your sights. With ample storage via pockets galore, the Compact EXP 8 is a great pack for all-day adventures.
Buy Now: Find Deuter Hydration Packs at Backcountry.com