Carbon fiber is pretty much the magic sauce to make any ride smoother. First it began on the road scene, then it has slowly taken over both road and mountain bike frames and components. When it comes to bars, carbon fiber has long been used in both XC and DH applications for its light weight and responsive properties. Easton is the market leader in both aluminum and carbon fiber — I'm a fan, but is it worth the price of admission?
Easton EC70 MonkeyLite XC Low Riser Bars Features
Weight: 170 grams
Clamp Diameter: 31.8mm
Width: 685mm
Rise: 20mm
Bend: 9° sweep, 5° upsweep
Material: Easton CNT composite, Taperwall
Warranty: Limited 5-year warranty
MSRP: $140
Easton EA70 MonkeyBar XC Low Riser Bars Features:
Weight: 270 grams
Clamp Diameter: 31.8mm
Width: 685mm
Rise: 20mm
Bend: 9° sweep, 5° upsweep
Material: Easton EA70 Aluminum, Taperwall
Colors: White or Black
Warranty: Limited 5-year warranty
MSRP: $75
2010 Easton EC70 vs EA70 Riser Bars
Lets set the table for the differences between these two bars by laying out where they are the same. Both feature the now-standard 31.8mm clamp diameter, which provides added stiffness and more real estate for the stem to clamp onto. Very few bikes are running the old standard, so if you are, that alone could provide more secure and precise steering.
Looking at the rise, backsweep and upsweep, both bars are the same. Easton knows how to make riser bars and their low risers feature just the right up and backsweep for added comfort on long rides and XC races alike. After using plenty of bars over the years, this is about the ideal for a low riser bar.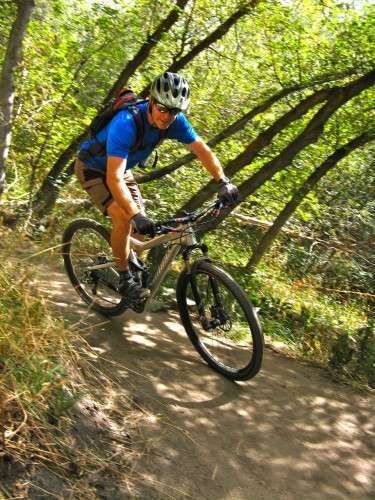 Width is the same as well. 685mm is the ideal width for most riding. I honestly wouldn't even consider riding anything narrower than 660mm and can't really recommend anything narrower. A wider bar provides added comfort and steering precision. I suppose those on the East Coast may consider something narrower if they ride super-narrow tree-lined trails, but I'd still venture to say that the extra width is worth it — even in that instance.
Now lets lay out what's different. I'll start with what's good about the EA70 aluminum bar. If you're tight on funds, there's no way you could go wrong with this option. As mentioned, the feel of the bar is spot-on and the overall performance is excellent. But, after long, chattery descents, you will feel a bit fatigued due to the lack of shock absorption qualities of the EC70 aluminum. Don't get me wrong, this material is more compliant than cheaper aluminum bars, but compared to carbon fiber… well, there's no comparison.
Onto the EC70 MonkeyBar. Since the specs of these two bars are identical, the difference is in the material. Easton's renowned CNT Composite has been refined and perfected over many years of development. I'd dare you to find another company with as much carbon fiber experience in as many outdoor applications. That engineering and R&D has proven itself time and time again and the EC70 is no exception.
I've ridden the EA70 and EC70 on my Niner RIP 9 over several months and dropping 100 grams from my bars is only part of the story. As mentioned above, I'd experience some hand and wrist fatigue on long, rocky descents. With the EC70, I get an added dose of responsiveness while dampening out that kind of wrist-jarring chatter. The more I've used carbon fiber components and frames, the more I'm sold. Stiffness is off-the-charts and it just rides with a surprising amount of smoothness.
What I like about the EC70 carbon bars:
Smooths out trail chatter for extra comfort on long descents
Very stiff and responsive
Drops 100grams from the already-light EA70
Sweep, rise and bend feels perfect
31.8mm clamp adds stiffness and security
What I like about the EA70 aluminum bars:
Excellent value
Sweep, rise and bend feels perfect
31.8mm clamp adds stiffness and security
Bottom Line: Easton EC70 vs EA70 Low Riser Bars
I'm a fan of Easton bars and both the EC70 and EA70 feature a comfortable and confidence-inspiring feel. But, if you've got the funds, the EC70 is worth the price of admission. It's 100 grams lighter and provides extra precision while measurably reducing trail chatter.
NOTE: The 2011 EC70 offers all-new construction and drops 20 grams from its overall weight.
Buy Now: Find Easton Components at CompetitiveCyclist.com