The ride quality of Ellsworth Bikes have long been held in high regard amongst those who know. I've had the opportunity to ride a wide variety of Ellsworth's over the years, but it had been awhile since my last dance. With the all-new Evolve Carbon catching lots of attention, I was excited to get aboard Ellsworth's latest steed on my local trails.
Ellsworth Evolve Carbon Frameset Features:
Frame and seatstay utilizes Torayca carbon fiber layup
Instant Center Tracking (ICT) suspension design
Available in 100mm (tested) or 120mm travel via shock change
Tapered head tube
Press fit BB30 bottom bracket
Custom-tuned Fox Kashima RP23
Asymmetrical hollow aluminum chainstay
142×12 rear thru axle
Internal cable routing can accomodate a dropper post
MSRP: $3495 (frame only)
Test Build Details:
SRAM XX1 drivetrain (32T chainring, 168mm offset)
2014 Fox TALAS 32 120/95mm and RockShox SID XX 100mm
SRAM X0 Trail 160mm brakes
Roval Control Trail SL carbon wheelset
Loaded X-Lite carbon flat bars, X-Lite seatpost and AMXC 85mm stem
Tubeless Specialized The Captain Control 2.2's and Continental Trail King/Race King 2.1's
Specialized Henge Ti saddle
Approx Retail: $8000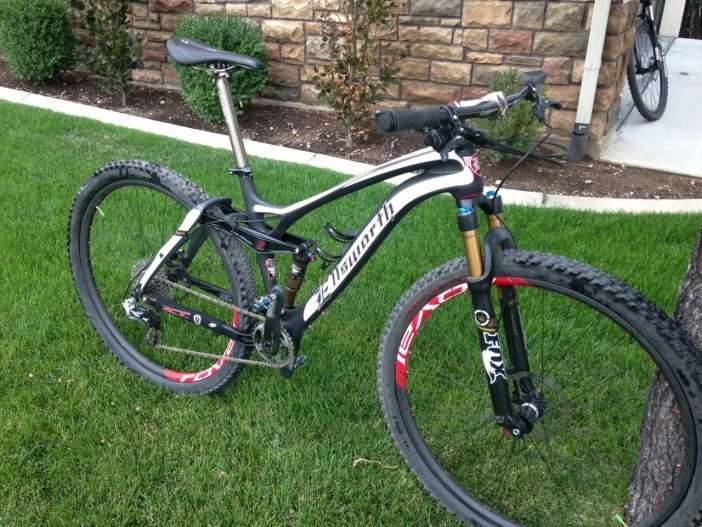 The Evolve is a Unique, Capable Player
With any custom frame build, the components will vary based on the rider's budget and preferences. I've chosen to build up the Evolve with a fair bit of high-end components including SRAM's XX1 1×11 drivetrain. My build weight fluctuated based on fork and tubed/tubeless tires, but the overall complete build is certainly respectable in the 25 lb. range. To go even lighter, I could go with a carbon seatpost, lightweight tires and something like the Rockshox SID WC fork, but as I experienced, the Evolve Carbon is best suited as a lightweight trail bike — not necessarily as a high-octane XC masher.
Ellsworth has a reputation of building their frames here in the United States. With aluminum, that's possible, but the second you go to carbon, it becomes much more difficult. Factories in Asia are expert at making carbon fiber bike frames and components in a variety of grades of carbon fiber, so if you want carbon (with few exceptions), that's currently where you go. Ellsworth took several years selecting just the right factory partner in Taiwan and is utilizing certified Torayca high modulus fiber with an anisotropic lay-up schedule.  Tony is so committed to quality that he actually has an apartment near the factory so he can keep tabs on every aspect of production.
The entire front triangle is laid up by hand, molded and pressed as a single monocoque unit at higher pressure than typical carbon frames. The result is a highly-refined frameset with unique shaping and pinpoint performance you can feel.
Mated to the carbon front triangle is Ellsworth's signature ICT Suspension with its precision machined aluminum rockers (with carbon reinforcement) and asymmetrical CNC'd aluminum chainstay. The monocoque carbon seatstay is likewise built using the same carbon molding and lay-up process as the front triangle.
The end result is arguably the sexiest Ellsworth to date. The curvy lines are somewhat of a departure for Ellsworth, who has long beleived that straight lines are the simplest and strongest, but the Evolve Carbon is proof that you can have modern looks and optimal performance. Those curves are purpose-built for standover and increased stiffness where needed.
Ellsworth is a small business in the bike industry — that's like a one-two punch of difficulty. In spite of the challenges, they continue to carve out a niche in the high-end bike market. Ellsworth can be a bit of a quirky company to deal with, as opposed to dealing with one of the big boys. And, as an entrepreneur, Tony Ellsworth's passion has resulted in a bigger-than-life reputation, but in the end, his bikes speak for themselves. I've found him to be personable and welcoming with any questions or issues I've had. Once you ride an Ellsworth, you'll know just how special the ICT suspension really is and why Tony (and the entire Ellsworth crew) stands by their products.
Built-up and Ready
Built up, the Evolve Carbon is a looker. The swoopy lines are a departure for Ellsworth, but it suits the brand well. This one features internally-routed cables on either side of the head tube that exit via an open port where the top tube splits to intersect with the seat tube.  This setup requires that you disconnect your rear brake line, feed it through and re-bleed the system — a necessary evil for the streamlined good looks. This results in a semi-permanent rear brake line.
My frame did not come with a water bottle mount inside the front triangle, but a visit to Ellsworth's lead engineer here in Utah made quick work of that. My medium-sized frame does fit a small water bottle with precious little room to spare. The only cage I could get to work in such a tight space is the Hawley evo AnyWay cage. It's not much to look at and turns my water bottles grey, but I can't find any other side-loading cages that work. Future frames will include mounts like mine, but Ellsworth will likely have to provide customers with a list of compatible cages and bottles (and it just might only be that one).
On all my 29ers, I set up the stem with negative rise and a flat bar. I've found this to be the best setup for my style of riding and the best way to keep weight forward for efficient climbing. I dialed in the Loaded X-Lite carbon bars and AMXC stem like that from the beginning and would not have it any other way.
Stage 1: 100mm Front and Rear (24.75 lbs)
For my initial testing, I mated the Evolve Carbon to a 100mm 2012 Rockshox SID XX. I quite like the DualAir models for their tune-ability, so this particular fork remains one of my favorites. On the Evolve, the gloss black fork felt right at home. Settling in on much lower pressure than Rockshox recommends, the SID provides a solid pedaling platform while being supple through the rough stuff.
The front end of the Evolve tracked with precision while the ICT-clad rear followed suit. Kudos to Ellsworth for going with the now-standard 12×142 thru axle. I find them simpler than standard QR's and frames can be built stronger and stiffer as a result. Standard QR's feel dated and squirmy.
It had been a few years since my last Ellsworth affair and I had honestly forgotten just how supple and plush the ICT suspension really is. So, for anyone who has yet to ride one, don't knock the "old-school" suspension design until you swing a leg over one. Believe me… I love the modern small-link suspension designs, but there is something magical about the ICT that makes small trail chatter disappear and turns a 100mm machine into a vert-devouring animal.
In 100/100 mode, the Evolve climbs extremely well. I've nabbed some climbing PR's, but try as I may, I still can't topple the majority of the ones I set earlier this year on a competitor's frame. While the uphill times may be marginally slower, the climbing traction and efficiency remains outstanding. Ellsworth suggests riding the Evolve (and all their designs) with the Fox shock switched to the Descend mode. I played around in both Trail and Climb modes, but in the end I just left it in Descend all the time.
The natural pedaling platform of the ICT suspension keeps the system completely active all the time. I didn't feel robbed of power and enjoyed a smooth, consistent suspension feel no matter where I pedaled. Occasional standing sprints in the flats are responsive and fast.
For kicks and giggles, I completely locked everything out on a fairly smooth singletrack climb just to see how it felt. Doing so makes the bike feel really tall and slightly wonky. The end result was literally minutes off my best times. The next day I rocked the same climb with both the shock and fork wide open and set a new PR. My conclusion: lockouts are unnecessary on this bike for my style of riding and terrain.
I had both Continental Trail King/Race King 2.1's and Specialized The Captain Control 2.2's mounted up during my 100mm testing period and I preferred the meatier Specialized treads and found the tire clearance to be more than adequate. Apparently, some seatstay designs in the past have had reduced clearance — not an issue with the tires tested.
Stage 2: 120mm Front and 100mm Rear (25.15 lbs)
Swapping out the SID for a 2014 Fox 32 TALAS 29 did add almost half a pound, but was a much better match with the Evolve. While the SID is lightweight and capable, it doesn't quite match the performance of the Kashima-coated TALAS. In 120 mode, the handlebars were only slightly taller and made absolutely no noticeable change to the handling of the bike. It continued to track straight and centered — even on the steepest of climbs. The front end responded in a jiffy and never felt out-of-sorts.
And, speaking of climbs, dropping the fork down to 95mm mode gave the bike an instant shot-in-the-arm on the ascents. I'd daresay that the TALAS is the right companion for the Evolve.
On back-to-back days, I rode the same Strava segment that includes 1200 ft. of grinding and 1000 ft. of blazing-fast descending (Check it on Strava: SID XX / Fox TALAS). In the end, my overall time for this segment was faster on the Fox — in spite of the extra weight. I definitely felt more confident through the rough terrain and the times proved it.
Speaking of descending, I'd definitely have to give the TALAS the nod. The smoothness of the suspension is equally matched with the suppleness of the ICT rear suspension to make for one playful descender. The SID didn't quite match the rear suspension quite as well. Manuals are easy and finding the balance point during drops felt like second nature. Technical, mixed-rock sections were made easy and bermed corners were railed like a race car. In short, this bike has more chops than its 100mm travel suggests. The rear end tracks well and feels laterally stiff. While I can't quantify the exact stiffness, all I can say is that it was a non-issue for me — solid in all conditions.
Quibbles: Not Everything is Perfect
In the end, some negatives are to be expected. First on that list is the price tag. While the frame can be had for less ($2994 at Wrenchscience.com), the stated retail price is $3495. The competition in this category range from $2500-$2900, so it may take a little education and ride-time to convince someone to spend that extra $500+. Some of the extra cost is due to the high-end Toraca carbon and the unique lay-up schedule, but I don't need my bike to be a rolling billboard saying "Force Vector Anisotropic Design" and such. Lets let the sexyness of the frame shine through without the need for validation all over it.
The no water bottle cage inside the front triangle was nearly a deal-breaker for me. In the end, I got it working, but would certainly prefer sexier options in cages and the ability to carry a larger bottle for longer rides. Essentially requiring a hydration pack for a bike of this travel is a bit out of place. Again, newer frames will sport an inner cage mount, but beware as clearance is minimal.
Another annoyance has been the rattling rear brake hose inside the top tube, but as it turns out, that was installation error as I overlooked the plastic clamping ferrules on install. Mea culpa. I'll just live with it until I get a chance to disassemble things a little. That minor rattling was the only noise the bike ever made, thanks to the clutch on the XX1 rear derailleur and the ICT's lack of  chain growth.
I suppose that some people might also question the aluminum chainstay on such a high-priced steed. I raised an eyebrow at first, but Ellsworth swears by the proven durability and stiffness of its highly-crafted chainstays. Ellsworth has proven their aluminum chainstays for years and strongly believes that it is the best material for that use.  Riding it has pretty much silenced any questions.
My Details
For reference, I'm 5'11" and 165 lbs. and the 24″ top tube on the medium frame fits me perfectly. I've got a penchant for climbing and consistently rank in the top 10-20% of all road and mountain bike climbs in the area (that just means that the real racers can kick my butt). I have exclusively ridden 29ers as my personal bikes since 2008 and while the 27.5's are sweet, I'm not letting go of the wagon wheels just yet.
The Good:
The ICT Suspension design remains truly active in all conditions
You won't find a more supple ride
Amazed that it only has 100mm travel as it feels like much more
Can be built up as a lightweight XC machine or all-day marathon bike
Beautiful monocoque carbon front triangle
Tracks well with accurate, flop-free steering at all speeds
Bling kits allow personalization
Neutral suspension design doesn't need suspension lockout platforms for efficiency
ICT has zero pedal feedback
The Bad:
Standing climbs took some time to find the right balance to maintain traction
Barely fits a small water bottle inside the front triangle (Large frames have more clearance, no dice on Small frame sizes)
A frame this expensive should come with the rear thru axle (luckily, I had an extra Maxle)
The Bottom Line: Ellsworth Evolve Carbon
The all-new Evolve Carbon is a departure for Ellsworth, but it doesn't fall far from the tree. The ICT Suspension may not be the current linkage du jour, but nothing I've ridden recently compares to the smoothness of this design. As spec'd, I've thoroughly enjoyed the Evolve in both 100/100mm and 120/100mm modes. The Evolve remains hyper efficient and the active nature of the suspension gobbles terrain with a trademark bottomless feel.
Buy Now: Available at CompetitiveCyclist.com