Back when Felt sent out the teaser for the new Edict Nine platform, I had a hunch they were onto something special. While Felt was entering the full-suspension 29er market late in the game, my gut feeling was that they would not only enter the market, but come out of the dugout swinging for the fences. After a couple of rides aboard a slightly-modified Edict Nine Three, Felt has hit a game-winning grand slam.
Felt Edict Nine Features
UHC Performance carbon fiber frameset
100mm travel front and rear
FAST suspension technology
Standard 73mm bottom bracket shell
ControlTaper head tube
Rubber down tube protector
MSRP: $3629 (Edict Nine Three)
Felt Edict Nine Three Review
With only a couple of days to ride a newly-built Felt Edict Nine Three, I was anxious to get it out on the trails. The build was part stock Nine Three, but with a mixture of upgraded 2013 parts including: RockShox Reba fork, SRAM X0 Trail brakes, X0 Type 2 rear derailleur (well worth the extra grams), SRAM carbon crankset and Truvativ T30 carbon flat bar. So, it was kind of a Nine Three, but kind of not.
As I was given the rundown on the FAST suspension design on the Edict Nine, it made complete sense. It's built so that the suspension is in its natural state at 20-25% sag. What that means is that the suspension wants to return to the perfect point for the best trail feel, traction and efficiency. I felt that immediately upon taking this bike out on the trails.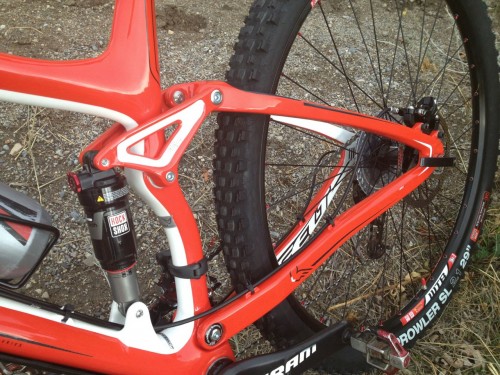 After a few quick tweaks, I hit Lambert Park for a late-afternoon assault. With rain most of the previous day and into the morning, the trails were soft and tacky. Can you say hero dirt? Yeah, conditions were absolutely ideal to feel the best of what the Edict Nine has to offer. The first section of my ride featured winding and smooth singletrack with a minimal incline. When talking about efficiency, the Edict Nine felt efficient and then some. Stepping on the gas, this bike (and the suspension) responds in spades. Not once did I feel the need for a suspension lockout and not once did I feel as if the suspension was wasting even an ounce of power. Every pedal stroke resulted in direct power transfer to the rear wheel — this thing is wicked-fast!
As I continued onward towards my first rocky and loose climb, the balance of the Edict Nine came into play. At one point, the loose babyhead rocks were spaced such that I actually lost momentum completely and came to a momentary standstill. On most bikes, that would have required me to put a foot down, but not on this bike. I simply wound up the cranks and pedaled out of the situation. I've ridden a ton of full-suspension 29ers and this one is the most balanced of them all.
The full-carbon frameset responds well in the flats and on ascents where the FAST suspension design maximizes the best traits of these big hoops. When pointed downhill, the precise handling makes the Edict Nine a ton of fun. For a 100mm front/rear 29er, this one is definitely on par with the best ones out there in terms of smoothness. The negative travel makes the travel feel more plush and the progressive feel as the suspension compresses allows the bike to move forward with race-like efficiency. Large bumps are minimized and trail chatter becomes reduced to background noise.
The stock wheels and tires performed flawlessly and were better than I expected for an entry-level trim. I would love to get the Nine LTD frameset and build one up to my exact specs and get this in the 25 lb range. The stock Nine Three comes in at 28 lbs and I'm guessing this one was just under that.
The Edict Nine three is a steal at $3629. It may not have the most high-zoot component mix, but the workhorse parts will get you into a phenomenal frameset with long-term potential.
Note: I rode a Medium, which fit my 5'10" frame perfectly for a comfortable, playful feel. 
Good Edict Nine
Makes old trails feel new
Frame is very stiff and responsive
FAST suspension design translates into zero-lag forward motion
Superbly-balanced at both low and high speeds
Feels as if Felt has been making full-suspension 29ers for 10 years
Zero lag time between pedaling and forward motion
Feels as nimble as the best 26ers
Bad Edict Nine
Frame is missing some of the latest innovations: direct-mount front derailleur, internal cable routing, post mount rear brake, 142×12 axle and oversized bottom bracket
Camelbak Podium 24 oz water bottle barely fits
Bottom Line: Felt Edict Nine 29er
After a month of riding the Felt F1, I was once again floored by just how balanced, fast and fun the all-new Edict Nine Three was. They took their sweet time getting into the 29er full-suspension market, but all that waiting has paid off as this is one of the most fun 29ers I've ever swung a leg over. And, with a $3600 opening price point for a full-carbon frame, it's going to be hard to find at your local Felt dealer.
More Info: Visit FeltBicycles.com