SRAM has once more raised the bar on bicycle drivetrains. From road, gravel and cyclocross to MTB, everyone else is just playing catch-up. This time, it's the 12-speed GX Eagle groupset that's making me wonder what else you would need?
SRAM GX Eagle Features:
1×12 wide-range gearing
X-Horizon rear derailleur for crisp, accurate shifting
Type 3 Roller Bearing Clutch for quiet riding
Cage Lock allows for easy wheel removal
Available with trigger or grip shifting
Requires XD Driver
MSRP: $495 complete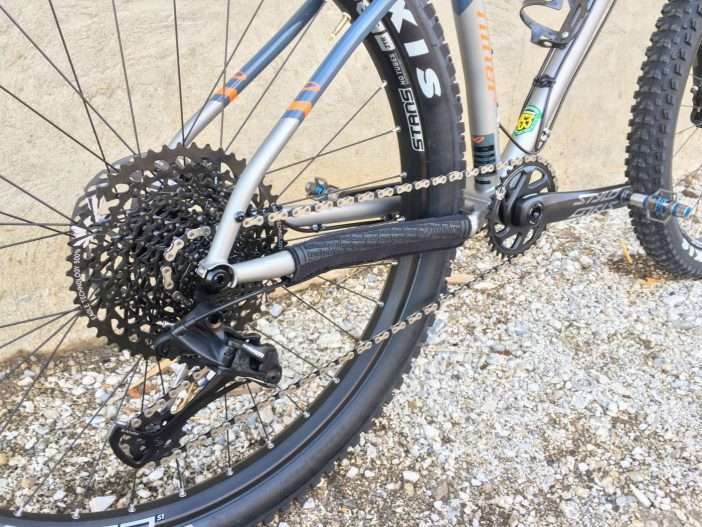 Save coin and your legs
Thankfully for fans of SRAM's drivetrains, trickle-down economics is a reality. With the exception (so far) of Red eTap, everything is trickling down. This time it's the budget-minded GX Eagle drivetrain. And while it's hitting a price point, it's not skipping a beat. When GX Eagle was introduced, SRAM launched the following video
I've been putting miles on GX Eagle aboard the Niner SIR 9 and enjoying every mile. The heart of GX Eagle is the 12-speed GX Eagle rear derailleur and XG-1275 cassette. SRAM's modern 11 and 12-speed cassettes for their highest-end groupsets are works of art (and cost a small fortune). Instead of milling the entire cassette from a block of aluminum, the GX Eagle cassette uses stamped steel cogs mounted together with steel pins.
The resulting steel cassette comes in at a stated 450 grams, which is just 11 grams heavier than the Shimano  XT CS-M8000 11-46t cassette. True, it does cost twice as much, but you're getting a full 12-speeds and ditching that front derailleur for good.
My test crankset was the Truvativ Stylo 7K with a 32-tooth chainring. With 10-50t gearing, the 32 felt just right. I never felt under-geared on the flats and descents and I only occasionally used the 42t and rarely the 50t — only as a bailout when I bonked or things were super-steep.
The trigger shifter provided quick, accurate shifting under all conditions. SRAM has the shifting process nailed with easy and ergonomic thumb shifting both up and down the range. I've said this before and I'll say it again — fingers are for braking and thumbs are for shifting. With the SRAM GX Eagle trigger shifter, your fingers never leave the brake lever.
Throughout my 200 miles of riding, shifting was spot-on and worry-free. I will say that on one occasion, I found myself in the wrong gear and facing a steep climb. I stood up and began dumping gears. The cassette got overwhelmed, jumped the cog and the chain fell all the way down to the 10t cassette. I had to stop and spin it out, then get back on my way.
The moral of the story here is 12-speed gearing offers tight tolerances, which SRAM has mastered. However, if you do get something (a twig or a kink in the chain) in there, weird things could happen. In months of riding, this was the only instance, so I'm going to call it an anomaly, but it can happen. Just keep the chain lubed and drivetrain clean and the chance of that happening will be virtually eliminated.
As far as the bling-factor goes, we all would love to have XX1 Eagle, but I'm here to tell you that GX Eagle delivers bonkers performance at a fraction of the price. If you're dialing in a custom build, don't hesitate to start here and spend more coin on upgraded bars and wheels — you'll thank me later.
The Good
Wide-range gearing for whatever you need
No dropped chains
Easy wheel changes
Price of entry is phenomenal
So quiet… love this
Most intuitive trigger shifting on the market
The Bad
12-speed tolerances are tight — be sure to keep things lubed and cleaned
The Bottom Line: SRAM GX Eagle
With GX Eagle, you get the same performance as SRAM's top-end groupsets at a fraction of the price. Yes, it's all aluminum and steel, but going with GX Eagle frees you up to spend more money on a set of carbon bars or wheels. Shifting has been superb under all conditions allowing you to summon your eagle powers and fly.
Buy Now: Available at CompetitiveCyclist.com