Holy smokes was it hot on Day Two! I was told that temperatures were near 100-degrees. With that eternal beat-down coming a day after riding 5 bikes in 8 hours, we were hammered.  But, that didn't stop us from downing a myriad of complimentary PowerBar delights (drinks, gels, bars, gooey treats) all day to maintain proper hydration.
With a stop at the PowerBar hydration station everytime up and down the trail, we kept things rolling–mostly. After a climb all the way to the top of Bootleg and an awesome, long descent, I was ready to call it a day.  However, Kendall got a second wind and well, I had to get out on one last ride. From my first bike of the demo on day one (Pivot Mach 5) to the last one on day two (Ellsworth Epiphany), the fun continued–even if I was feeling the beat-down of the sun and unforgiving Nevada desert trails. Here are the quick hits from day two. As usual, look for detailed reviews in the coming weeks.
2009 Ellsworth Moment
My first time on the Ellsworth Moment came in 2006 and I was blown away by how it rode. Since that time, several other bikes have come into the lineup (notably the Epiphany) that have taken some of its territory. This year's Moment leans more freeride (at least as spec'd), but is still one of the most capable burl-machines that can still climb with the best.
2009 Salsa Big Mama
This is Salsa's first foray into an all-mountain full-suspension 29er. A great overall ride that was a little hampered by a mismatched (too long) stem that made for some unstable handling in the rock gardens. With some cockpit tweaks, that can easily be remedied.
2009 Ventana El Terremoto 6.0
Newly-upgraded to actually have 6-inches of travel, the Ventana Terremoto 6.0 was one of the stars of the show. A fully-capable climber and an amazing descender, this bike surprised me with its versatility.
Read my Ventana El Terremoto 6.0 review >>
2009 Ellsworth Epiphany
There's no doubt that the Ellsworth Epiphany has received it's share of praise from riders and media alike. I quickly found out why.  This bike simply screams. The ICT makes for effortless climbing and I couldn't find any terrain that this bike couldn't handle. An awesome do-it-all trailbike.
Read my Ellsworth Epiphany Review >>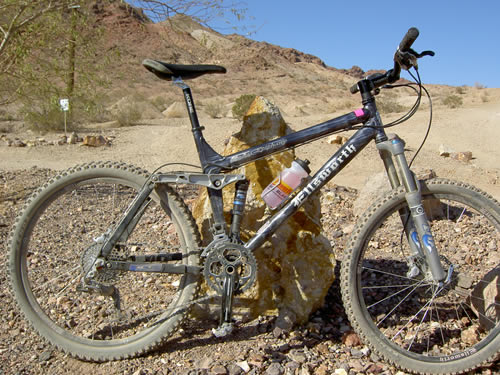 Kendall hopped on the following on Day Two (more pics soon):
Norco Six One
Ventana El Capitan
Ventana El Ciclon
Ellsworth Evolve