For 2016, Cannondale is introducing a new bike that may just become the official bike of FeedTheHabit. The all-new Cannondale Habit is a 120mm long-legged XC bike that's more capable than the Scalpel and, due to the modern geometry, may even beat the Jekyll on the downhill.
Cannondale Habit Features:
Rides on 27.5″ wheels
120mm travel front and rear
Revised Lefty 2.0 forks with Trail+ tune and 50mm offset
Carbon models feature BallisTec layup for extra durability, while remaining lightweight
Lower-priced models feature carbon/alloy or full alloy framesets
All models built around 60mm stem
Low, long and slack geometry
Pricing: $1950 (Habit AL 6) to $12,250 (Habit Black Inc.)
Already a Downieville winner
Cannondale rider, Jason Moeschler, is no stranger to the fabled Downieville Classic. He's ridden it many times, but hasn't won it since 2007. That changed this year aboard his new Habit where he placed 3rd in XC and 1st in DH to take the overall win. Afterwards, he had this to say about his choice in bikes for this year's race:
My Habit was one and a half pounds lighter than the Jekyll I raced last year so I knew I would be fast on the climbs. What I didn't expect was to win the downhill, but the bike was phenomenal and I never felt under-suspended. I'm pumped I beat my downhill time from last year on the Jekyll!
And, here he is on the podium with his new Habit:
Who is the Habit built for?
Well, looking at the specs and seeing its capabilities, the new Habit is going to be one of those one-bike-quiver bikes — a "unicorn bike," you might say. While 29″ wheels are quite capable and efficient on 120mm platforms, dropping the wheel size and switching up the geometry, appear to give these 27.5″ wheels a playful advantage.
Cannondale is not alone in the 120mm 27.5″ trailbike offering, but the Habit looks to have everything dialed and will be way more fun everywhere than the XC-focused Scalpel while blurring some lines with the enduro-focused Jekyll.
With models starting at $1950, the Habit will be affordable and should be the "go-to" model on showroom floors. Here are three models to look for in the lineup.
Cannondale Habit Carbon 1 – $7460
Cannondale Habit Carbon SE – $4480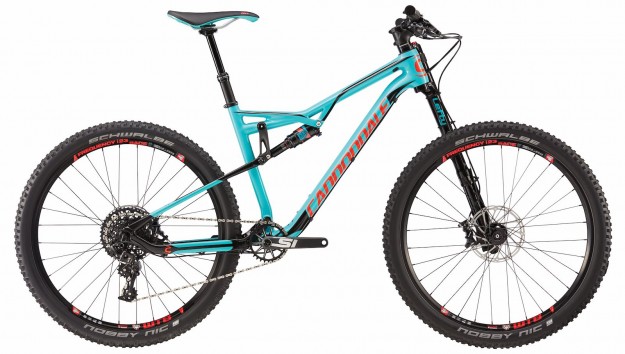 Cannondale Habit AL 4 – $2880
More Info: Visit Cannondale.com 
Downieville photo courtesy Brad Holmes