Three months of consistent riding on the Niner RIP 9 and I'm smitten. I've now rotated through two different forks, two different sets of tires, two pairs of grips and two different handlebars as I've used the RIP as my Summer test sled. With each component change, one thing has remained the same — the RIP is one of the most versatile and fun bikes I've ridden.
NOTE: This is an older model. You might want to check out our review of the 2014 Niner RIP 9 Al. Hint… it's even better than the original.
Niner RIP 9 Features:
Dialed-in 29er geometry from the big-wheel masters at Niner (this is HUGE)
4.5″ of CVA™ suspension
Custom valved Fox RP23 shock
Tapered headtube technology
Hydroformed tube construction
10 forged or extruded parts
Swappable rear axle: 135 x 9 qr or 142 x 12 thru-axle
Colors: Raw (tested), Licorice Anodized, Hot Tamale
MSRP: $1799 (frame, shock & headset)
Niner RIP 9 29er Review
It's no secret that the folks at Niner have absolutely nailed the big wheeled thing. They make the Kool-Aid, my friends and are highly-regarded for their consistent, comfortable and capable rides. Some 29ers suffer from sluggishness or feel top-heavy. I don't know what Niner does, but their bikes virtually eliminate some of the negative traits inherent with going big.
I rode and loved the original RIP 9 two seasons ago and had a chance to swing a leg over the current version while it was still in prototype form two years ago at Interbike. But, I hadn't had a chance to ride the final production version of the RIP (which varied quite a bit from the prototype), so when given the opportunity to pick one up to use as my Summer test bike, it took very little convincing.
At my disposal has been a raw-colored medium-sized RIP 9, custom-built with SRAM X0/X9 drivetrain, Roval Control EL wheels, Syncros and Easton cockpit, WTB Vigo saddle and split-time between the 2011 Fox 32 TALAS 29 FIT Terralogic and 2011 RockShox Reba 29 RLT Ti forks. Thanks to the fine folks at Timpanogos Cyclery for building everything up! It's been a great summer of riding and the RIP has crushed hundreds of miles of singletrack along the way.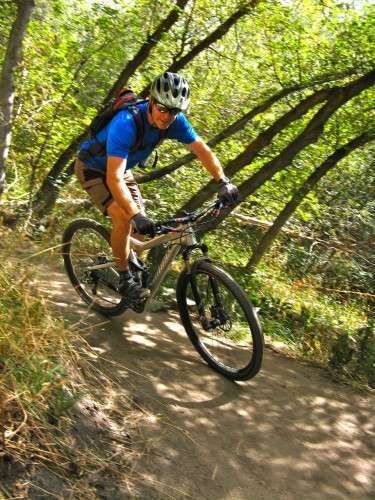 Niner knows how to build a sexy bike and the RIP is drop-dead gorgeous. The red anodized bolt caps, black swingarms, raw finish and white lettering is visually stunning. Going past the visuals, the bike is also built like a tank to take all the punishment you can dole out. Lateral stiffness is now off the charts compared to the original RIP and overall ride quality is noticeably-improved as well. Tapered head tube and oversized and shaped tubes elsewhere add up to one trail-devouring package.
Many people wonder why 29er cockpits tend to consist of negative rise stems and flat bars. Well, with the extra height provided by 29-inch wheels, you want to keep your front-end as far down as possible. While I believe that, I also like the feel of wider riser bars, so I did a bit of experimentation and slapped the Syncros FL 80mm 6-deg stem on like I would on any regular bike. I matched those with low-rise set of bars (Syncros FL and Easton EA70). I then reversed the stem and rode it with the same bars. The difference is very apparent and I stuck with the stem in the negative rise position and low risers. Experiment for yourself, but negative rise stems are the way to go with 29ers and low riser bars are also kosher.
My first two months on the RIP was with the Fox 32 TALAS. Climbing with the TALAS was excellent as I had the option to drop travel down to 95mm for extended climbs. Flipping it back and forth from 95 to 120 yielded only subtle improvements, but worthwhile if you have the coin. With the 120mm-travel RockShox Reba 29 RLT Ti up front, the same amazing climbing abilities were on display. As you pedal the RIP harder and harder, it simply doesn't flinch. As BIKE magazine put it, the RIP definitely has "monster truck climbing ability".
In spite of its deceiving 28 lb. weight on paper, this bike ascends like lighter bikes due to the efficient suspension and dialed geometry. I can climb in and out of the saddle while maintaining excellent traction. While some bikes suffer from a wandering front-end on long, steep and technical climbs, the RIP shows none of those tendencies.
On fast and smooth singletrack, the RIP rides like a dream. Handling is up there with some of the best 26-inch trailbikes on the market. Yes, you can feel the large wheels on slow, technical terrain, but that tradeoff is minimal for what you're getting. Letting the RIP fly downhill is an absolute pleasure as the RIP takes as much punishment as you can dish out without flinching. The laterally-stiff frame is matched with the capable CVA Suspension that provides efficient travel and excellent smoothness.
Summing up the RIP 9 into one word, I'd have to say "playful." Now, playful is not one of the most common traits associated with 29ers, but believe me when I tell you that the RIP is indeed a playful bike that leaves you wishing for another thousand feet of winding singletrack. Whipping this bike around corners and snaking through slalom-like trees, it just puts a huge smile on your face. Laying the bike down on hard corners, it hooks up and propels you into the next turn. It makes me smile as I write this and think about my last ride.
My favorite tires with the RIP have been the Specialized The Captain 2.2's front and rear. These tires hook up with amazing ferocity, yet roll very smoothly. Laying them into corners, they simply hook up and power into the next turn. Winding singletrack results in the most fun I've had all season as The Captain tires allowed the RIP 9 to shine.
Just a few small gripes about the RIP 9, though. I did my best but couldn't get the suspension to absorb high-speed chatter as well as I'd like. Believe me, it rides plush and smooth, but I guess I feel it could be just a tad smoother in high-speed stutter bumps. The only other issue is that the lower CVA link does sit below the bottom-bracket and tends to attract plenty of dirt. Make sure and keep it clean for longevity. Other than that, I'm drawing a blank.
Good RIP 9
Rides deceptively-light for its 28 lb package
The frame is extremely responsive and laterally stiff
Drop-dead looks (Raw finish is the one to get)
CVA Suspension design climbs and descends very well
Niner simply knows how to dial in 29ers
Nimble and playful
Can be built up for around $3k, which makes it an excellent value
You can swap rear axles to a 12mm thru for added stiffness
Bad RIP 9
Could be just a teeny bit better at high-speed chatter (I'm being picky)
Location of lower CVA pivot does attract dirt and grime
Bottom Line: Niner RIP 9
Summing up the RIP 9, I'd have to call this bike "playful". It is the definition of what an all-mountain bike should be. I can efficiently climb for 2-3k feet and then descend down that same vert in full control with the ability to take drops, rail corners and fly through the rough stuff without flinching. This bike devours singletrack in a way only Niner's can. It stands next to the Ibis Mojo in my mind as one of the most versatile and fun bikes on the market today.
Buy Now: Shop for Niner Bikes at CompetitiveCyclist.com