Steel is (insert your preferred adjective), as they say. For me, when I look at steel bikes, the classic lines conjure up images of my early days of mountain biking. The skinny, Reynolds 853 tubes on the new Niner SIR 9 are old-school, but outside of that, everything else is modern.
2018 Niner SIR 9 3-Star 27.5+ Features:
All-new Reynolds 853 Steel frame
Revised geometry for modern all-mountain fun
Compatible with 29×2.4 or 27.5×3.0 wheel/tire combos
Hard mounts for frame bags on front triangle
Rear rack mounts for up to 55 lbs of gear
148×12 Boost rear spacing
73mm PF30 BB
Fox Factory 34 FIT4 fork with 120mm travel
SRAM GX Eagle groupset
SRAM Guide R brakes
Stan's Notubes Baron 27.5+ wheels
KS LEV Si dropper post
RaceFace Aeffect bar/stem
Weight: ~29.5 lbs
MSRP: $3950
An old-school/new-school mashup
For us old guys, our first mountain bikes were always old-fashioned steel. Mine was a 1992 Trek 970 Singletrack a with a True Temper OX Comp II lugged steel frame. I've got memories galore riding that bike in the Pacific Northwest and my college years in Provo, Utah. Since then, steel bikes have been a rarity for me with just a few sprinkled in here-and-there.
Niner is no stranger to steel bikes and they have always had one in the line, but this year's new SIR 9 is something special. It blends classic Reynolds 853 steel with modern design and geometry for one helluva fun ride.
The 2018 3-Star spec is the best value build available on the SIR 9 and delivers a great mix of reliability with modern convenience in the 27.5+ flavor. I chose the 27.5+ option because, well, I'm not a teenager anymore and a little extra cushion is necessary on long days in the saddle. Plus, 27.5+ hardtails are where it's at in my mind for the ultimate in versatility — traction, comfort and fun.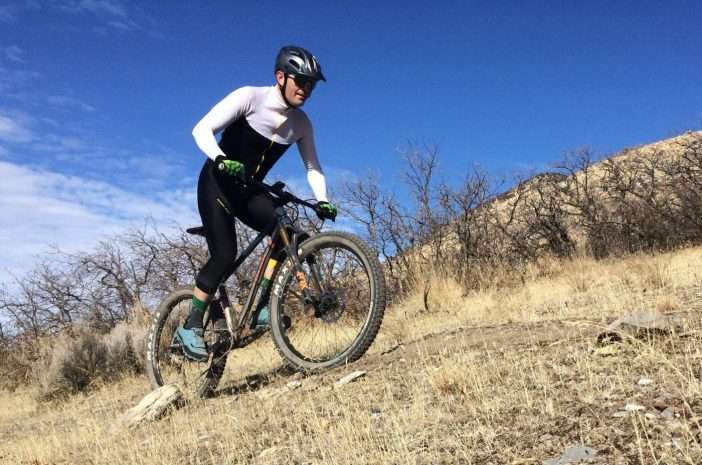 Steel is "blank" (insert superlative)
Riding a steel or titanium frame is an unmistakable experience. The ride quality and character of steel is unique and promises many years of enjoyment. I will say that with the SIR 9, I did initially experience carbon withdrawals — it happens to the best of us. But, after a few rides and tweaks, the SIR 9 became trusty, fun and a blast to ride.
Modern bikes are "long and low," meaning that the top tubes are longer and the center-of-gravity is as low and back as possible. This translates into low bottom brackets and short chainstays and also follows with short, stubby stems. The included 50mm RaceFace Aeffect stem with matching 780mm bars just didn't give me enough wiggle room in the cockpit for my tastes. So, I swapped them for a Niner RDO 70mm stem and carbon bars for a bit before ultimately settling into the RaceFace Turbine R 35 cockpit with a 70mm stem and 800mm 10-degree rise bars. Money… just money.
Anyone hopping aboard a new bike will undoubtedly do some cockpit tweaks. I've found my happy place with the Turbine R 35 and yes, wider is better. I find that I've got more control and comfort to boot. And, with large 27.5+ tires, you need all the leverage you can get. With 800mm bars, I can maneuver the SIR 9 telepathically. I hate to use this term, but they were "game changing" for sure. Sweepers, rock gardens, drops, kickers and everything else suddenly became that much more comfortable.
Again, the 2018 SIR 9 is available in both 29er and 27.5+ variants. For me, the 27.5+ flavor is just right for all-around fun. I'm not lining up at any XC races, instead, I'm searching for solace in long climbs and endless sinuous singletrack — just what the SIR 9 enjoys.
On long climbs, I have been able to settle into a rhythm and ascend just fine. You do notice a little bounce factor with the squishy tires, but traction is always there (standing or seated) and it does a fine job of ticking off the vert. The SRAM GX Eagle drivetrain offers the perfect gear ratios for this bike. I really didn't spin out ever and rarely did I even use the two largest cogs — only when I bonked or was climbing super-steep stuff. All-in-all, it's a great climber that remains poised and can tackle anything your lungs and legs can.
The SIR 9 descends with confidence. Much of that is due to the planted feel that only steel frames can provide, but I'm also going to give the nod to the 3.0 tires and the superb Fox Factory 34 FIT4 fork. I'm tabbing that fork as the best Fox has ever produced and it's a great match for this bike. But, I'd love to see a 130mm fork on this bike for just a touch more squish.
To get the most out of the SIR 9, you must angulate in corners more than you would with a smaller tires. The KS LEV Si dropper post really faciliates that angulation which results in a ton of fun on twisty singletrack descents.
Some of the complaints around steel frames feeling noodly — particularly in the bottom bracket/chainstay area are kept in check with Niner's reinforced chainstay yoke. It looks great, yields good tire clearance and certainly improves pedaling efficiency You will still notice that manualing on this bike requires a little more effort as the steel absorbs some of the energy.
Tire setup has been easy and I've run them tubeless from the beginning. With that, I'm usually pressured up between 16-18 psi. I ran them lower, but bottomed out the rim on a couple of occasions, so 16 psi is my minimum for my 170 lb. weight.
Sizing: I'm 5'11" with a 29.75″ saddle height and rode the Medium SIR 9. 
The Good
Steel, yes steel, is real
Beautiful crafstmanship on the frame (welds, shapes and paint)
SRAM GX Eagle performed awesome
Dropper post was used regularly and is a must on plus-sized tires
Should be great for bikepacking (Niner sells hard-mounted bag options)
27.5+ tires deliver comfort and traction galore
Mounts galore for bags, panniers, bottles, etc.
Glad to have the stiffer Fox Factory 34 upfront
The Bad
Steel makes manualing a little more difficult
The 50mm stem felt too short, so I slapped on a 70mm and it was much better
Steel hardtails aren't cheap.
The Bottom Line: 2018 Niner SIR 9 27.5+
With the re-design of the SIR 9, Niner dramatically improved the feel and performance of this classic frame. It has all the trappings of a modern fun-machine. Trail riding, bikepacking and snow riding are all on the menu for the SIR 9. It has been wicked-fun ripping around on this fun machine.
Buy Now: Available at CompetitiveCyclist.com
In Summary
Niner has come up with a thoroughly-modern take on a classic steel hardtail. With the flexibility of running either 29 or 27.5+ wheels and all the modern niceties you'd expect, the SIR 9 can be set up as a singlespeed, a fast trail slayer, a fun machine or a bikepacking master. The 3-Star kit is all you could ask for and steel is real(y) good.