Fast and Light – usually that's a term that I associate with mountaineering or climbing objectives, but that's increasingly being put with wheeled adventures. The new minimalist Tokul XC is meant to be a companion to cyclists who only need a stripped-down, low-profile pack that stays out of the way.
Platypus Tokul X.C. Features:
RidgeAir™ back panel: Ridged foam with ventilation channels and lightweight, breathable mesh ensure cooling airflow and carrying comfort.
3.0L Big Zip™ LP reservoir: Premium, taste-free reservoir features a low-profile shape, a wide-mouth opening that closes securely, and a quick-disconnect hose.
Smart hydration pocket: Reservoir suspension hooks hold reservoir securely in place while you ride; dedicated hydration pocket makes it easy to access, clean and refill reservoir.
Organization options: Zip mesh pocket with key retainer, three mesh stash pockets, and two pump sleeves put bike tools, food, and keys within easy reach.
Helmet carry: Two webbing straps attach a helmet for secure carrying.
Reflective detailing: Reflective hits enhance your visibility to others when you're on the trail or traveling between rides.
Light loop: Attachment point for rear blinky light.
Magnetic hydration hose retention: Offers clip-free access to the bite valve.
Weight: 1 lb. 6 oz. / 621 g
Materials: 160D PU-Coated Nylon Dobby, 210D PU-Coated Nylon Oxford, YKK® Zippers
MSRP: $89.95
Take what you need (and nothing more):
The Tokul is a nice, light pack – but that doesn't mean it's devoid of features. Platypus tried to select just those features that are most important for a comfortable and functional pack. The back panel is a good example – it's a ridged foam design covered over by a light mesh. The result is a pack that breathes very well and conforms easily to the curve of your back. It's not as breathable as, say, the Osprey Anti Gravity back panel, but it's also constructed without any metal to save weight. The straps themselves are ultralight, with a very thin perforated foam padding wrapped in mesh. They could be more comfortable, but they could hardly be lighter.
The pockets are great. Platypus chose to make the main stuff pocket mesh-sided, which is perfect for saving weight and does its job very well. The mesh has stretch to it, too, so you can cram plenty into the stuff pocket. The other day we did the Hiawatha Trail as a family and I was able to fit a waterbottle, three jackets and some bars into the outer stuff pocket alone.
The main organizational pocket has four mesh pockets inside, including one that's zippered to make sure that your valuables stay put. It can easily accommodate a wallet, keys and a little bit more. There are also two sleeves for pumps or long, thing objects. No complaints on the organization here. The zippers have fairly generous pull tabs, making it a cinch to get to your gear with gloves on.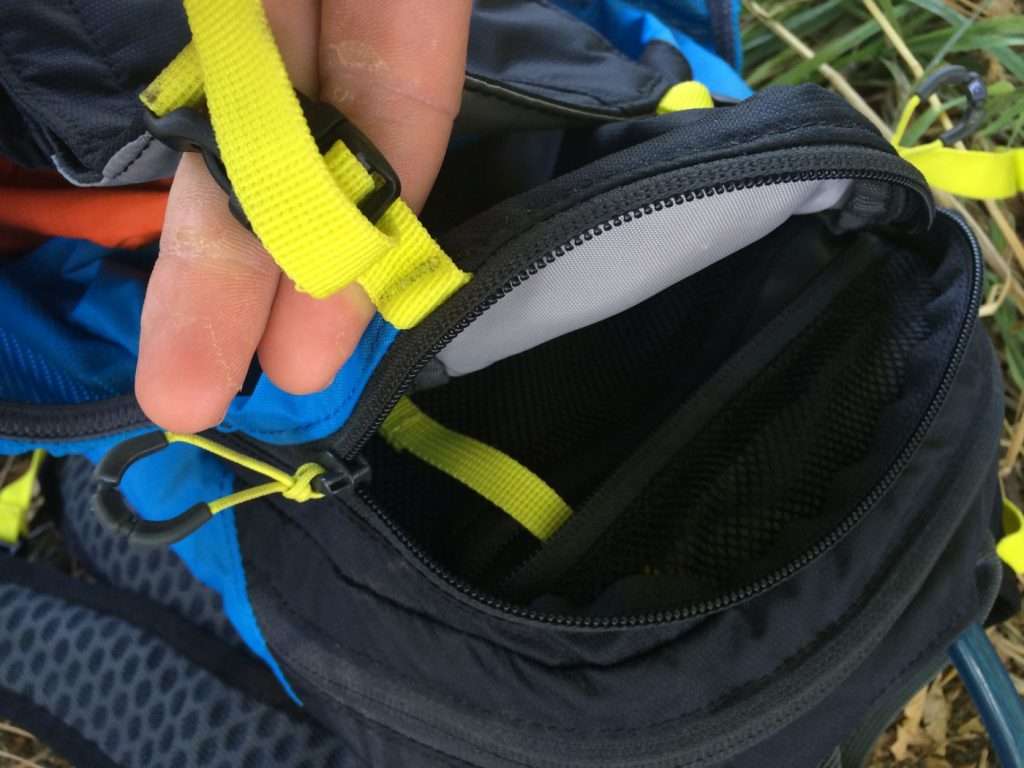 The one strange thing is how the outer stuff pocket is secured. It buckles closed to the body of the pack, but its attachment points are right on the zipper track of the organization pocket. The result is that when you unzip the organizational pocket when the stuff pocket is full, the zipper track gets pulled on and becomes hard to zip up. It would be better if the stuff pocket were attached on fabric that doesn't interface with the organizational zipper pocket.
The bladder is a straightforward Platypus bladder, which means it's simple and strong. Their new zipper closure design is excellent, sealing easily every time. They're making a twist-lock hose closure that I don't like very much – it's hard to do one-handed unless you mash down on the bite valve with your teeth and twist the valve with a hand. It's a light, minimalist solution but I'd rather just see an in-line thumb switch like CamelBak's. The hose routing is the same on both sides, and it includes a strong magnet that holds the hose in place well. The internal reservoir hooks keep the reservoir positioned well as it drains.
The overall weight is 1lb 6oz. You can find lighter packs (my old REI Flash 18 comes to mind) but for the organization:weight:carry comfort ratio, the Tokul looks very good indeed.
The Good
Great back panel design carries comfortably
Big stuff pocket, thoughtful organizational pocket
Zippers are easy to pull with gloves
Bladder seals easily and reliably
The Bad
The shoulder straps are so minimalist that they can feel like plain webbing after a long day.
Stuff pocket clips pull on the zipper track awkwardly
Bite valve could provide more flow and be easier to lock
The Bottom Line: Platypus Tokul X.C.
The Tokul XC is a great option for those looking for a light, not-too-pricey MTB pack. It excels at XC biking but obviously can throw down with any rider since it stays put so well. The low-profile design helps it disappear on the bike and the back panel is comfortable, though there are a few quirks as with the stuff pocket closure and the minimalist shoulder straps. Still, they don't detract from a good experience overall.
Buy Now: Available from Backcountry.com