Paris, London, New York… Moab. Yes, Moab is a veritable melting-pot for outdoor adventure. There are few places in the world that offer all that Moab does. Moab is home to likely the most famous mountain biking trail in the world, Slickrock Trail. There's plenty of river rafting, rock crawling, canyoneering, hiking, fishing and more. Eclectic thrill-seekers can choose their mode of adventure–be it gasoline powered or human powered.
But while Slickrock is the most famous, it's definitely not on my list of favorite rides in Utah. I'd compare Slickrock Trail to doing wind-sprints for the high school basketball team. In other words, it's not something you'd want to do again and again. Once was enough for me. Don't get me wrong, it is fun, but not epic ride quality fun. This trip to Moab would include a ride that starts about 6 miles up from Slickrock–Porcupine Rim Trail.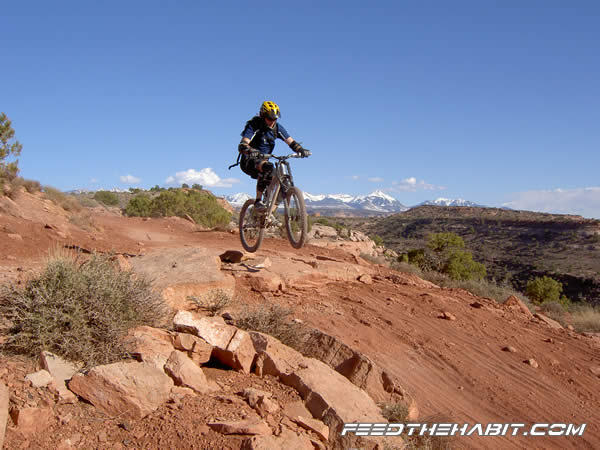 Porcupine Rim Trail is best enjoyed as a 16 mile one-way shuttle ride. For the gung-ho XC crowd, you can do the full loop at 34 miles.
Since we camped alongside the Colorado River, we left a truck at the end of the trail on River Road and then rode into town 4-5 miles to meet the rest of the group. It's only March 20, but the sun is pounding hard on our pasty-white winter skin.
Once we got into town, we stopped at one of the coolest shops in Moab, Poison Spider Bicycles. The crew there is super friendly and knowledgeable–they will hook you up with all the info you need to have a great time in Moab. They also have a great selection of rental and boutique bikes from Titus, Yeti, Rocky Mountain and others. If you're in the area, be sure to stop on by.
We soon hooked up with the rest of the crew and made our way up to the trailhead. Call it lack of planning or just plain bad luck, but we had to cram four guys and four bikes with only 3 racks into a tiny Ford Escort wagon. It wasn't the most stylish ride to the top, but we all made it in one piece.
The Climb
Not only was this the first ride of the season, but this was my first time riding Porcupine Rim Trail and I was riding a brand new 2004 Norco Shore–this bike would save my can a few times during the ride. I was a little nervous riding a brand new, unfamiliar bike on this terrain this early in the season, but the Shore did an excellent job of handling the technical climbs and drops of Porcupine.
The trail begins with a fairly long and moderately technical rock garden climb to the edge of Porcupine Rim. The majority of the trail (except for the last couple of miles) is wide enough for 4×4's to drive. So, the most important part of the climb becomes picking the right line through the rocks. Believe me; you'll want to save all the energy you can for the long, bumpy descent.
No worries if you have to push your bike through some challenging sections–it happens to the best of us–because it will be over in no time and you'll soon be enjoying what's likely the most photographed view in Moab. The view from the edge of the rim is phenomenal. Castle Valley is amazing and the cliff edge is about as sheer as you can get–2000+ ft. to the valley floor. Looking southeast, the La Sal Mountain range is topped with loads of snow and is looking as beautiful as ever.
Continuing on the rim, the climbing doesn't stop, so don't get your hopes up to high just yet. Be prepared for a few more sections of ups and downs. But, the rest of the climbs aren't as consistently technical as the first 1000 ft. to the overlook.
Ahh, the Downhill
Porcupine Rim Trail is one of those trails that are legendary. I've heard more about Porcupine Rim Trail than any other trail in Utah. I've heard it called everything short of the best damn trail in the whole wide world, so I had some pretty high expectations coming into it.
After climbing up to the rim, then following the ridge line for a couple more miles, you finally get a taste of what Porcupine Rim Trail is all about–rock drops, loose sand and technical, rocky sections. This trail is definitely not recommended for those with mediocre downhill abilities, unless you're willing to walk your bike a lot!
Even with a plush 7″ of travel front and rear, this descent is bumpy, rocky and sketchy. One missed turn could spell serious trouble in a heartbeat, but pick the right line and you'll have a continuous flow of 1-3 foot rock drops in succession.
The drops and rock gardens continue throughout the remainder of the ride. Once you get into a rythym, the downhill begins to flow. Look just far enough ahead to pick your line then stick to it. There really isn't much that you can't ride through if you stick to your line. I had a little bit of help from my 7″ of travel front and rear, but we even saw an older gentleman who was riding a fully rigid bike on this trail. YIKES!! I'm hoping he's already had children, because if he hasn't, he just may not be able to pass along his genes any more after a ride like that.
The last couple of miles become true singletrack as you return to the Colorado River. The last section becomes a succession of short, technical climbs and quick descents. Cleaning this last section is a true feat. I did my best, but ended up lacking the gusto to do it after getting beat up by the sun, running out of water and cramping up.
That last section of trail is really a blast and is a nice change of pace from the wide-open 4×4 trails that make up most of Porcupine Rim Trail.
How Does Porcupine Rim Trail Stack Up?
Porcupine Rim Trail is a great epic ride alternative to Slickrock Trail, but it's not for the casual mountain biker. If you're in good shape and can clean most technical climbs and descents, do yourself a favor and ride Porcupine before you're old and grey. The views are phenomenal and the terrain is challenging. Bring along plenty of water… and, don't even consider riding this trail in the heat of the day during the summer. Get an early start or don't go at all.
Porcupine Rim Trail Map: Quick & Dirty Trailmap (courtesy utahmountainbiking.com)