Heading into 2016, Niner had a little bit of a conundrum on their hands. Their venerable Jet 9 RDO still had a ton of shelf life, but the RKT 9 RDO took over as the XC weapon. So, they turned the Jet 9 into a trail sled and have slotted it in-between the RKT 9 and RIP 9. So, here's my take on the trail worthy JET 9 RDO 4-Star build kit.
2016 Niner Jet 9 RDO 4-Star Features
RDO-level carbon frameset
100mm travel via CVA suspension design
Fox Factory DPS shock
RockShox PIKE Solo Air 120 fork (15×110 Boost)
SRAM X01 drivetrain with Shimano XT 11-42T cassette
SRAM Guide RSC brakes
Niner Carbon XC wheelset
RockShox Reverb dropper post
Niner cockpit (780mm Carbon RDO bars, 50mm stem — changed to 70mm)
Weight: 25.5 lbs (sans pedals)
MSRP: $7000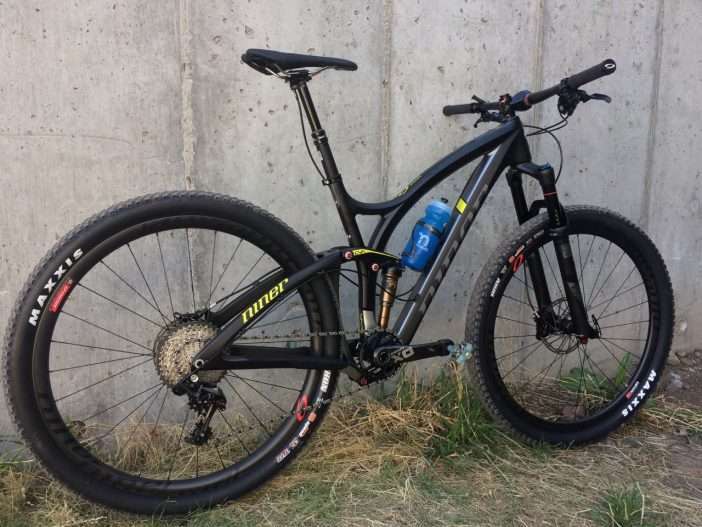 The Jet 9 RDO can still dance
When I first reviewed the Jet 9 RDO back in 2013, it was Niner's XC race weapon. Decked out with 100mm travel front-and-rear, the original RDO was a 23 lb. racer that became a little skittish when the trails got gnarly. Fast-forward to 2016 and Niner has a new XC racer in the RKT 9 RDO, which seemingly relegated the Jet 9 RDO into wallflower territory. But, the Jet 9's dancing days have been extended due to a few tweaks that turned it into the kind of trailbike it really should have been all along.
As mentioned, when I rode the Jet 9 RDO and AL versions previously, they were great bikes, but did become a little squirmy when the crap hit the fan. The reborn Jet 9 RDO remedies that in short order with the addition of a 120mm RockShox PIKE and a trail-tuned Fox Factory DPS shock. Add on top of that a set of 780mm bars, a nubby stem and a dropper post and this bike is a RIP-esque trail slayer.
Due to the 120mm fork and a short 50mm stem, the Jet 9 RDO now feels tall. Being tall is good for most of us who are out to have a good time. Or, for those who want a bike that can ride out of rock gardens when our lackluster piloting skills get us in over our heads. That said, I personally had to swap out the included 50mm stem for a 70mm one. I also removed all the lower spacers. For me, the result was a better and more aggressive riding position.
4-Star spec is on point
The 4-Star parts spec is no slouch — and at $7000, it shouldn't be. The full kit includes everything you could ever want in an XC/trail bike: SRAM X01 kit, SRAM Guide RSC brakes, RockShox Reverb dropper post, Niner Flat Top RDO 780mm bars and Niner Carbon XC wheels (that license Stan's tubeless tech). As mentioned, my only change was stem length and Ergon GE1 grips — both easy changes.
Another nice touch is the addition of clear frame protection on the downtube. When spending a crap-ton of money on a bike, the last thing you want is for an errant rock to ruin things. That extra protection is especially welcomed when ripping through desert singletrack where rocks can be flung at will.
The addition of a dropper post here is a great choice. I do often debate whether they are necessary, but when I have one, I use it a lot. It allows you to be in the proper position at any given point on the ride. The Reverb has performed flawlessly — I just wish the frame had stealth cable routing for better aesthetics.
I can't say enough about the inclusion of Niner's Carbon XC wheels in this build. They set up tubeless with ease and spin up in a jiffy. Lateral stiffness is outstanding — especially up front with 115mm spacing. The rear end had exhibited just a hair of flex, but I couldn't tell if it was in the wheels or rear triangle (nothing detracting by any means).
Some may wonder about the addition of the Shimano 11-42T rear cassette instead of a SRAM one. Undoubtedly, that was a cost savings move, but the pairing didn't skip a beat and I honestly forgot that the drivetrain was SRAMano.
Hitting the trail
When the Jet 9 RDO arrived last fall I was able to binge, binge, binge on hero dirt. There were only a few days I didn't choose to ride the Jet 9 when given the chance. My immediate reaction to this bike was that it feels almost as smooth as the RIP 9. Yeah, it lacks suspension travel, but the trail tune on the Fox DPS shock makes the 100mm travel here feel like much, much more (I know, cliché, but true). So, forget everything I said about the Jet 9 being thrown about in the rough stuff in previous years — this thing has no problems when the stuff hits the fan and the pilot is in over his head.
Is it a climber? Most certainly, but with one small asterisk. As expected, the tall and short front-end does induce a little more wandering than I'd like. A longer, lower stem does put a little more weight up front, but the included 50mm stem made the bike feel borderline unwieldy when things got extra steep and loose. For smooth climbs, this bike is efficient and capable and the longer, lower stem keeps the front end planted. I left the Fox DPS in Trail Mode except while briefly testing the other settings. I say just keep it in Trail Mode and forget about it — I'd rather spend my time riding and I'm sure you will too. Get the right sag and rebound and off you go.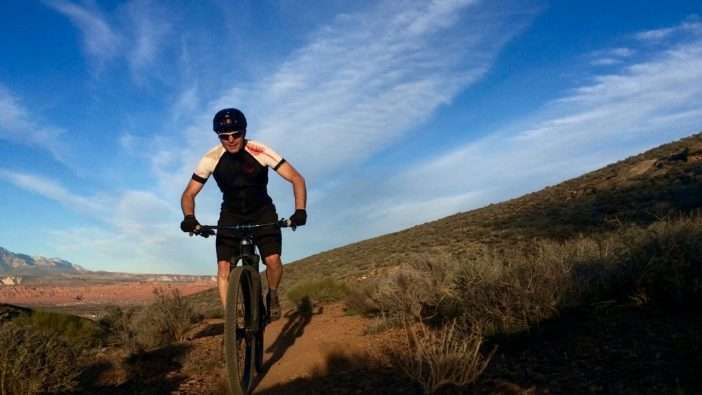 When ascending rock-strewn desert singletrack, the Jet 9's traction and climbing comes into play. Low-speed crawling yields excellent traction and bike control to hop up rock ledges and over obstacles. I can easily pause, spin the pedals and change direction without losing momentum. Kudos to the engagement of the hubs as I never felt left stranded while temporarily pausing to redirect my line.
Certainly, flowy singletrack makes every bike ride like a champ. So, obviously the Jet 9 RDO absolutely slays brown pow — especially at higher speeds. It really does whip around and feel natural most of the time. Only on occasion — mostly at slower speeds — does it exhibit a little bit of understeer as it just doesn't come around as quickly as I'd like. As far as stopping goes, the SRAM Guide RSC brakes are the best and quietest brakes on the market.
Just a note about Niner's CVA Suspension. This dual-link design has been much-heralded and not just by me. It's a great suspension design that does a great job being efficient and plush when needed.
Modern trail bikes do have shorter chainstays than you'll find here and that occasionally came into play as I manualed through technical desert terrain. I recall a couple of instances where I just couldn't find the proper balance point and awkwardly nose-dived off a small ledge. Thankfully, the PIKE is wicked-forgiving and made up for my blunders every time.
For reference: I'm 5'11" and 170 lbs. The PIKE was set up at ~72 psi. and the Fox was set up at ~85 psi. That yielded perhaps a little more squish than some would like but I loved how the suspension performed at those pressures.
The Good
Can confidently tackle aggressive terrain
Dig the CVA Suspension (as always)
Capable all-around trailbike
Shock tune really makes this bike feel RIP-esque
Niner-branded bits are stellar
Niner Carbon XC hoops are fast and capable (easy tubeless too)
Love the included downtube protection
Absolutely love the RockShox PIKE — so smooth
Dropper post comes in handy
The Bad
50mm stem felt really short and made things wander on steep climbs
Doesn't have that "long and low" modern geometry feel
Boost 148 rear would shorten chainstays and increase stiffness
No stealth dropper routing
The Bottom Line: Niner Jet 9 RDO 4-Star
Nine has done a great job extending the shelf life of the still-capable Jet 9 RDO by giving it longer legs and a trail-friendly tune. In 4-Star guise, this bike yields to nobody and leaves little on the table for even the most discerning riders. It's not perfect and the geometry isn't long and low by today's standards, but it's still a heckuva lot of fun.
Buy Now: Frame Only | Complete Bikes
The Verdict
Niner has effectively extended the shelf life of their capable Jet 9 RDO by giving it longer legs and a trail-friendly tune. Perhaps this is what the Jet 9 should have been all along? There's no question the 4-Star build is absolutely phenomenal with the RockShox PIKE and Niner Carbon XC wheels, but it's not quite as dialed as modern 29er trailbikes.