Santa Cruz has churned out so many machines this year that, in some ways, the 5010 got lost in the rough and tumble crowd of bigger-travel bikes.  Unavoidable with so many releases, perhaps, but for riders it means one thing: the 5010 is a secret weapon, rolling along beneath the radar of the press.  For a select group of bikers who have demo'd or bought the 5010, they know what a punch this killer ride packs.
2013 Santa Cruz 5010 Al Features:
125mm VPP™ suspension
27.5″ wheels
Sizes: S, M, L, XL
142mm rear axle spacing
Forged upper and lower links
Double sealed pivots with grease ports for low maintenance
Collet axle pivots- lock in place without pinch bolts.
Angular contact bearings maximize stiffness.
Standard or Direct mount rear derailleur option
ISCG-05 tabs for chainguide compatibility
Stealth and external seatpost cable routing
73mm threaded bb: creak-free riding and easy installation
MSRP: $3299 as tested
Pedal, Shred, Pedal, Shred
Wheeling the 5010 (or the Solo, back then) out of North Division Bicycle shop was nothing short of an ecstatic experience.  One of the wrenches at the shop used to work for Santa Cruz and he was the one who unboxed my 5010.  In his good hands I had the bike assembled within a day of delivery and there I was, staring in awe at this tall, shiny white cup of cool water.  I love white bikes simply because of how good they look when they're dirty, so the glossy finish on the 5010 made for love at first sight.
I'm astride the R AM 27.5 model, which is the most affordable kit offering at a cool $3,300 for the baseline.  My 5010 is spec'd out with a Shimano SLX Shadow Plus rear mech, powerful Deore stoppers and a mixed cockpit from WTB and Raceface.  For another $800 you can buy a full Kashima build so that everyone on the hill knows that you're fast, but I'm riding the stock 32mm Fox Float Evo CTD.  This build comes in at 31.4lbs with a pair of Crank Brothers Candy 3's, or 30.6lbs for those who ride without pedals.
The 5010 was advertised as a go-anywhere, all-day adventure bike for a rider who demands good climbing cred along with the gumption for rock/root/drop/cedar shenanigans that happen along the way.
"Gnarly ride, bro – is that the Bronson?" Also entitled, "First Trip to the Mountain":
Advertising talk is about as much help as a siren and watching a pro take the 5010 for a spin in Scotland isn't really that helpful in getting a feel for the bike.  First impressions on a bike are so critical because they're formed before we adjust to the new ride's quirks – yet somehow, with the 5010, there really isn't anything that stands out.  I've heard it said that, in olden times, a good sword felt like an extension of the arm and I believe that this is what Santa Cruz has captured with the 5010: clever geometry is the magic carpet that carries the 5010.
Let's throw around some numbers: the Santa Cruz 5010 has a 68 degree head angle, 13.1″ bottom bracket height and a 17.1″ chainstay.  The 5010 frequently gets compared to its big brother, the Bronson, and I'm not about to buck the trend.  In comparison, the beefier Bronson has a slightly slacker head angle (67 degrees), a taller BB by a half inch and just a slightly longer chainstay.  What do these numbers add up to?  In short, a fun, responsive ride that's going to surprise you with how nimble this big wheeler can be.
Going Up:
At 31.4lbs the 5010 is no fairy, but its moderate geometry, reasonably wide bars (710mm with 1″ rise courtesy of Raceface) and phenomenally stiff rear end help the bike scoot up technical climbs.  The 5010 can make it up short, steep climbs with minimal front-end wandering but very technical sections saw me getting hung up on obstacles that my old bike, a thoroughbred climber/racer, would have easily clawed up.  I'm inclined to pin this on the shorter wheelbase (44.9 inches for a Large frame) which lacks the ability to carry through choppy terrain.  It's all a tradeoff, though, since the 5010 is deliciously snappy and you can place the rear wheel wherever you darn well please – a minor adjustment to riding style is all it takes to get over this.
The 5010's low bottom bracket height will probably find you rocking your pedals as you get used to the 13.1″ of clearance.  In truth, this is should be a non-issue if you have good technique – ratchet your pedals through the technical stuff and you'll never notice the lower height.  I'm being a bit of a hypocrite here because I definitely smacked my pedals on several occasions, but it happened during times when I realized I made a mistake.  Plus, who's going to complain?  That low BB is going to give us a lot of fun on the downhill.
The 5010 is one of Santa Cruz's renowned VPP machines and that means the Fox CTD shock will remain active as the suspension's special linkage cancels out pedal bob.  VPP is designed to give the rider a firm pedaling platform that smoothly transitions into a plush midstroke and ramps up at the end of travel to give a very big feel to an otherwise diminutive 130mm of travel.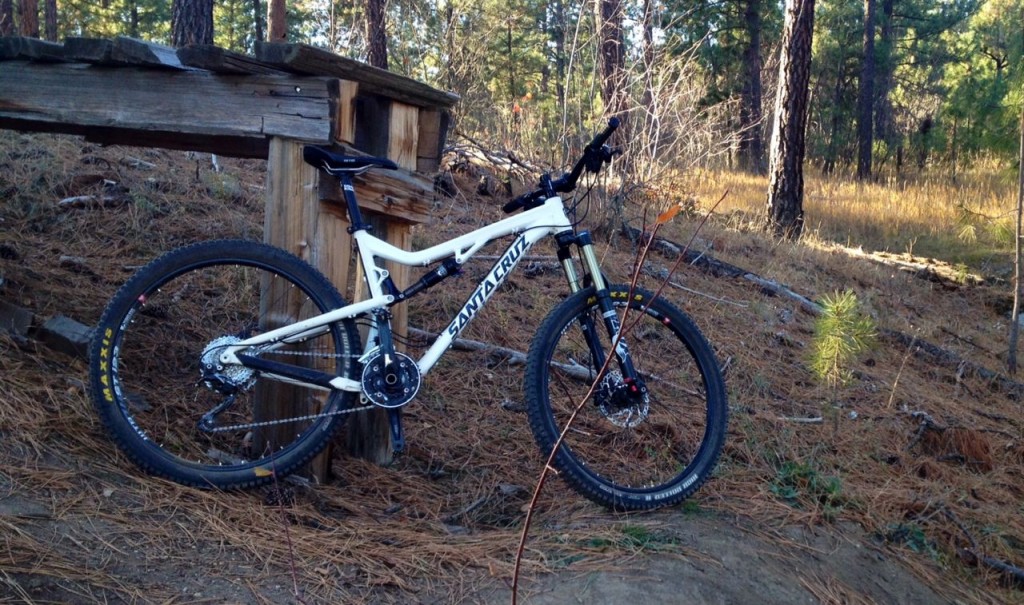 Going Down:
The extra heft of my base level 5010 translates into speed and stability on the downhills – in truth, the 5010 doesn't ride at all like what you'd expect by looking at the specs – a mere 130mm of travel coupled with a very moderate 68 degree head angle doesn't inspire confidence on paper.  Take the 5010 down your favorite line and you'll realize that numbers aren't everything: this bike was born to slash down tight, rocky, rooty, twisty singletrack and it gives a fierce grin if you throw some drops and gaps into that mix.  Remember that low bottom bracket height?  Yeah, that's a big deal – the 5010 feels low, fast and totally in control, just like an extension of the body.
The 5010 is equally confident over rock gardens, drop offs and gaps.  The stock saddle, a WTB Volt, is narrow enough to slip easily between the legs for when things get gnarly, but the 27.5 inch wheels and 130mm of travel offer just enough forgiveness to keep your face out of the ground.  Actually, this is probably one of the greatest parts of the Santa Cruz 5010 – it's a capable trail machine that has the chutzpah to tackle big hits, but there's not so much travel that you feel removed from the trail.  You feel connected to the bike and trail which is brilliant because it makes riding the bike an absolute hoot – you don't have that extra inch or two of security, but it makes the ride feel much more alive.
The 5010's rear triangle is reinforced on the disc side by a vertical strut between the chainstay and the seatstay which makes it stiffer than stiff.  Oddly enough, the bike is kind of lopsided in this regard because the 32mm Fox Evolution CTD fork is, well, kinda wimpy.  For a bike this capable, I'd like to see a 34mm fork for the confidence and stiffness it would lend to an otherwise beefy bike.  Part of me wonders what would happen if you slapped on a Rockshox PIKE – if you lowered it, you'd have a wild ride on your hands.
Bits and Pieces:
The highlight of our test bike is the Shimano SLX Shadow Plus rear derailleur.  The mixed Deore/SLX drivetrain delivers accurate and reliable shifting, although no one would call it crisp.  My only complaint is that the shift lever takes quite a bit of force to actuate, but I'm also coming off of an all-XTR racing steed.  The clutched rear derailleur makes rock gardens a new experience — rather than the chronic rattling of chain against chainstay, the only sound is the 'snick, snick' of your fork taking the hits.
The 5010 also boasts a ISGC 05 tabs for a chain guard, if you're so inclined — I never felt the need as the chain stayed well-sorted with the Shadow Plus clutch.
Stopping power is provided by reliable and powerful Shimano Deore brakes — they're not glamorous, but they're consistent and easy to service.  I personally like the lever feel and, couple with the Maxxis High Roller 2.35″ tires, there's a whole lot of negative acceleration to be had.  One odd point – the rear caliper housing attaches with a direct-mount system – why no post-mount?  We're not sure.  I don't plan on upgrading the Deore brakes as they have been predictable and fuss-free.
The components that least impressed me were the WTB ST i23 wheels.  They're heavy and not particularly stiff; what's more, I managed to put a heck of a wobble in my rear hoop and I can't remember any accident that would have caused that.  That being said, they're UST-compatible and you can find parts for them at just about any shop in the world; plus, at a healthy 23mm wide, they do a lot for overall tire volume.  One of the first upgrades I would make to the current kit is — after a 34mm fork — some better wheels to aid in steering accuracy.  Ooh, and let's not forget – Santa Cruz ships the $3,300 R AM 27.5 kit with Lizard Skin '494's that leave something to be desired: I immediately replaced them with a pair of Peaty lock-ons.
Squish front and rear is handled by the Fox Evolution CTD platform.  Say what you will about simplicity, I personally am one who likes to tweak things until they're perfect; the first time I learned to work on a derailleur, I almost stripped the limit screws trying to get it just right.  I miss the tuneability of my old Fox Factory RLC.  The Evo on the 5010 has no small bump adjustment or lockout threshold; let's be honest, the only time we really want simplicity is when we're on the bike fumbling for the lever – why not leave the consumer with the ability to fine-tune the shop in his garage and test rides?  Even though the old system was complicated, we just messed around with it until we got it where we liked – no college degree required.
I digress – regardless, CTD is the industry trend and we're all stuck with it, some more happily than others.  The Fox Evo fork kitted out on my 5010 has left me wanting: the fork is bob-happy in Descend mode, with significant brake dive and it blows through the travel even over moderately sized steps.  Small bump absorption was middling, though I daresay a Kashima build would help this out quite a bit.  I was quite a bit happier with the shock, though – although rebound adjustment is less refined on the Evo series, leaving the shock in Trail mode results in a balanced ride that can take you up and down just about any mountain.  Santa Cruz's VPP design nixes pedal bob, allowing you to leave the shock relatively open to suck up bumps while not sacrificing climbing prowess.  I want to underline this point a little – the pairing of a CTD shock and a VPP design make for an absolutely phenomenal couple.  You don't even have to think about it, it just works.
Why Santa Cruz is Santa Cruz
Few companies are known for their dedication to keeping bikes out of the shop and on the trail quite like Santa Cruz.  They've worked hard to make their designs stand the test of time and the abuse that everyone from weekend warriors to world champions can dish out.  The archetypal example is Santa Cruz's sealed bearings – over the years, they've spent so much time and research into making their bearings the best in the biz: big bearings, improved seals and the special signature collet-type axle retention with angular contact bearings.  All of this allows Santa Cruz to guarantee their bearings for life.  Another small yet practical touch is the simple, single bolt that holds the derailleur hanger to the 142mm rear axle.
Another point of praise is that Santa Cruz has done everything they can to help us wrench on our bikes ourselves.  The lower linkage in the VPP has two grease ports so you can flush out grime with the included grease gun – I ride in the rainy Pacific Northwest and it's fantastic that they've made it easy to prevent corrosion.  Similarly, tightening up the bearings on the Solo couldn't be easier: if you feel some slop in the rear end, it's as simple as a few turns of the wrist to adjust tighten it up.  The upshot for riders is that the bike will run well for as long as possible.  Hurray.
If I might wax poetic…
Reading about specs and the arcane world of bearing design is great, but the Santa Cruz 5010 has sooooo much more going for it than a good spec sheet.  This bike is just a hoot – frankly, it reminds me of the reason that I began mountain biking in the first place.  It's freedom – when I started biking I dreamed of hitting sick lines and climbing up peaks on my bike just to show myself that I could lug a bike up such-and-such mountain.  The 5010's climbing manners and descending chops enable all of that.  When you're heading downhill on the 5010, the bike feels like it's anticipating the trail underneath you.  Drop the seat, spread your elbows and knees and you're in for a killer ride as the bike shows you just how much 27.5 inch wheels and 130mm of travel is capable of.  It's the type of bike that you'll buy now and, in four years when it's time for a new bike, you're going to keep the 5010 just because you're so darned fond of it.  Don't hold back on berms, don't hold back on technical climbs, don't hold back on gaps or drops or anything – the 5010 is here to let you do whatever you feel like doing.
The Good
Fun, lively ride with climbing chops and descending aplomb
Mostly solid specs – SLX Shadow Plus and Deore brakes stand out especially
Maxxis High Rollers inspire confidence, claw over rocks and roots
Balanced geometry is suitable for all but the steepest of climbs
Short chainstay and extra strut make for an exceptionally stiff rear triangle
Fox Evo CTD shock pairs very well with VPP design
Twin grease ports on lower VPP linkage for easy servicing
Lifetime bearing guarantee backed up by Santa Cruz's design know-how
Says "Santa Cruz" on down tube, gets complements
The Bad
At 30.66 pounds, the R AM 27.5 model is no tinkerbell on the uphill
Shift levers require a lot of force
Front end waffles when pushed hard – needs better wheels and a 34mm fork
Fox 32 Evolution fork bobs excessively in Descend mode
Fox CTD platform lacks refinement
Banana peels would work about as well as the stock grips
Bottom Line, or, "Why the 5010 is Worth Your Time"
At its heart, the Santa Cruz 5010 is a true mountain biker's mountain bike – completely adventurous, this bicycle is like someone took all of your childhood dreams and let you ride them around.  Yes, it's a kick in the pants to thrash and, with the addition of some high-zoot components, all of my quibbles could easily be erased.  Get some saddle time in and don't raise your eyebrows at the 27.5 inch wheels – this baby was born to have fun and it'll leave the station with or without you.
Buy now: Available from CompetitiveCyclist.com