Suspension and fatbikes can seem a little strange, but even though you're running ultra-low tire pressure, you can still benefit from suspension and the clear choice is the RockShox Bluto.
RockShox Bluto RL Features:
RL Solo Air w/100mm travel
15×150 front axle
Remote lockout
32mm FastBlack uppers
Weight: ~3.96 lbs
MSRP: $715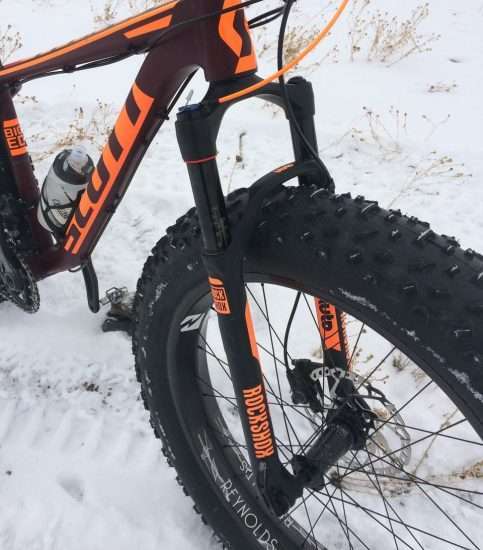 Extra Squish With Your Fat
Fatbikes remain an anomaly in most parts of the country, but are more common in snowy areas like here in Utah. Yes, some people are riding them on dirt and in sand, but let's be honest here —  a traditional MTB is a much better option for sinuous summer singletrack. But, if you are still looking for the ultimate in all-season performance from your fatbike, adding a suspension fork is a logical choice.
Fatbikes hit the snow with 6-10 psi., but pressures are higher when used for dirt duty — that's when the Bluto becomes more valuable. Standard-issue aboard the Scott Big Ed, the Bluto was nice to have, but really unnecessary due to the Reynolds Dean tubeless wheelset running 6 psi. Only on rare occasions did the travel become engaged, but it did take the edge off. On the pavement, I could engage the squish and it was as smooth as I've come to expect from modern RockShox forks.
With a remote lockout, the Bluto can become rigid for paved or dirt climbs. I honestly couldn't find a single time when I really wanted the lockout in the snow and I still don't ever use the fork lockout with any bikes I own. It's there, it's functional and you'll love it if you are a lockout kind of rider.
Tire clearance is great and is certainly true to the 4.8″ stated clearance as you can see with the Surly Lou 4.8's. What's also impressive is the lateral stiffness of this fork. It is stiff under all kinds of riding — hard cornering, drops, etc. I'll also note that the fore/aft stiffness is there. Much of this is due to the stiff lowers and 15x150mm axle.
SoloAir makes for simple setup as opposed to the DualAir designs of yesteryear. Rebound adjustments are also a breeze and noticeable with every click.
The Good
Super stiff for pinpoint handling
All adjustments are noticeable and functional
Smooth travel (when needed)
Lockout when needed
Easy setup
The Bad
Questionable utility in the snow
The Bottom Line: RockShox Bluto
The Bluto is certainly a "nice to have" for a dedicated snow bike, but will come in handy for dirt use. Everything performs as you'd expect a modern RockShox for to perform — just in a big, fat format.
Buy Now: Available at JensonUSA
The Verdict
If you are buying a fatbike for all-season fun, the Bluto makes perfect sense. Everything performs as well as a RockShox should and it is laterally stiff for accurate, predictable steering.