Rocky Mountain builds bikes with a tell-tail signature that lets you know (beyond the label) that this bike was "Built in Canada". By this I mean that nearly all Rocky I've ridden has been a downhill machine. The Altitude 29er is no exception.
Rocky Mountain Altitude 29 specs:
FORM 7005 aluminum hydroformed frame
Smoothlink suspension
Straight Up geometry
Tapered head-tube
115mm rear travel via Fox RP23
Fox F29 RL FIT 120mm fork
Shimano XT drivetrain with SLX front derailleur
RaceFace Deus XC crankset
Formula R1 disc brakes (180mm rotors)
Easton EA70 cockpit (flat bars, stem, seatpost)
Weight: 28.4 lbs (as tested without pedals)
MSRP: $3999
Rocky Mountain Altitude 29er Review
After trying to get onboard this bike for over a year, I was finally able to swing it, but only for a couple of weeks. As luck would have it, the weather didn't initially cooperate, so I had to dodge storms to make the most of it. In the end, it has been well worth the wait.
The overall package immediately felt like a Rocky with solid and reliable parts all-around. Fighting weight came in at an acceptable 28.5 lbs, which translates into a confident trail feel — not too light, but not too heavy. Unfortunately, after my first ride, I had to swap out the stock wheels due to a rear wheel issue. The spokes just needed some tightening and I'm no wheelbuilder, so a quick swap with a pair of Easton XC Two 29er wheels from my Kona King Kahuna mated to Kenda Small Block Eight 2.1 tires were used for the majority of the test.
While the stock Continental Mountain King 2.4's are grippy in wet conditions, they felt a little slow in the hardpack conditions I was riding. So, the switch to the smaller Kenda's was actually the perfect match. Some may scoff at a 2.1 tire width, but with 29ers, a 2.1 is more like a 2.2-2.3.
Heading out on the trail, it's always fun to feel the huge difference 29-inch wheels make. On the climbs, you do have to muster a bit more horsepower to keep up with the wheels, but you are rewarded with supreme traction and a smooth, consistent feel. For the most part, the Altitude 29 climbs extremely-well. Long fire roads are efficient and fast and technical singletrack climbs are easily-tackled. Only on occasion did I find the front end wanting to wander and that was only when things were steep and technical. It's really a minor issue that wasn't anything different than most bikes in this class.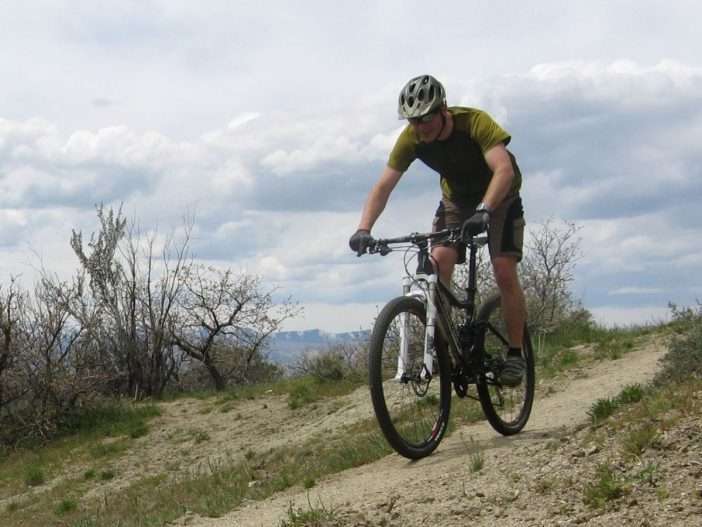 Where I really enjoyed the Altitude was in its ability to absorb a wide variety of obstacles. It seems that many bikes these days have a difficult time absorbing both small bumps and large hits — not so with the Altitude 29er. I found myself absolutely gliding over pocked trails in big-wheeled bliss. Small bumps are well-dampened and large drops are met with a nice, progressive suspension feel. The SmoothLink suspension isolates pedal and brake forces for consistent and smooth performance void of brake-jack, bobbing and other unwanted suspension-induced distractions.
Handling on the descents was superb as I carved my way down winding singletrack and smoked through switchback corners with speed (a little too much at times). I felt like the bike was very responsive and could track straight through just about anything. At super-slow speeds it did get a little tipsy and I did notice a little bit of wheel flex, but I wasn't riding the stock wheels, so slight wheel flex may not be an issue with the stock hoops.
Overall, I'm impressed with this bike as a downhill-devouring 29er. To be honest, this is about the max suspension travel I'd like to ride in 29er clothing. Anything more than this and it tends to negate the beauties of riding big wheels. This is an expensive bike in an increasingly-crowded market, but I'm sure it will find its sweet spot.
Good Altitude 29er
This bike absolutely devours the downhill
Big wheels roll fast
Fox F29 fork is super-plush
Unbelievably-supple in all terrain… excellent small to large hit absorption
Enjoys being ridden aggressively
Love the Formula R1 brakes
Respectably lightweight for what you're getting
Bad Altitude 29er
Rear wheel issues (loose spokes, but nothing a quick trip to the shop can't fix)
$4k is a little pricey for this bike and puts it more than several more established 29ers in the market
Ride quality can sometimes feel sluggish on XC-type terrain
2.4 tires were overkill for anything but loamy and wet conditions
Not sure why the F29 fork didn't have a tapered steerer
Bottom Line: Rocky Mountain Altitude 29er
I had a great time on the Altitude 29 and found it very adept at charging down winding singletrack while remaining extremely-capable of pedaling until your lungs explode. Likely my favorite attribute of the Altitude is its ability to absorb a wide variety of trail obstacles… small bumps were smoothed out and large bumps were met with a progressive, smooth stroke. Bring on the big hoops!
Buy Now: Visit Your Local Rocky Mountain Dealer