When someone like Specialized tosses their hat in the ring with a commitment to compete with the most venerable brands, you've got to stand up and pay attention. Roval wheels are Specialized's wheel brand and they are pumping out some great top-end wheelsets for both road and mountain use. While I'm at it, I'll drop a hint for 2011… think carbon, stiff and light at an attainable price point. Lest I lose you completely, lets get onto the task at hand — the review of the excellent Roval Control EL 29er wheels.
Roval Control EL 29er Wheelset Features:
E5 alloy, welded lightweight disc rim with eyelets; tubeless compatible (26mm W x 18mm H)
Front hub compatible with standard QR, 15mm and 20mm thru axles
OS28-compatible for Future Shock forks
Rear hub: CNC-machined alloy body, high quality Swiss-made internals, ratchet and cassette body, and sealed cartridge bearings
32-spoke 3x radial front pattern and 32-spoke 3x rear pattern supports disc brake and drive loads to the rear wheel
DT Swiss Supercomp 2.0/1.7/1.8mm round spokes
DT Swiss pro lock hexagonal alloy nipples
Roval titanium quick releases
Wheelset: 1750g
Q/R: 106g/set
Limited lifetime warranty
MSRP: $800
Roval Control EL 29 Wheelset Review
I spent a bit of time with Specialized's Jeremy Thompson (Engineer for the Roval wheels program) and got the lowdown on the Roval line and this wheelset specifically. The Control EL 29's feature a welded and machined 26mm rim profile that's anodized for lighter weight and scratch resistance. That extra width allows you to run wider tires with ease and also improves the overall feel (I ran Continental Mountain King 2.4's no problem).
All Roval rims are proprietary designs that are designed and manufactured by Specialized, however the rear hubs are built using the DT Swiss 240 mechanism matched to a Specialized outer hub while the front hubs are completely built in-house. Lacing patterns are mixed from radial to 3-cross with 32 spokes handling the duty just fine. The front hub is convertible from 20mm to 15mm or standard 9mm QR with additional flexibility to run the Specialized-specific OS28 system. As a side note, Jeremy mentioned that the torsional rigidity provided by the OS28 can rival and even surpass thru axles (that I've gotta see).
Before taking these wheels out for some singletrack adventures, I took a good, long drink of them — quite impressive.  The overall package is quite outstanding and the sum of all the parts makes these well worth a look if you're in the market. For the test, I've been running these tubed, but they can be run tubeless should you desire. I've got another pair of tires coming that will be better-suited for tubeless fun, so I'll report back.
The test steed would be the Niner RIP 9 trailbike. With 120mm travel front (via 2011 Fox 32 TALAS 29) and rear and a penchant for endless climbs and fast singletrack descents, the RIP has all the capability to abuse poorly-built 29er wheels. After weeks of abuse, I'm happy to report that these wheels have held up perfectly.
On the climbs, the EL's spin effortlessly and provide sure engagement. Not once did I notice any lag or slow engagement in technical sections while maneuvering through rocky terrain. There's a good reason to trust DT Swiss' guts and these wheels show why. I feel like the Control EL's could never be blamed for any lagging on a long ascent. Gobs and gobs of uphill vert is just what these wheels are made for.
One thing that has plagued some 29er wheels in the past has been a slight feeling of disconnect between the rear axle and the rim movement. I've gotten a rubber band-like feeling when accelerating hard with other wheels, but not so with these. The entire wheel acts as a single unit from the axle to the outermost diameter.
Winding through fast, swoopy singletrack, the EL's simply shine. Not once did I notice any perceptible lateral wheel flex and I laid these down as hard as I could. I hit small tables, berms and drops and everything was met with a confident match. The more I focused on the performance of the wheels, the more I ended up considering other components because they just plain worked without fuss or worry.
To round out the package, the freehub spins quietly as compared to Chris King or Crank Brothers freehub designs, and is much-appreciated. While some folks may enjoy the tell-tale sound of a high-zoot hub, these were quiet enough to allow you to think without all that buzzing on the descents.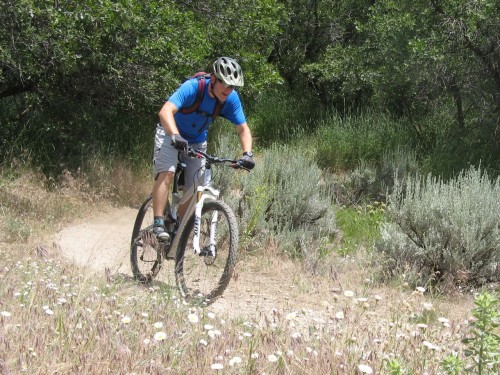 Good Control El 29
Good weight-to-performance ratio
Excellent looks… love the red nipples
Easily-serviced hubs
Can work tubed or tubeless out of the box
Super-durable finish keeps the rims looking new
Subdued freehub spins quietly
Quality DT Swiss components round out the package (spokes, nipples, rear hub internals)
Extensive dealer network is available should you have any issues (lifetime warranty!!!)
Bad Control EL 29
May seem a bit expensive compared to other more well-known wheel brands
Had to hunt for the 15 and 20mm end caps (should have shipped in the box, but didn't), but Specialized Customer Service was stellar.
Bottom Line: Roval Control EL 29er Wheelset
Without question, these wheels are on par with some of the finest designs on the market. I've been very impressed with their performance. Hard-charging descents are met with confidence and long-winded ascents are efficient and fast. With big things coming for 2011, Roval will quickly move to the front of riders minds in the coming months.
Buy Now: Visit Specialized.com to Search for a Local Dealer