Carbon is everywhere. Chances are you've got at least one carbon bit on your bike or maybe you're one of the lucky ones to have a full carbon beauty. Well, next to the frame, the most important place to have carbon is on those giant rotating hoops. That becomes even more important when those hoops are of the wagon wheel variety. Enter the Roval Control Trail SL 29 wheelset for a little game, set, match.
Roval Control Trail SL 29 Features:
Carbon fiber rims with 28mm external width
Front Spoke Pattern: radial/3-cross (1:1)
Rear Spoke Pattern: 3-cross (1:1)
Spoke Count: 32 front and rear
Spoke Type: DT Super Comp
Nipple Type: DT Pro Lock hexagonal
Front Hub: carbon/alloy body, 15/20mm thru-axle, and 24/28mm QR end cap options included
Rear Hub: CNC machined alloy body, high-quality DT 240 internals and ratchet system cassette, 135/142 end cap options included
Bearing Type: sealed cartridge
Skewers: Roval Ti
Total Wheelset Weight: 1,570g
Rider Weight Limit: 240lb (108kg)
Limited Lifetime Warranty
Tubeless ready
MSRP: $1700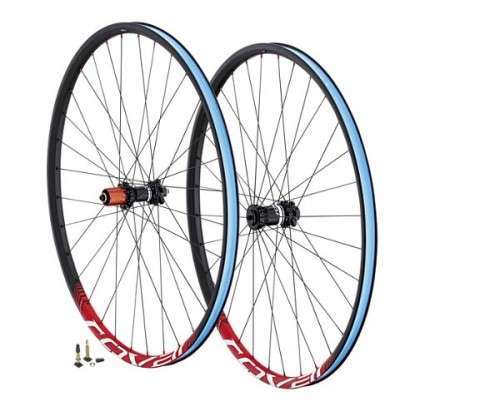 Roval Control Trail SL 29 Wheelset Review
As more and more carbon wheelsets have come online, interest has gone from one of curiosity to a near fever pitch in a matter of a few short years. Yet, most carbon wheelsets are still cost-prohibitive for the average rider. After riding the Roval Control Trail SL 29's for much of the Summer and into the Fall, I'm going to have a hard time going back to my tried-and-true aluminum sets — regardless of cost.
Specialized has really stepped up their wheelset program over the past couple of seasons and the 2013 Roval models no doubt represent their best yet. The carbon fiber Control Trail SL wheels are available in both 26 and 29-inch varieties with standard rear (135/142) or 142+ rear options for Specialized framesets. The hubs are like Swiss Army knives in that they come out of the box with every major axle combination available (well, except Lefty) — something that will allow you to keep these around for awhile. They are also very Swiss-like in that the guts of the rear hub are from DT Swiss. As far as specs go, there's not much more you could ask for in an XC/Trail wheelset.
A few years ago, I was chatting with a good friend about his carbon wheels. One of the first things he mentioned was just how quiet they were compared to aluminum. Admittedly, I hadn't thought of that. I'd thought of the chatter-reduction, increased stiffness and reduced rolling weight, but putting the wheels in quiet mode was something I had to experience.
I mounted these onto my Niner Jet 9 Al with a brand new set of WTB Bronson 2.2's. One of my first rides was a challenging 16 mile loop in American Fork Canyon. This ride featured over 3000 ft of climbing on some of the finest singletrack in the area. However, a few sections feature rock gardens that would make bunnies cry. Charging along through the rough terrain, the wheels remained ultra-quiet. The typical "ding" here or "tink" there was nothing but silence — I was floored by the quietness of the ride.
As I pushed my way up on long climbs, the Control Trail SL's responded in a way I've never experienced before. Most 29er wheelsets suffer from a small (or large) amount of wind-up. These big hoops don't exhibit one lick of wind-up. In fact, they get up to speed so fast, they don't feel like big wheels at all. The 700 gram WTB Bronson 2.2's were great on these wheels and come in a respectable weight, but you could go even lighter for true XC racing or go tubeless.
The full package of carbon rims and fast-engaging hubs made for a wheelset that reacts in an instant.  Adjustments in cadence or quick reactions to obstacles were always met with confidence and precision.
When pushed hard into corners, the Control Trail SL's continue their silent excellence as they simply respond without skipping a beat. A great wheelset becomes invisible and the stealthy qualities of these wheels allowed me to focus on hitting the perfect line. But, when I didn't, they smoothed out trail chatter and remained quick and responsive without getting thrown around. After three full months of abuse, these wheels are as true as the day I unboxed them.
Long-term Update – Nov 2013
I kept these wheels around for another full year of abuse and they have continued to perform. I managed to get a couple of small scuffs on the rims, but they remain straight and true with smooth-rolling bearings. During my initial review, I didn't attempt to set them up tubeless, but subsequently did so. Tubeless setup was a breeze with a set of Specialized The Captain Control 2Bliss tires. I set them up and never had so much as a burp after a full season of use.
I also converted the rear hub to an XD Driver to run SRAM XX1. It set me back about $100 for parts and labor at my LBS, but it was pretty painless. It would be great to get these 1×11 compatible out of the box, but it's an easy conversion.
Good Control Trail SL 29
Gets up and spinning in a jiffy
Provides an ultra-quiet ride — wheel noise is eliminated
The best-priced race-worthy carbon wheelset on the market
Yes, they will make you faster
Reduced rolling weight you can feel
XC race ready, but capable enough for trail riding duty
Lifetime warranty gives peace of mind
Easiest tubeless setup I've experienced (using Specialized 2Bliss tires)
DT Swiss rear hub can easily convert to XD Driver
Bad Control Trail SL 29
There are lighter carbon wheelsets on the market
Brand snobs may scoff
Bottom Line: Roval Control Trail SL 29er Wheels
I was knocking off PR's left-and-right once I mounted up these beauties. In my estimation, the Control Trail SL 29 wheels are as close to perfection as it gets. The reduced rotational weight and ultra-responsive acceleration are just the tip of the iceberg when it comes to describing why you should start saving your pennies. And luckily, these won't set you back nearly as much as the competition.
Buy Now: Visit Specialized.com or Your Local Dealer