Sea Otter Classic acts as Spring's version of Interbike. Many companies choose to use Sea Otter as their platform for product launches and announcements. So, it's no wonder I'm getting a flood of new product launches in my inbox. The latest is the Santa Cruz Blur LT Carbon. What a beauty!
I'm impressed with the carbon fiber movement we're seeing lately at Santa Cruz. Not sure exactly what's driving it, but their departure from aluminum is showing just what can be done with these materials. Look it over and you'll agree it's one of the sexiest-looking mountain bikes on the market.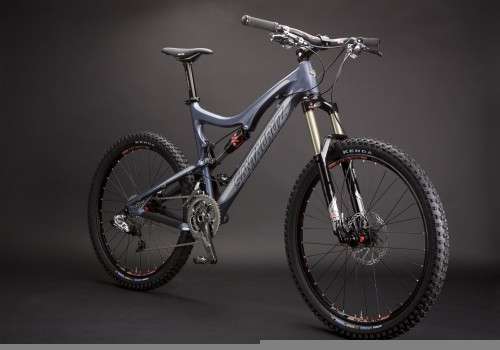 The frame features a tapered head tube and all kinds of carbon details throughout. Here are a few more specs:
Weight: 5.6 lbs (1 lb. lighter than LT)
Travel: 140mm via new VPP2 design
Shock: RockShox Monarch
MSRP: $2399
Availability: June 2009
Blur LTC Specs (PDF)
From Santa Cruz:
Take our beloved all-duty trailbike, the Blur LT, complete with 140mm of plush, sophisticated, no maintenance VPP suspension. Now, make the frame a pound lighter, make it several orders of magnitude stronger and stiffer, make it out of carbon fiber. Don't candy-ass out and make just a carbon front triangle, make the whole bike out of the stuff, and use a proprietary one piece molding process that ensures maximum strength and minimal weight.

The result? The strongest bike we have ever built, bar none. It's a nimble, fast climbing, flex-free, confidence inspiring, trail bombing demon of a bike. Build it up however you want – there are no weight restrictions or fork travel limits to worry about – then ride it hard as you dare. Try to refrain from cackling like a madman in the process.
I was very impressed with the current Santa Cruz Blur LT2 and I can only imagine what a full-carbon Blur LT will ride like… The frame takes sexiness to a whole new level and the function of carbon-fiber is beyond good. As carbon fiber gets utilized more and more, people will start to accept the fact that it is lighter and stronger than aluminum. I can't wait to get on one.
More Info: Visit SantaCruzBicycles.com