To me, sunglasses are important for outdoor athletes for many reasons. Not only do they protect your eyes from overexposure from the sun, but they can also protect you from injury. I'm not just talking about direct injury (stick in the eye type of thing), but not being able to see clearly and it causes you to misstep, or ride off the trail and into a tree. You know… stuff like that.
During the course of the biking season, I've filtered through my fair share of sunglasses. Some have performed well while others… lets just say, they have found themselves bouncing around the back of my Subaru. While I'm still very impressed with the Kaenon Kore sunglasses, the new Smith V-Ti sunglasses are as good or better in some respects.
About the Smith V-Ti Sunglasses
These are the Ferarri of Smith's performance interchange lineup–complete with sexy, race car-looks and high-tech materials. The V-Ti's are built with titanium temple pieces, an easily-changed lens shield, super-grippy rubber nose and temples and available polarized options all in a lightweight, cycling-friendly package.
Features of the Smith V-Ti:
TLT Carbonic lens
Titanium temples (full Ti front / beta Ti flexible ends)
Interchangeable lenses (includes three with polarized options)
Hard carrying case and soft case included
Frame Colors: White, Blue, Red, Black, Gold, Chrome
Lens Options: Polarized (Copper, Brown, Platinum) or Standard (Platinum, Brown, Bronze)
Lenses Included: All include Ignitor and Clear Mirror
MSRP: $159-$189 (depends on lens options)
Smith V-Ti Sunglasses Review
At the Interbike Outdoor Demo, I caught up with the Smith crew to see some of the new shades. On the top of the list for me to try was the new Smith V-Ti. These shades are light, offer great coverage and are an open-frame shield design that's well-suited for cycling.
I took them out for a lap with the included polarized lenses, but quickly found out that polarized wasn't the way to go for mountain biking. I was getting funky rainbow spots going down the trail, which isn't good for keeping the rubber-side down.  A quick stop back at the booth and a 30-second swap for the Ignitor lens and I was much happier. So happy, in fact, that I forgot I had the glasses on the rest of the day.
I've since been able to try the V-Ti's in a variety of conditions here in Utah and have continued to be impressed. It's not often that you find a pair of glasses that you can wear all day long. I can honestly say that the V-Ti's are one of the few pair of sunglasses I've worn all day without discomfort.
The construction is solid. These glasses are super lightweight, yet they are ultra-sturdy. The hinges feel substantial and provide a feeling of quality with no loose hinges or unnecessary flex.
My primary uses for these glasses has been mountain biking, road biking and trail running thus far. For all three activities, I dig these shades. They feel light and comfortable and provide the perfect amount of coverage. The Ignitor lens is an ideal all-around lens.
If you spend time on the water, or intend to use these glasses for skiing, opt for the polarized lens, but if you are going to use them elsewhere, stick with the traditional lenses.
Good V-Ti
Ultra-comfortable… you'll forget they are on
Love the open frame design
Excellent peripheral vision
Optics are super-sharp
Very light
Snug fit doesn't move one bit
Sweat drips off the lens instead of pooling at the bottom
Lenses are easily swapped
Etched logos are no longer placed on the lenses
Lifetime warranty
Bad V-Ti
Polarized lens not recommended for mountain biking
Sits a bit high on my face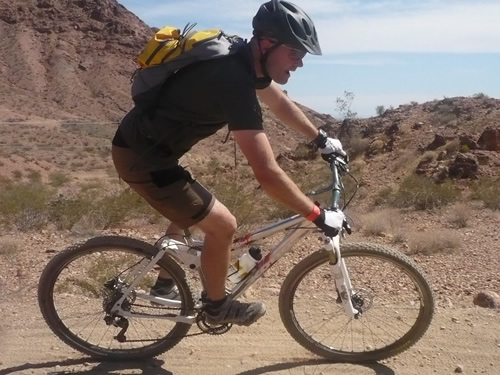 The Bottom Line on the Smith V-Ti Sunglasses
The new Smith V-Ti sunglasses are very impressive overall. For my needs, the polarized lens is unnecessary, but for the right purpose, that lens is money. I'm very stoked on the overall comfort-level of the V-Ti, the high-quality optics, top-notch construction and function on the trail. For trail running, mountain biking or road biking, I much prefer shield designs like the V-Ti. Swapping the lenses is simple and easy.
The V-Ti's are excellent sunglasses overall that are versatile enough for all outdoor activities, yet still stylish enough to wear around town.
Buy Now: Find Smith Sunglasses at REI