Cold morning rides require proper gear to prevent your digits from freezing off. This Fall and Winter, I've been using the Sugoi Resistor Shoe Covers on both the road and dirt. While there are toastier options out there, these are pretty darn versatile and provide a surprising amount of warmth.
Sugoi Resistor Shoe Covers Features:
Piston 14o Fabric (76% Nylon 24% Spandex) features a smooth, buttery hand feel with uncompromised 360 degree stretch
PU coated stretch lycra provides lightweight wind and waterproof protection
Stretch bound edge fits snugly around shoe and positions cleat hole
Rear entry zip with velcro closure tab
Signature grip ankle elastic
MSRP: $40
Sugoi Resistor Shoe Covers Review
If I could pick out one of the key pieces of cold-weather cycling gear that has kept me out on two wheels all Winter long, I'd have a hard time not including the Resistor shoe covers on that list. While these aren't insulated, they make up for that with excellent wind protection that keeps my feet warm — even down to 30-degree temps.
Looking them over, you may not think they would add much warmth, but don't be fooled. For me, just blocking the wind allows my feet to keep the warmth inside and sort of marinate. I've been wearing these with my Specialized S-Works Road Shoes in combination with the Resistors and they are very easy to put on and take off. I did use them with my MTB shoes for a couple of rides and getting these over the more aggressive treads on my MTB shoes is much more difficult than my road shoes.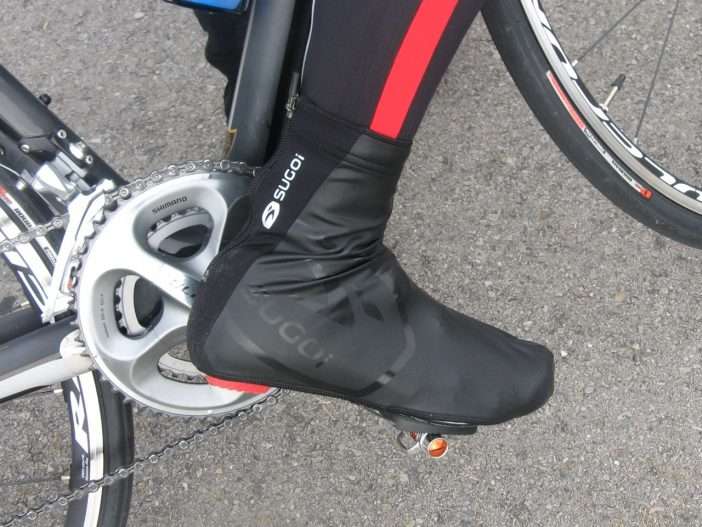 Overall durability is about what I'd expect. I do have some scuffing on the toe area, but nothing that affects the performance at this point. Maybe after a couple of seasons, you might see more damaging scuffs, but what I've now got is pretty minimal.
I like how well they fit around my shoes and the cuff height is perfect. I've found them to be easy to zip up and down and on the road, they quickly become invisible. There's enough flex in them that any ankle movements are uninhibited and smooth.
The Good

Super-easy to take on/off
Provides excellent wind protection — even down to 30 degrees
Excellent water protection for inclement weather
Not too tight… just right
Budget-friendly price tag
The Bad

Fabric scuffs pretty easily
The giant tag gets in the way of the zipper
A little challenging to take on/off with MTB shoes
The Bottom Line
Keeping things simple, the Sugoi Resistor Shoe Covers are easy on the wallet while being highly functional and versatile for a variety of weather conditions. My feet have stayed warm down to 30-degrees in them, so buy them for wet and cold weather to boot.
Buy Now: Sugoi Shoe Covers at CompetitiveCyclist